Sales outfit is bringing six market premieres to Berlin.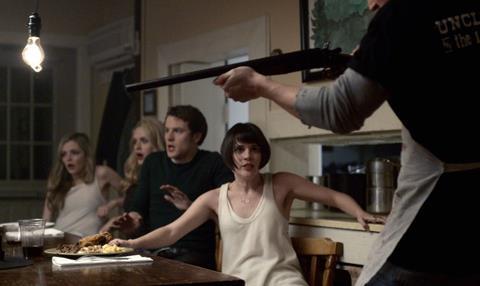 Ahead of the European Film Market (EFM) at the Berlin Film Festival (Feb 9-19), genre sales specialists Devilworks has revealed more detail about its slate of films.
The company's full slate features six market premieres, including sci-fi thriller Incontrol from director Kurtis David Harder (Cody Fitz). Starring Levi Meaden (Aftermath, Pacific Rim: Uprising) and Rory J. Saper (The Legend Of Tarzan), the film tells the story of a group of university students who discover a device that allows them to take control of other people.
Screen can exclusively reveal the film's first trailer:
[Click here to watch on Youtube]
Also on Devilworks' slate is meta horror Cut Shoot Kill [pictured top], from writer-director Michael Walker (Chasing Sleep, The Maid's Room). The film stars Alexandra Socha (Red Oaks) and Phil Burke (Hell On Wheels) in the story of an ambitious young actress who signs on as the star of a horror film. On the set, the cast starts disappearing, and the actress finds herself having to become the character to survive.
Screen can exclusively reveal the film's first trailer:
[Click here to watch on Youtube]
There are four further market premieres on the company's EFM roster:
The Man Who Was Thursday, the feature debut of Hungarian filmmaker Balazs Juszt, is a historical thriller chronicling a man's Faustian descent into the Roman underworld. It stars François Arnaud (The Borgais, I Killed My Mother) and Ana Ularu (Inferno, Emerald City). The film was inspired by the novel of the same name from English author G.K. Chesterton.
Population Zero, co-directed by Julian T. Pinder and Adam Lewis, is a docu-thriller about a trio of murders in Yellowstone National Park in 2009. The film explores how, despite a man confessing to the crime, an American constitutional loophole allowed him to walk free. The film had its international premiere at London's FrightFest in 2016 and will be released in spring 2017 by Icon.
Peelers, from director-editor Sevé Schelenz (SKEW), stars Wren Walker as a small town strip club owner who must defend her bar from violent zombies. The film screened at Sitges in 2016
Still Alive, previously titled Paralytic, is from director Joey Johnson (Shadowed). It tells the story of a famed contract hitman who takes vengeance on a powerful drug cartel after the murder of his lover. Devilworks acquired the film at AFM 2016.
The company's EFM slate is completed by: James Cosmo-starring thriller Monochrome, Australian thriller The Suicide Theory and US crime thriller Criticsized.
"We are very excited to bring such a strong slate of films to EFM," said Samantha Richardson. "Genre filmmaking is an ever-growing industry and these unique stories are guaranteed to impress distributors searching for fresh voices in cinema."