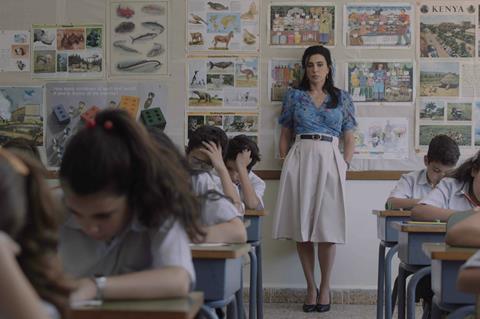 The El Gouna Film Festival, taking place on the Egyptian Red Sea coast Sept 19-27, has unveiled the line-up for its third edition.
A dozen international features, mainly selected from recent A-list festivals, will compete for the El Gouna Golden Star, worth $50,000, as well as other prizes.
Nearly half the competition titles hail from the Arab world including Lebanese filmmaker Oualid Mouaness's 1982, about a school boy determined to declare his love to a classmate as war breaks out changing both their lives forever.
Nadine Labaki has a supporting role in the film, having squeezed her shooting days in between making her Cannes hit Capernaum. The film premieres at TIFF.
Other contenders include Moroccan filmmaker Maryam Touzani's exploration of female friendship and motherhood Adam and Algerian-French director Mounia Meddour's drama Papicha, about a young woman trying to retain her freedom in an increasingly repressive 1990s Algeria, both of which premiered in Un Certain Regard this year.
"While GFF is an international film festival, we see it as a bridge between Arab filmmakers and world cinema. It is very important to represent the region with quality films, as film selection should not depend on geographical concerns," said festival director Intishal Al Timimi. Contenders from outside the region include Polish director Jan Komasa's religious drama Corpus Christi, which premieres in Venice, and French director Stéphane Demoustier's The Girl With The Bracelet, which debuted at Locarno.
A total of 80 feature-length and short works will play across the entire programme.
Outside of the competitive sections, other highlights include the out of competition screening of Egypt's first feature-length animation The Knight And The Princess. Written and directed by Bashir El-Deek, with art work by cartoonist Mustafa Hussein, it is an adventure tale inspired by a real-life seventh century Arab warrior. International features screening out of competition include Les Miserables, Parasite, System Crasher and Saturday Fiction.
Beyond the line-up, El Gouna also revealed that US-Egyptian Aladdin star Mena Massoud had confirmed his presence at the festival and that Oscar-winning actor Rami Malek might be also be in attendance.
"The international success of an Arab filmmaker is an opportunity to celebrate Arab filmmakers everywhere. Thus, we have invited North American-Egyptian stars Rami Malek and Mena Massoud," said Al Timimi.
"So far, Massoud's schedule is flexible enough to allow him to attend the festival. We are awaiting the confirmation of the attendance of Malek, since he is currently working on his new role in No Time To Die."
Industry activities
On the industry front, the festival is also running the third edition of its CineGouna Platform, aimed at supporting upcoming projects in development and showcasing films in post-production.
Projects due to be presented in the CinaGouna SpringBoard line-up, aimed films in development and in post-production, include Moroccan director Rim Mejdi's Plum Season and Tunisian drama Severed Head by Lotfi Achour.
Works in post-production include Another Day in Baghdad, a drama set in the Iraqi capital in the winter of 2006 by London-based Iraqi filmmaker Maysoon Pachachi.
El Gouna 2019 lineup
FEATURE NARRATIVE COMPETITION
1982 (Leb- US- Nor)
Dir. Oualid Mouaness
Adam (Mor- Fr)
Dir. Maryam Touzani
Corpus Christi (Pol)
Dir. Jan Komasa
The Father (Bel- Gre)
Dir. Bashtata
The Girl With The Bracelet (Fr)
Dir. Stéphane Demoustier
Lara (Ger)
Dir. Jan-Ole Gerster
Noura's Dream (Tun,-Fr)
Dir. Hinde Boujemaa
Our Lady Of The Nile (Far-Bel- Rwa)
Dir. Atiq Rahimi
Papicha (Alg-Fr-Bel)
Dir. Mounia Meddour
Song Without A Name (Per- Sp- US)
Dir. Melina León
The Weeping Woman (Gua, Fr)
Dir. Jayro Bustamente
You Will Die At Twenty (Sud- Egy- Fr- Ger- Nor)
Dir. Amjad Abu Alala
FEATURE DOCUMENTARY COMPETITION
143 Sahara Street (Alg-Fr)
Dir. Hassen Ferhani
Another Reality (Ger- Swi)
Dir. Noël Dernesh, Olli Waldhauer
Cunningham (Ger- Fr- US)
Dir. Alla Kovgan
Kabul, City In The Wind (Afg- Nl- Jap- Ger)
Dir. Aboozar Amini
Kongo (Fr)
Dir. Hadrien La Vapeur, Corto Vaclav
Midnight Family (Mex-US)
Dir. Luke Lorentzen
One Child Nation (China-US)
Dir. Nanfu Wang, Jialing Zhang
Talking About Trees (Sud-Fr- Ger- Chad)
Dir. Hadeeth Aan Al Ashgar
Untouchable (Alg- Fr- Bel)
Dir. Mounia Meddour
Song Without A Name (UK)
Dir. Ursula Macfarlane