Indie giant talks slate and strategy as it predicts bounce-back year.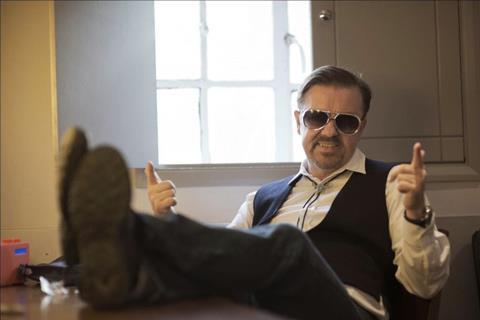 Indie distribution giant eOne UK has broken a number of records since launching seven years ago. The outfit anticipates breaking another in 2016.
Speaking to Screen ahead of the company's 2016 slate presentation at Picturehouse Central in London (Dec 2), eOne Films UK managing director Alex Hamilton predicts big things for the company next year.
"I'm convinced that 2016 will be our biggest ever year as a UK company," said Hamilton boldly. "I'm always saying we need to have top-quality content and with the best will, some years your top-quality content will be better than others. But next year our line-up is the strongest it's ever been."
Fuelled in its early years by the success of the Twilight franchise, but more recently turning the likes of 12 Years A Slave and Mr. Turner into significant UK hits, eOne Films UK has grossed more than half a billion pounds at the UK and Irish box office - putting them ahead of any other UK indie over the same period by a significant margin.
For three years in a row between 2012-14 eOne was the UK's highest-grossing independent distributor. Last year the company raked in $138.3m (£90.8m) for a market share of 8.01%.
By its own standards, however, 2015 has been a down year. Box office and market share are set to fall.
"2015 was for us a holding year," Hamilton told Screen. "We had an okay year. We lacked that big hit that we've had in previous years. We had a couple of disappointments. But it's still a solid box office performance."
Hits this year have included The Divergent Series: Insurgent ($12m), The Woman In Black: Angel Of Death ($7.5m) and Insidious Chapter 3 ($6.1m). While Mr. Holmes did respectable arthouse business ($4m), the company endured a few under-performers, including No Escape, Russell Crowe's directing debut The Water Diviner and UK production Miss You Already.
This year, the company has also finally worked through the fulsome slate of titles it inherited with its 2013 acquisition of Momentum Pictures.
Hamilton also chalked this year's fall down to volume, with the company releasing fewer films and shifting some releases into 2016.
The latter was a decision taken to avoid three market-dominating juggernauts in the final quarter of 2015 - Spectre, the final Hunger Games instalment and Stars Wars: The Force Awakens - and eOne Films UK wasn't alone in adopting that strategy.
A more 'authored' slate
On the plus side, it puts the company in prime position to kick 2016 off strongly with a weighty awards-season contender: Tom McCarthy's Spotlight, a film at the forefront of the Oscar conversation, which eOne will release on January 29.
And that's the start of what Hamilton sees as a unique slate offering. Buoying Hamilton's confidence are several key titles: Steven Spielberg's Roald Dahl adaptation The BFG; Allegiant, the third instalment in the Divergent YA series; sequels to Now You See Me and Bad Santa; Alex Proyas' swords-and-sandals fantasy Gods Of Egypt (which recently stumbled into a diversity row).
Also on the lineup are an adaptation of best-seller The Girl On The Train starring Emily Blunt and directed by The Help's Tate Taylor; the Juan Antonio Bayona-directed fantasy A Monster Calls; and David Brent: Life On The Road, with Ricky Gervais starring in and directing the feature film debut for The Office's cringe-inducing middle-management drone.
Hamilton is also thrilled the company will release titles from several independent directors used to basking in critical acclaim. They include Oscar contender Spotlight; John Hillcoat's crime-drama Triple 9, starring Chiwetel Ejiofor, Aaron Paul and Kate Winslet; Richard Linklater's follow-up to Boyhood, Everybody Wants Some!!; Jeff Nichols' Midnight Special, starring Adam Driver and Michael Shannon; and Story Of Your Life, Denis Villeneuve's sci-fi drama starring Amy Adams.
"It's the best line-up of filmmakers we've ever had," Hamilton said.
If Hamilton's confidence pays off, 2016 will almost act as the launch of phase two for eOne Films UK, as well as being a rebound year at the box office after its relatively lacklustre 2015, at least in comparison to 2014 when the company achieved its highest box office to date off the back of such hits as Divergent ($11.1m), Mr. Turner ($9.4m) and a phenomenal result for 12 Years A Slave ($33m).
Hamilton is particularly proud that the 2016 slate is what he described as more "authored" than previous years.
"It's deals that we've put together, films that we've selected ourselves as part of an overall portfolio," he said. The company's output deal with DreamWorks to release their films in the UK and Benelux, signed in 2012, will start bearing fruit next year with The BFG and The Girl On The Train. Also coming through the DreamWorks pipeline is Derek Cianfrance's The Light Between Oceans, produced by David Heyman and starring Alicia Vikander and Michael Fassbender.
Rumours of an imminent bigger deal with Dreamworks have also recently emerged.
In February, the company signed another multi-year output deal with Open Road to release productions and acquisitions from the US producer-distributor. The first film from that deal will be Sleepless Night starring Jamie Foxx, which is slated for release in the second half of 2016.
The final films from the Summit deal, including Now You See Me 2, will also hit cinemas, and Hamilton said the company plans to continue building on its success with genre titles and fostering more UK productions.
David Brent: Life On The Road, currently in production, is a key acquisition for next year, with eOne Films UK stepping up to fully finance the project as soon as they heard it was coming to market. They snapped up worldwide rights, and at Cannes last year sold several territories based on an early draft of the script, including the US to Open Road.
"That's a character that's right up there in the pantheon of British comedy creations," said Hamilton. "We felt there was a very strong upside in our direct distribution markets - particularly the UK and Australia. Early feedback has been strong."
The company created a teaser trailer with Gervais that ran exclusively at Odeon Cinemas in front of showings of Spectre.
Homegrown production
Production division Entertainment One Features, led by Xavier Marchand and operating out of the London office, aims to produce 6-8 films annually. Recent productions include Gavin Hood's drone thriller Eye In The Sky starring Helen Mirren and Fabrice du Welz's Message From The King.
Whereas typically Hamilton and his team will inject the portion of the budget that makes sense for UK rights, on the Gervais film they put up the majority of the budget, with eOne Features making up most of the difference.
This was in line with eOne Films UK's policy to takes local distribution on all eOne Features productions but also helped to fill what Hamilton described as "the Summit gap" which will be more keenly felt after 2016.
To guarantee the flow of content that a company of eOne's size and ambition requires ("It's no secret that the company wants to expand"), it seems clear that at least one more significant output deal will be necessary.
"We have discussed other output deals," said Hamilton. "If opportunities arise, we're going to engage. We believe in a regular marketplace presence and you can't necessarily find 23, 24 movies a year in the independent sales market."
"We're always going to want to do British films and we have had great success with them. I will say to anyone in the industry that some of the films we are most proud of are the Nativity series of movies. The critics tend to hammer them but they do exceptionally well at the box office. The first one has sold more than 1m DVDs in the UK."
A fourth Nativity is currently being discussed.
On the prestige end of the spectrum, Hamilton is proud to have backed Mike Leigh's Mr. Turner and the company recently picked up Ken Loach's latest film, I, Daniel Blake. "It's a privilege to release their films," he said.
"In this company, there is a real respect for local knowledge," added Hamilton of his Canadian parent company, who oversee a six-territory (and expanding) direct distribution network (also including Canada, Spain, Australia, Benelux).
"They are very supportive and respectful of the people running their territories. The UK is a big territory. It's important to the company and important to the overall marketplace."
If 2016 ends up being as spectacular as he hopes, Hamilton knows that eOne Films UK will need to build on any momentum the year delivers.
"You can't turn around and go, 'Let's just go back to releasing about 10, 12 films a year'," he said.
"We're part of a bigger company and we want to have marketplace clout and presence. We want to compete with the studios and over the last few years we have managed to do that. We want to be in the mix and, in 2016, we really will be in the mix."
Entertainment One Films UK Managing Director Alex Hamilton speaks at the Screen Film Summit, London, 10 December. Book tickets: www.screenfilmsummit.com