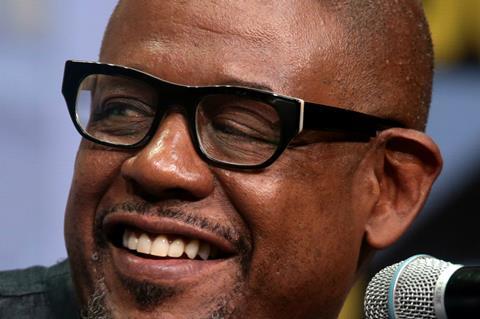 Forest Whitaker is to star in Godfather Of Harlem, a fact-based crime series from Narcos writer Chris Brancato and producer Paul Eckstein that has been given a straight-to-series order by US premium pay network Epix.
The project was exclusively revealed by Screen last year.
ABC Signature Studios, the talent-driven cable and streaming division of ABC Studios, will produce the 10-episode series, with Whitaker also acting as executive producer through his Significant Productions.
Brancato and Eckstein will write and serve as executive producers, with Brancato on board as showrunner. Nina Yang Bongiovi, James Acheson and Markuann Smith will also serve as executive producer, with production set to start later this year for a planned 2019 premiere on MGM-owned Epix.
Whitaker will play infamous crime boss Bumpy Johnson, who in the early 1960s took on the Genovese crime family in an attempt to regain control of his New York neighbourhood. During the battle, Johnson formed an alliance with Malcolm X.
In a statement, Whitaker described Godfather Of Harlem as "a show with powerful relevance to the issues we face today – gang violence, police brutality, opioid addiction and racial politics in a divided country. I'm grateful to have the opportunity to bring this character to life and to work with [Epix president] Michael Wright, the Epix team and ABC Signature, alongside excellent writers and producers."
Wright added: "We read the script, and met with Chris, Paul and Forest, and knew immediately that this show was perfect for Epix. It's an exciting and relevant story, brought to life by passionate, extraordinary talent and a great studio in ABC Signature. It's exactly the kind of series we want to put on Epix as we build awareness and expand the network's distribution across the country."
ABC Studios president Patrick Moran said: "Epix is the perfect home for the fascinating and timeless story of Bumpy Johnson. We're so appreciative of the unwavering enthusiasm and passion that Michael and his team have brought to the project. Chris and Paul's script is phenomenal and we're thrilled to have Oscar winner Forest Whitaker on board to produce and star."
Epix's other original series include Get Shorty and Berlin Station. ABC Signature's slate includes Showtime's SMILF and Marvel's Runaways for Hulu. The division recently got an order from Hulu for Little Fires Everywhere, with Reese Witherspoon and Kerry Washington attached to star and produce.