Director, star of Instructions Not Included stars in upcoming How To Be A Latin Lover.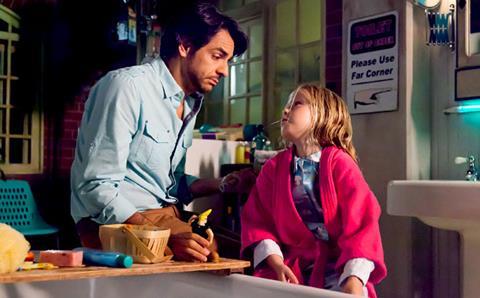 Eugenio Derbez will receive the CinemaCon International Achievement in Comedy Award in Las Vegas on March 30.
Derbez stars opposite Salma Hayek in the comedy How To Be A Latin Lover, which screens during the convention and opens on April 28 via Pantelion Films and Lionsgate.
Derbez began his career in the theatre before moving to television where he became the star, writer, director and producer of Spanish-language TV shows including Al Drecho Y Al Derbez, XHDRbZ and La Familia P. Luche.
He directed, co-wrote and starred in 2013 smash Instructions Not Included (pictured), which became the most successful Spanish-language film ever in the US on more than $44m and a fraction shy of $100m worldwide.
Through his production company 3pas Studios, Derbez struck a first-look deal with Pantelion and Lionsgate. His upcoming projects also include Un Cuento Chino, French comedy The Valet, and a reimagining of the rom-com Overboard, a co-production between MGM and Pantelion.
"Already one of the most influential creative forces in Latin America and with the US Spanish-speaking audience, Derbez is sure to gain international attention with his upcoming roles in such films as How To Be A Latin Lover, The Nutcracker And The Four Realms and Overboard," CinemaCon managing director Mitch Neuhauser said.
CinemaCon runs from March 27-30.