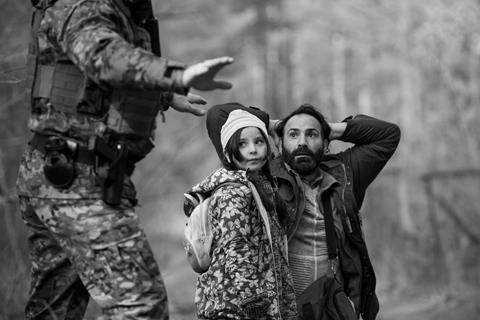 The Federation of European Screen Directors (FERA) has added its voice of support to Agnieszka Holland after she was strongly criticised by Poland's minister of justice for her depiction of the treatment of refugees in her Venice competition film The Green Border.
Earlier this month, Poland's hard-right justice minister, Zbigniew Ziobro wrote on X, formerly known as Twitter: "In the Third Reich, the Germans produced propaganda films showing Poles as bandits and murderers. Today they have Agnieszka Holland for that." The political attack against Holland has been accompanied by a wave of online abuse against the director in Poland.
In a statement today, FERA said: "We are full of admiration for [Holland's] strength and courage in the face of the appalling attacks against her and the film in Poland."
Last week, the European Film Academy also issued a statement to defend Holland.
FERA's statement today (September 18) added: "We stand squarely behind Agnieszka and we fully endorse the European Film Academy's recent statement condemning Polish Minister of Justice Zbigniew Ziobro's declarations comparing the filmmaker to Third Reich propagandists.
"Mr Ziobro made these remarks without watching the film, making such comments not only slanderous and unfounded, but cloaked in the trappings of a government minister his words become an insidious form of propaganda."
The Green Border won the special jury prize at Venice, and was picked by Screen's reviews team as one of the standout titles of the festival. It tells the story of refugees, charity workers, activists and border guards, whose lives intersect in the cold, swampy forests between Poland and Belarus.
Refugees started flocking to the border in 2021, after Belarus, a close Russian ally, opened travel agencies in the Middle East offering a new unofficial route into Europe - a move the European Union said was designed to create a crisis. Poland refused to let them cross, leaving hundreds stranded in a freezing no-man's land, and temporarily imposed an exclusion zone, forbidding reporters and human rights groups from approaching the area to see what was going on.
FERA's statement continued: "European Ministers of Justice inherently understand and respect the function and value of juries. The jury of the Venice Film Festival has just awarded its Special Jury Prize to Agnieszka's film. This jury assessed the evidence before making their decision – they watched the film. All of it.
"We invite the people of Poland, Europe and the world to judge for themselves, by watching Zielonca Granica (The Green Border).
"We urge engagement in honest, informed, and civil debate on this film and all cultural works – particularly as European culture ministers set out to discuss "Culture as an essential public good, as a global public good" during their informal September 26 meeting in Cáceres, Spain under the Spanish presidency of the EU."
Mike Downey, one of the producers of The Green Border and chair of the European Film Academy, said: "The support of FERA and other international organisations is of huge importance in the defence of Agnieszka Holland during these highly aggressive times. We join with FERA and demand an immediate end to the hostility and threats against our Academy President Agnieszka Holland. We stand fully behind her and urge critical engagement with the important issues of our time, as they are visible around us in Europe and in the films made. We strongly believe that culture in every society benefits from this."
Founded in 1980, FERA represents European film and TV directors in Brussels and has member organisations from 35 countries.
Holland is a FERA ambassador, alongside directors including Marco Bellocchio, Isabel Coixet and István Szabó.