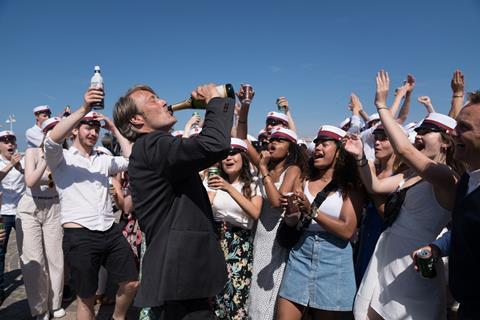 The nominations for the 2020 European Film Awards have been unveiled, with the size of two key categories extended as a result of the virus crisis.
The categories for best feature and best documentary have each been increased from five to six to offer more exposure to titles and artists impacted by cinema closures and release delays during the pandemic.
Scroll down for full list of nominees
The films nominated in the best European Film category are Thomas Vinterberg's Another Round, Berhan Qurbani's Berlin Alexanderplatz, Jan Komasa's Corpus Christi, Pietro Marcello's Martin Eden, Vaclav Marhoul's The Painted Bird and Christian Petzold's Undine.
Nominees in the European Documentary category comprise Radu Ciorniciuc's Acasa, My Home, Alexander Nanau's Collective, Victor Kossakovsky's Gunda, Sébastien Lifshitz's Little Girl, Susanne Regina Meures's Saudi Runaway and Feras Fayyad's The Cave.
Komasa, Marcello and Vinterberg are also nominated for best director alongside Agnieszka Holland for Charlatan, François Ozon for Summer Of 85 and Maria Sødahl for Hope.
Another Round, Corpus Christi and Martin Eden jointly lead the nominations, with four nods each.
Mike Downey, chairman of the EFA board, said: "In order to widen the platform to more European films in what is such a difficult time for European cinema and artists, the EFA Board has decided to exceptionally increase the nominations in the full length feature film categories and in the documentary category from five to six."
Nominees in the animation, comedy and discovery categories were previously announced.
More than 3,800 EFA members will now vote for the winners who will be presented in a series of virtual events from December 8-12.
EFA 2020 nominees
European Film
Another Round (Den-Neth-Swi)
Dir. Thomas Vinterberg
Berlin Alexanderplatz (Ger-Neth)
Dir. Burhan Qurbani
Corpus Christi (Pol-Fr)
Dir. Jan Komasa
Martin Eden (It-Fr)
Dir. Pietro Marcello
The Painted Bird (Cz-Ukr-Slo)
Dir. Václav Marhoul
Undine (Ger-Fr)
Dir. Christian Petzold
European Documentary
Acasă, My Home (Rom-Ger-Fr)
Dir. Radu Ciorniciuc
Collective (Rom-Lux)
Dir. Alexander Nanau
Gunda (Nor-US)
Dir. Victor Kossakovsky
Little Girl (Fr)
Dir. Sébastien Lifshitz
Saudi Runaway (Swi)
Dir. Susanne Regina Meures
The Cave (Syr-Den)
Dir. Feras Fayyad
European Director
Agnieszka Holland for Charlatan
Jan Komasa for Corpus Christi
Pietro Marcello for Martin Eden
François Ozon for Summer Of 85
Maria Sødahl for Hope
Thomas Vinterberg for Another Round
European Actress
Paula Beer in Undine
Natasha Berezhnaya in Dau. Natasha
Andrea Bræin Hovig in Hope
Ane Dahl Torp in Charter
Nina Hoss in My Little Sister
Marta Nieto in Mother
European Actor
Bartosz Bielenia in Corpus Christi
Goran Bogdan in Father
Elio Germano in Hidden Away
Luca Marinelli in Martin Eden
Mads Mikkelsen in Another Round
Viggo Mortensen in Falling
European Screenwriter
Martin Behnke & Burhan Qurbani for Berlin Alexanderplatz
Costa-Gavras for Adults In The Room
Damiano & Fabio D'Innocenzo for Bad Tales
Pietro Marcello & Maurizio Braucci for Martin Eden
Mateusz Pacewicz for Corpus Christi
Thomas Vinterberg & Tobias Lindholm for Another Round
European Comedy
Advantages Of Travelling By Train (Sp-Fr)
Dir. Aritz Moreno
Ladies Of Steel (Fin)
Dir. Pamela Tola
The Big Hit (Fr)
Dir. Emmanuel Courcol
European Discovery - Prix Fipresci
Full Moon (Bos)
Dir. Nermin Hamzagić
Gagarine (Fr)
Dirs. Fanny Liatard, Jérémy Trouilh
Instinct (Neth)
Dir. Halina Reijn
Isaac (Lit)
Dir. Jurgis Matulevičius
Jumbo (Fr-Bel-Lux)
Dir. Zoé Wittock
Sole (It-Pol)
Dir. Carlo Sironi
European Animation
Calamity, A Childhood Of Martha Jane Cannary (Fr-Den)
Dir. Rémy Chayé
Josep (Fr-Bel-Sp)
Dir. Aurel
Klaus (Sp)
Dir. Sergio Pablos
The Nose Or The Conspiracy Of Mavericks (Rus)
Dir. Andrey Khrzhanovsky
European Short Film
All Cats Are Grey In The Dark (Swi)
Dir. Lasse Linder
Genius Loci (Fr)
Dir. Adrien Mérigeau
Past Perfect (Por)
Dir. Jorge Jácome
Sun Dog (Bel-Rus)
Dir. Dorian Jespers
Uncle Thomas, Accounting For The Days (Por-Can-Fr)
Dir. Regina Pessoa