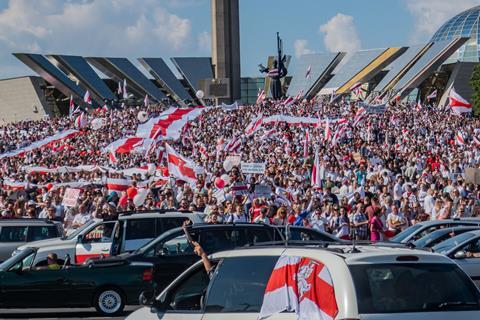 22 European film bodies have issued an appeal in support of the people of Belarus. The country has seen a week of protests following its 2020 presidential elections, leading to state violence against demonstrators.
Organisations including the European Film Academy, the European Producers Club, the Accademia del Cinema Italiano, and the Federation of European Film Directors have co-signed the letter. A full list of signatories is below.
It states: "We, European filmmakers, demand from the Belarusian authorities to immediately cease the violence, to respect the freedom of choice of the Belarusian people, and to release at once all detainees."
"We demand to fulfill the wishes of the Belarusian people: the release of all political prisoners; the resignation of president Lukashenka, and the holding of free and fair elections."
"We demand from all European authorities and governments to take decisive action to persuade the Belarusian authorities to implement the above measures and to support the Belarusian people fighting for human rights."
Speaking to Screen, European Film Academy chairman Mike Downey said the protests represented the "country turning against Europe's last dictator."
"We have a repeat here of pretty much what happened after the elections in 2010," said Downey. "Then, Lukashenko called on the state security forces and the army, and turned them on thousands of peaceful protesters were arrested, often with brutality."
"Now thousands of peaceful protesters have been arrested, many of them filmmakers, documentarists, journalists, artists and again, literally overnight, has Belarus further regressed into a paranoid police state which sees a potential enemy in every citizen."
"The European Film Academy deplores the persecution to the point of kidnap and murder that has long been directed at open dissent, activism, and artistic independence; and stands by the people of Belarus."
Belarus has seen more than a week of demonstrations, centred around the capital Minsk, following the country's election result on Sunday, August 9 in which incumbent president Alexander Lukashenko received 80.23% of votes.
Many protestors believe the election result was rigged in Lukashenko's favour, with presidential candidate Sviatlana Tsikhanouskaya forming the Coordination Council for the Transfer of Power in Belarus on August 14.
This opposition movement has received backing from the European Union, as well as nations including the UK, Ireland, US, and Canada.
As of August 19, over 7,000 people have been arrested, with over 200 injuries and four deaths, including several reportedly as a result of police violence towards protestors.
Belarusian filmmaker Darya Zhuk, whose Crystal Swan premiered at Karlovy Vary 2018 before playing the international festival circuit, is among many figures from the arts world to express her support for the opposition movement.
Full list of organisations
Accademia del Cinema Italiano - Premi David di Donatello
Czech Film and Television Academy
DaKino Film Festival
DFF - Deutsches Filminstitut & Filmmuseum
Directors' Guild of Poland
European Film Academy
European Producers Club
FERA I Federation of European Film Directors
goEast – Festival des mittel- und osteuropäischen Films
Haifa International Film Festival
Icelandic Film- & TV Academy
Krakow Film Festival
Polish Film Academy
Polish Screenwriters' Guild
SCANORAMA European Film Forum
ScripTeast Master Scriptwriters Training
Slovak Film and Television Academy
Sofia International Film Festival
Swiss Film Academy
The Polish Producers Alliance (KIPA)
Ukrainian Film Academy
Warsaw Film Festival