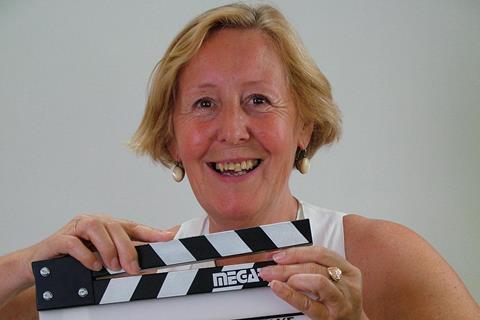 The Swiss and European film industry has paid tribute to film sales and marketing pioneer and veteran Francine Brücher, who died at the age of 77 in Munich after a long illness on May 6.
With her calm manner and sympathetic smile, Brücher was a well-known and much-liked figure on the festival and market circuit. She was best known in the latter part of her career for her work at Switzerland's national cinema promotional body Swiss Films.
During her time at the agency from 1997 to 2013, she energetically led its campaigns to promote Swiss cinema on the international stage.
"Francine made a significant contribution to the international career of numerous Swiss films. She literally took us by the hand into the throng and roar of film festivals and film markets," said Oscar-nominated documentarian Christian Frei in a statement posted on the Swiss Films website.
"With Francine we have lost a cinema friend who always guided us when it came to recognising which film would best find its way to an international audience," said Swiss Films president Josefa Haas. "She was a grand dame of the international promotions scene without ever trying to take centre-stage."
Brücher, who was born in 1943 in the central French region of Berry, studied foreign languages at the University of Lyon.
After working as a language teacher in Hamburg and New York, she began her career in cinema in 1972 as head of international sales at then fledgling Munich-based film company Filmverlag der Autoren, which had been created in 1971 by a group of filmmakers to finance and distribute their films.After
During her tenure there, she handled the works of Rainer Werner Fassbinder, Wim Wenders, Werner Schroeter, Alexander Kluge and Edgar Reitz. In 1977, she set up her own sales company Munic Films with a focus on independent German films.
From 1986 to 1993, she was head of international sales at Metropolis Film in Zurich. She then worked as a freelance sales agent for Pierre Grise Productions in Paris, handling titles by Jacques Rivette, Otar Iosseliani and Chantal Akerman.
"Cinema was Francine's world, arthouse cinema to be precise, the films and all those who made them," said former Swiss Films director Micha Schiwow in a written tribute.
He suggested that Brücher's life and work reflected the cosmopolitan, borderless nature of the world of cinema.
"She came from France, from Berry, and lived in Munich and Zurich, giving 15 years to Swiss cinema, without even holding the red passport. For Francine belonged to the world of cinema, a world which doesn't have borders and unites people instead of dividing them."
He emphasised the role Brücher had played in connecting countless Swiss films with international audiences, singling out as example the behind-the-scenes support she gave to the late Daniel Schmid's satire Beresina, Or The Last Days Of Switzerland when it premiered in Cannes Un Certain Regard in 1999.
"The famous ascent of the steps by Daniel Schmid in Cannes, flanked by Martin Suter and Géraldine Chaplin to present Beresina, she was the artisan of that as well as the small hand that arranged everthing. The first steps of young producers on the international festival scene, that again was Francine, who would take them by the hand and introduce them to experienced professionals that they would never have dared to approach."
Throughout her later career, Brücher also collaborated with a number of film festivals including Locarno and Rotterdam as well as the Film Fund Hamburg and the Luxembourg Film Fund. She also participated as a marketing expert in a number of EAVE workshops.
"I remember her smile and her passion," Locarno Film Festival veteran and former Locarno Pro founding chief Nadia Dresti said in a warm tribute posted on the festival's website.
"She loved films and filmmakers. she was very protective of 'our' directors, she gave her all to them and to their work. She would recount their current films, their history, their filmography, their vision… Wherever she went, she would be with a Swiss film director and do her utmost for them, introducing them to people she thought could appreciate and support their work."
Dresti, who stepped down last year as the head of Locarno Pro and is now an international advisor to the festival, credited Brücher with laying the foundations for Locarno's now wide-ranging industry programme, at the request former artistic Marco Müller, who headed the festival from 1992 to 2000.
"He is a visionary, very close to the business side. He liked her a lot, and asked her to put something together to bring the industry to Locarno. I remember her inviting a dozen major European distributors to Monte Verità, where she would show them Swiss films on VHS. That was the seed of Locarno Pro. So when Müller called me, I took that potential and nurtured it for twenty years. And it began with Francine, on Monte Verità, with a bunch of VHS tapes."
Brücher was also an active member of the European Film Academy (EFA). The body's chairman producer Mike Downey paid tribute to her legacy and the work she did to support European cinema.
"Francine was one of the first people I met in the German film industry when I moved to Munich in the early eighties. For nigh on 40 years I have known her as a stalwart of the festival and sales circuit, never tiring of supporting 'her' filmmakers, whether at the cutting edge of German arthouse talent at Theo Hinz's Filmverlag der Autoren, or her own Munic Films which she founded soon after," he said.
"But it was at her time at Metropolis Films in Zurich that our paths crossed more often: her charm, elegance and kindness were just a cover, underneath she was an ardent, passionate and stubborn supporter of film artists from all over the globe and her commitment to supporting some of our key European makers film makers was boundless. Francine will be sorely missed by the Academy and the whole of the European industry. It's a sad day."
Flanders Image chief Christian de Schutter also recalled Brücher with affection.
"For years she was the face of Swiss Films. She had an impressive network of festival curators, sales agents, distributors. Everybody knew her, and it was always good to be close to her as she would introduce you to people that matter. She was also much appreciated in the industry, which is why festivals kept on inviting her for jury duties and other collaborations," he commented. "I will miss her for her witty remarks and humour."