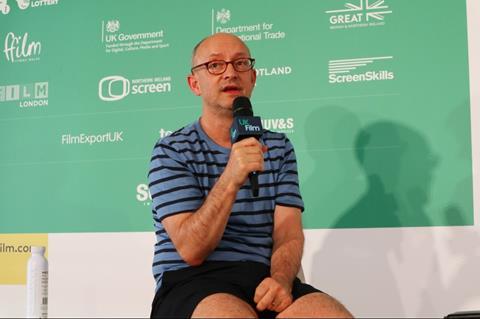 A panel of European producers spoke positively about the future of co-production in the wake of Brexit at a Cannes' UK Pavilion talk held yesterday (Saturday 21), moderated by Screen International editor Matt Mueller.
The panel, titled 'Passport to Europe', consisted of Ed Guiney, co-founder of UK and Ireland-based Element Pictures, whose credits including Yorgos Lanthimos's The Favourite; Mike Elliott of UK-based EMU Films, who has co-produced with Marleen Slot's Netherlands-based Viking Film on Sacha Polak's Dirty God and Silver Haze; and Komplizen Film's Janine Jackowski, whose German-based company co-produced Un Certain Regard title Corsage, an Austria, Luxembourg, Germany, France co-production.
When asked if there have been any ramifications from Brexit for his company, Guiney said: "No, I don't think so.
"Ireland is kind of a special case because we have a common travel area with the UK and Irish citizens have the right to live in the UK and vice versa, that will I imagine continue to exist," he continued.
"Probably British producers are most impacted because they can't access all the public funding in Europe, and for Irish producers there's an advantage there, because now we're the only English-speaking country in the European Union."
"There are small practical elements," added Elliott. "You have to get visas for people coming in, you have all that stuff coming into the UK. If anything, when you're trying to make debut and independent films at a certain budget level, [co-production] appears to be the only way to pursue it now. There are no MGs [minimum guarantees] anymore. You have to be looking how to make up your finance plans. I believe there will be more [co-productions]."
Public funding
The producers also called on public funding to support production at a more ambitious level. "We seem to be at the worst moment now – SVoDs [streaming video on demand] have retreated, costs are high, distributors are not putting up any money and there's no theatrical market," said Guiney. "In these circumstances, public funding becomes more and more important. It's the only real source of funding. Public funding does things for other than commercial reasons.
"The EU has always been reluctant to invest in production," he continued. "I'd like to see more public money going into supporting production costs, not just development and distribution. It's a shame because as European filmmakers become more and more prominent, they end up being primarily financed out of the US."
"In Germany, television which is usually a big part of our cinema financing is now investing more and more in series. We're losing them as our partners for cinema projects," noted Jackowski.
While Guiney acknowledges that theatrical is struggling currently, he anticipates a resurgence. "There's going to be a demand from audiences, grown up audiences who are 30 plus, to see things that are extravagant, wild, bold and ambitious. There's a market for that. Sometimes in Europe, we're tentative about the films we make."