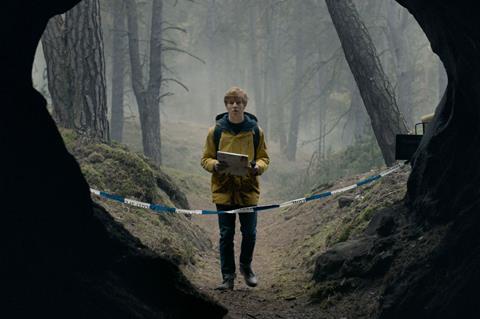 Four female European producers shared their experiences of working with Netflix during Berlinale Series, for the most part highlighting the positives but also citing cultural differences between European and American working practices and the often intense time pressures between greenlight and production.
Jantje Friese, writer/executive producer of German Netflix original Dark, Meta Soerensen, executive producer of coming-of-age Norse mythology drama Ragnarok, Fatima Varhos, producer of Swedish original Quicksand, and Anna Winger, writer/executive producer of upcoming German original Unorthodox, were joined on the Berlin panel by Rachel Eggebeen, director of international originals for Netflix.
Addressing the perception that Netflix is very hands-off with the producers/creators of its original series, including those commissioned out of Europe, Eggebeen acknowledged it was true to an extent.
"There's many, many decisions that get made without us and that we don't even necessarily know about or are involved in," she said. "But for the big picture stuff, we are there every step of the way."
Eggebeen also agreed that Netflix's decision-making process could be seen as dizzying compared to the slower pace that broadcasters tend to work at.
"In the first round of shows we did in Europe, we dove in and through the process of making many series all over the world we've learned a lot," she said. "We're always learning and adjusting based on the shows that we're currently making and the people that we're working with."
"It's not for everyone, the fast pace that we work at," she continued. "Once we commission a show, we're all in. I think the decisiveness of that is a very positive thing; I think the execution of it day to day can be stressful and hard on people and we work together to try to adjust to make it the best working experience of people's lives, that's our goal."
Netflix typically wants producers to plan out second and third series during the greenlighting process, which isn't uncommon either with other TV commissioners but can be intimidating for producers due to the streaming giant's rapid pace of operation.
"Coming from features it's a completely different way of working," said Friese, who found the process daunting while making the first of Dark's three seasons for Netflix. "I didn't want to be thinking about what we might do in the second season then. But the collaboration process is so different from how we work in features that it becomes this tight family, and then you accept the challenge: 'Of course I can do [the third season] faster than before.'"
Winger noted the speedy approach while also praising the platform's risk-taking. Creator of Deutschland 83 and Deutschland 86 with her husband Jorg Winger, she's making her Netflix debut this month with Unorthodox, a one-off, four-episode drama about an Orthodox woman fleeing an arranged marriage and starting a new life.
"We shot Unorthodox in Yiddish – I don't think anyone else would have commissioned it – and we made the whole show in a year from soup to nuts. You have to be a little crazy to want to do it, there isn't this two-year development process. I had a four-page pitch for the show and [Netflix] were like, 'Great, let's do it'. And then we were making it. They were willing to take this massive risk."
For Soerensen, whose multiple feature credits include Lars von Trier's Melancholia and The Wife starring Glenn Close, the time pressures and scheduling were also a challenge on Ragnarok.
"The question is how is it sustainable and I'm not a writer, I'm a boss so I'm hiring people and asking them to do crazy things," she said. "I don't want to ask someone to do a job that is so stressful that they end up getting sick from it, so it's important to have that discussion and I have had it a lot with Netflix. It's also a culture clash because the Americans just have a different work culture than we have in the Nordics and that is actually a challenge."
Friese noted that for the most recent season of Dark, two two-week production hiatuses were factored into the schedule to allow cast and crew time off to see their families, with Netflix's full support.
"When you make features and you have kids, no one cares, they say put them in the cellar," said Friese. "But it is really difficult, and for the first time [in my career] there were people who listened to our concern. Everyone has families. It feels like the workspace is changing as everything else is changing, and maybe that's because more women are working in these positions."
To showrunner or not to showrunner
The panel also debated the US showrunner model, where the writer/producer is usually the most powerful creative force on a series, and how it compares to the European model, where power can be more evenly distributed between producers, directors and writers.
Winger has embraced the showrunner model for her own series, "not because I'm a megalomaniac but because it takes a village to make a television show and I want to choose who lives in my village", while Friese was in favour of the model becoming more common in Europe.
"Especially for a long-running show, you need some kind of grand vision that goes somewhere," she said. "Yes, TV is collaborative but someone needs to wear the vision hat. I've seen shows falling apart because there are too many voices."
Varhos countered that the showrunner model doesn't exist in the Nordic TV landscape – "and we don't need it".
"We have a democratic way of working where the writer, director and producer form a triangle of people who need to work together and usually the best idea wins. I don't feel the need to use it in my region."
All four producers marvelled at Netflix's global, instantaneous reach, and how that translated into viewing figures – which Netflix is much more inclined to share these days with creators – for their series.
"It's just mind-boggling that it goes out in 192 countries at the same time," said Varhos, whose six-episode YA thriller Quicksand premiered at the 2019 Berlinale before debuting on Netflix last April. "And then you start getting the numbers [from Netflix] and they are just crazy."
Friese admits she found it intimidating: "You get the first numbers and you're like, 'No, no, that's impossible.' I didn't actually experience it as joy at first, I was just completely overwhelmed by it. There is so much more potential in the viewership. The numbers that you have when you put out a German show is a very tiny percentage of that, so it's cool."