Billy Elliot, André Rieu and Monty Python are leading the charge for the growth of event cinema.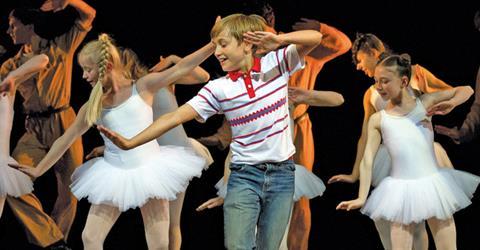 Overpowering the sound of ballet shoes hitting the stage might have been the sound of jaws hitting the floor. On the morning of September 30, the UK industry awoke to the news Universal's Billy Elliot The Musical - Live was top of the UK box office.
A theatrical showing of a West End musical had beaten the likes of Denzel Washington's latest action title The Equalizer.
The fact a live broadcast of a musical that opened nine years ago led the box office on $3.1m (£1.9m) is something that might have shocked industry players even five years ago; a decade ago the idea would have been laughed at.
Now, event cinema's first weekend leading the UK box office is confirmation of what a major force alternative content has become (both creatively and financially) within the film industry.
And it's also revolutionising the live events industry. I saw Stephen Fry Live: More Fool Me at Royal Festival Hall on October 1 and he frequently referenced the event cinema crowds across 300 UK sites and a host of other countries (Picturehouse Entertainment distributed via satellite).
You have to wonder if an event like this would have even been done as a one-off in London without the potential to connect to further audiences.
At our own Screen Awards (to be held October 23 in London), we've added a category for best Event Cinema Campaign. The shortlist of nominees shows just how diverse event cinema's offerings have become: André Rieu's 2014 Maastricht Concert, Monty Python Live (Mostly), Nymphomaniac One Night Stand, RSC's Richard II and D-Day 70 Years On.
Each of these was successful financially and creatively and shows appetites are growing for alternative content.
So is that bad for films? As the UK box office drops in admissions and grosses, exhibitors are glad of any good news and most are embracing event cinema.
Distributors may have more mixed feelings - if your indie film is kicked off prime Saturday night slots because of opera or theatre that makes the fight to stay on screens week to week even tougher.
Some distributors do see event cinema releases as cannibalising their audiences and in some cases that's true, but others see smart business opportunities.
As Universal's Niels Swinkels says in our latest feature on event cinema: "We are exploring future opportunities that will help grow our market share in this growing business."
Universal also saw the 'eventisation' of another of its catalogue titles presented in a remarkable way when Secret Cinema's run of Back To The Future finished with a tally of $5.5m (£3.37m).
Secret Cinema is not just kids playing dress-up, it's a powerful force in connecting films to audiences that might not otherwise go to a cinema.
Fox Searchlight also discovered the benefits, with The Grand Budapest Hotel's UK grosses boosted healthily by its Secret Cinema offering.
Among independent distributors, Picturehouse is an industry leader in event cinema as both an exhibitor and distributor.
It now releases more events than traditional films and what it learns from events can be applied to film releases, such as the live offerings connected to theatrical runs of A Field In England or 20,000 Days On Earth.
With the UK in the box-office doldrums this year, any bright spot should be celebrated. Event cinema offerings are getting audiences into cinemas that might not otherwise go, and the hope is the experience encourages them to go back and watch more films, too.
Keaton first to the punch in Oscar race
Even with Gravity a tough act to follow from last year, Birdman proved to be the perfect opening night film in Venice - topical, starry and exciting film-making.
Because of Venice's boutique programme size (compared to the Toronto behemoth) everyone was raving about this film for days. Alejandro Gonzalez Inarritu's directing and Emmanuel Lubezki's cinematography were stunning.
But the loudest buzz was about Michael Keaton's 'comeback of the century' - his performance was a revelation and he's assured a best actor Oscar nomination (if not a win).
My inner nine-year-old, who really loved Mr Mom, is very pleased at this development.
A very different performance that wowed me in Toronto was Eddie Redmayne as Stephen Hawking in The Theory Of Everything. This young actor has previously impressed with more of a cool vibe in his performances but he brought real humanity to Hawking and lifted the role above impersonation.
Redmayne's career immediately goes to another level with this film.
Wendy Mitchell is Editor of Screen International