Holdover Everest topped Ridley Scott's forthcoming sci-fi The Martian on this week's social media buzz chart.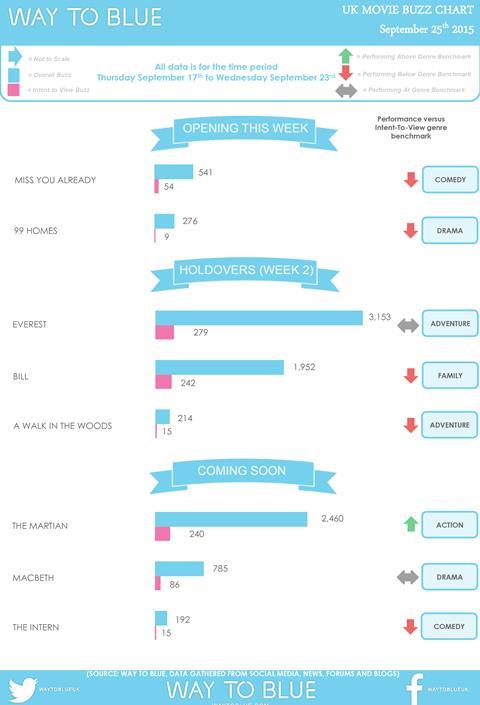 Baltasar Kormákur's mountaineering disaster epic Everest sits atop the social media buzz chart this week, according to analysis firm Way To Blue.
The film generated 3,153 mentions across social media, news, forums and blogs during its first week of release, with 7.7% expressing an intent to view (ItV).
In second place was The Martian, which stars Matt Damon as an isolated astronaut stranded on Mars, ahead of its release next week.
The film clocked up 2,460 mentions, with 9.8% ItV.
In third this week was Bill, a comedy from the team behind TV series Horrible Histories, which received 1,952 mentions, with 12.4% ItV.
This week's new openers Miss You Already (541 mentions, 10% ItV) and 99 Homes (276 mentions, 3.3% ItV) failed to clock up significant numbers.
Also on the horizon, Justin Kurzel's Macbeth, starring Michael Fassbender, is set to open on Oct 2. It garnered 785 mentions, with 11% ItV.