StudioCanal's Legend becomes biggest British 18-rated film of all time, as Disney's Inside Out becomes second biggest original animation.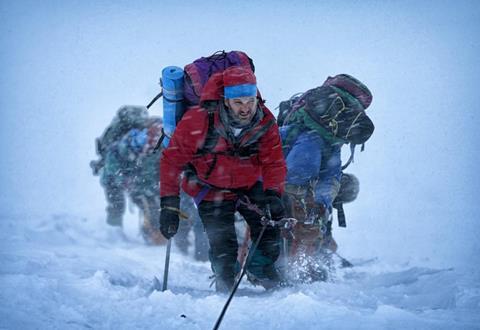 UNIVERSAL
Everest led an unchanged top three as it remained at the peak of the UK box office.
Universal's real-life disaster thriller fell just 20% (excluding previews) as it enjoyed a $3m (£2m) second weekend for $10.4m (£6.83m). Before the weekend, it had become director Baltasar Kormákur's best-ever UK result, topping 2 Guns' $6.5m (£4.3m).
The arrival of The Martian means Everest is unlikely to achieve a hat-trick at the summit, and it'll also have to contend with competition from The Walk in IMAX screens as it attempts to scale £10m.
Also for Universal, The Visit scared up an extra $473,000 (£310,988) for $3.9m (£2.57m) after three weeks in play, while Straight Outta Compton hit $12.2m (£8.04m) with a $230,000 (£151,104) fifth weekend.
Minions has amassed $70.5m (£46.35m) as the third biggest film of the year to date.
STUDIOCANAL
Legend continued its excellent run with another strong hold as it became the highest grossing 18-rated British film of all time.
StudioCanal's biopic enjoyed a $2.7m (£1.8m) third weekend for $20.2m (£13.27m) to date, surpassing Trainspotting's $18.9m (£12.43m) result.
Legend is also currently the 12th highest grossing 18-rated film of all time.
Also for StudioCanal, 99 Homes opened with $60,000 (£39,559) from its 25 sites.
FOX
Maze Runner: The Scorch Trials remained rooted in third after just a 24% drop in its third weekend.
Fox's sequel added $1.8m (£1.15m) to reach $10.5m (£6.9m) as it attempts to chase down The Maze Runner's $13.5m (£8.89m) result, which it should easily overcome in the next few weeks.
Also for Fox, Secret Cinema production of The Empire Strikes Back finished last night [Sept 27], adding $448,000 (£294,775) for a final total of $9.6m (£6.32m).
EONE
Miss You Already was the highest new entry in a tough week for new releases as it charted fourth.
eOne's dramedy took $741,000 (£486,745), including just under $30,000 (£20,000) in previews, from its 437 sites. That marks director Catherine Hardwicke's third highest UK opening, behind Red Riding Hood's $1.3m (£842,398) from 403 sites.
Also for eOne, Anton Corbijn's Life posted a UK debut of $55,000 (£36,000) from its 48 sites for his lowest-ever opening, though it's worth noting Life also received his smallest release in terms of sites.
DISNEY
As expected, Inside Out is now the second biggest original animation of all time at the UK box office.
Disney's critically acclaimed Pixar outing dropped just 2% on its way to a $654,000 (£430,000) tenth weekend for a terrific $57.7m (£37.91m) haul. The run has seen it gross over five times its opening weekend.
Also for Disney, McFarland landed with an unsurprisingly soft $20,000 (£13,000) from its 113 sites.
ENTERTAINMENT
Charting sixth was Entertainment's Solace with a $517,000 (£340,515) UK debut from its 332 sites, an opening that's likely to see it struggle to hold onto sites this coming weekend.
SONY
Continuing its solid run with a slim 14% drop, Pixels gobbled up a further $251,000 (£165,000) for $12.7m (£8.34m) to date through Sony.
VERTIGO FILMS
Falling a respectable 27% in its second weekend, Vertigo Films' Bill took $243,000 (£159,734) for $680,000 (£446,821) after ten days in play.
PARAMOUNT
Nearing the end of its strong run, Paramount's Mission: Impossible - Rogue Nation added $144,000 (£94,849) to be on the cusp on $32m (£21m).
Also for Paramount, Captive failed to grab audiences as it posted a UK bow of just $79,000 (£52,227) from its 126 sites.
CURZON ARTIFICIAL EYE
Nanni Moretti's Mia Madre recorded a UK opening of $55,000 (£36,306), including $1,800 (£1,152) in previews, from its 27 sites through Curzon Artificial Eye.
That's up on the $26,000 (£16,918) bow of his previous outing, We Have a Pope, although that was released in fewer sites at 14.
ARROW FILMS
Playing in ten sites on one matinee a day, Arrow Films' Lessons in Love grossed $4,700 (£3,117) on its UK debut with one site still to report.
UPCOMING RELEASES
This week sees saturation releases for Fox's The Martian (opens Sept 30), Warner Bros' The Intern and StudioCanal's Macbeth.
Sony's The Walk opens in IMAX cinemas ahead of a nationwide release on Oct 9, while Soda Pictures' By Our Selves and Peccadillo Pictures' Dressed as a Girl are among the films receiving a limited release.