McKell David takes aim alongside Lars Mikkelsen in the first image from Montana, director Mo Ali's second feature.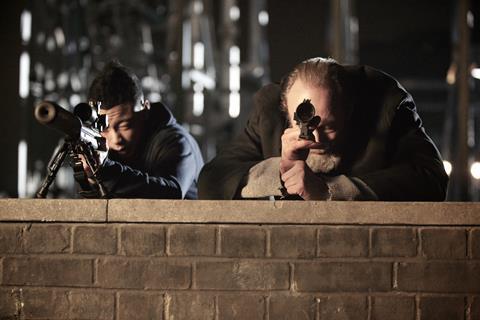 Shooting has wrapped on Mo Ali's second feature film Montana. Principal photography began in London on February 18.
For production details visit
It stars Lars Mikkelsen (What Richard Did, Borgen), Michelle Fairley (Game of Thrones), Adam Deacon (Anuvahood), Ashley Walters (Bullet Boy) and newcomer McKell David, who made a brief appearance in My Brother the Devil.
Mikkelsen plays Dimitrij, a Serbian on a mission who enlists teenage Montana (David) to help him assassinate the man who killed his family. Montana finds a role model and father figure in Dimitrij.
One major location is Dimitrij's steamy rooftop lair at the Old Truman Brewery on Brick Lane. It is a space reminiscent of the 1984 classic Karate Kid, with punching bags and other makeshift gym tools dangling from the ceiling.
Other locations include a Turkish bath - built specifically for the movie - where one of the fastest and most action-packed scenes takes place.
Wherever they shot, the filmmakers wanted to ensure the city played a large role.
"We've tried to incorporate London in a positive way," said producer Mark Foligno. "There's a lot to use, but it's also quite an ambition for the look of the film."
Made by MoliFilms, producers are Foligno, Iain Richardson and Gareth Roberts. Executive prodcers are Babak Eftekhari and Robert Muston.
Montana is MoliFilm's third feature and has their biggest budget yet of $2m. The production company received funding from the EIS (Enterprise Investment Scheme).
Foligno executive produced Ali's debut film Shank, and had no reserves about working with the young director once more.
"He's a great guy, he's got an eye for detail, action and dialogue," Foligno said. "There's an incredibly complex scene - an action sequence - and Mo will get it right in four or five shots."
While Shank was a success, Ali wanted to make a film that came from his own original idea. After bringing it to Foligno, Jeremy Sheldon (Best Laid Plans) and Peter Lowe (Se1: Evans Baby) were brought on to write.
Growing up, some of Ali's all-time favorite movies included the teacher-and-student element, so it's only natural to see this film take that same path.
"I tip my hat to Leon and Karate Kid - everybody wants a mentor teaching them those things," said Ali.
His aim is to give depth to a genre that doesn't always see those heartfelt moments and real relationships develop between characters. He wants to strike a balance between good dialogue and those great explosive 'popcorn' moments.
Dimitrij and Montana first meet when he saves the boy from a gang of drug dealers, who Dimitrij seamlessly executes. Upon realizing that their leader is the same man who killed his wife and son, he recruits Montana.
"Montana wants to be rich and drive fast cars, but Dimitrij had his family taken away and closes himself off from the world," said Ali.
"By meeting Montana, his heart is filled. Their relationship makes the popcorn moments even more important."
Acquiring Mikkelsen was ideal for the cast and whom they wanted as Dimitrij from the beginning, thanks to a reputation known for portraying grave characters so well.
David was also a hit with the crew. Both producers and director noted how special it is to work with someone so young in a film.
"The thing with working with kids is that they step inside the character, they are much more instinctual," said Roberts.
Ali added that Mikkelsen and David make for a "striking team" on screen.
The film set to be completed by September 30. Sales are being handled by The Salt Company.