Picturehouse and former Curzon exec engaged in a heated debate over the changing face of cinemas.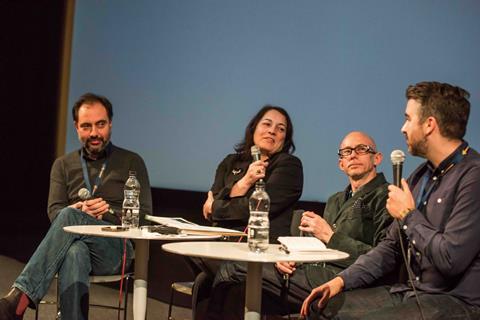 A debate on the price and value of cinema descended into an on-stage war of words at the recent This Way Up exhibition conference in Manchester.
Jason Wood, the artistic director of film at Manchester's HOME arts centre, voiced concern on the panel that cinemas are focussing too little attention on movie audiences.
"I worry that cinemas aren't seen as cinemas but as somewhere to come to have a drink," said Wood, who was previously director of programming at Curzon Cinemas.
Referring to the recently opened Picturehouse Central in London's West End, Wood said: "I think the pricing is outrageous but they've named screens after film-makers and prominent industry figures. At least they're making an effort.
"Some of the other chains, they couldn't give a fuck. They couldn't give a fuck about the audiences, they couldn't give a fuck about what they're showing."
Jon Barrenechea, project development manager at Picturehouse Cinemas, responded: "We do give a fuck. I just opened a cinema last week with a box office, bar, restaurant, huge kitchen, food and five screens. It's not a 'venue', it's a cinema."
Cinemas "need to be community spaces"
But Barrenechea went on to insist that cinemas need to move away from their line-up of films being the primary reason for people to attend.
"We need to create spaces where people will come even if they don't want to see a film," said the Picturehouse exec. "If we don't, we are relying on those distributors to provide us with the content - and if they have a shit year, we do too.
"From my point of view, as much of a film person as I am, all our cinemas need to move away from programme as the lead. They need to be community spaces where people want to spend time, regardless of what's playing because if there comes a time when no matter how good or bad the film is, nobody comes, we're all fucked."
Wood hit back: "There's the idea that there aren't the films out there and I don't buy that. The films are out there. It's whether you want to play them or not.
"If we want audiences to be still coming to the cinema in 10 years and we're just driving audiences to see Spectre, Mad Max and Minions, where will that leave us?"
Barrenechea defended his point and said: "I'm not saying we're driving them to do that. I'm saying we're driving them to come to our cinemas and venues regardless of what is playing."
Customer service
Also on the panel was Ben Luxford, head of UK audiences for the BFI, who suggested that customer service was paramount to saving cinemas.
"In the last two years, VOD has outgrown the perceived cinema experience," said Luxford, quoting Brand Index.
"What can Netflix give a home viewer that cinemas cannot? Cinema is high on engrossing, exciting, fun social. Home experience is high on cheap, comfortable and relaxing.
"Can cinema ever give an idea of comfortable, relaxing and cheap? Where consumers are incredibly frugal, what will win out? Engrossing and exciting or comfortable and cheap?"
Film maniac
Later in the discussion, Barrenechea stated: "I don't want to be misunderstood here. I am a film maniac at heart. The only thing that matters to me is film.
"But if we are looking at this as a hard business case, there aren't billions of pounds to subsidise audiences to come to our venues so what I'm saying is that the curatorial side is just part of the experience, the same as a good burger or coffee.
"The event [such as Q&As] works at film festivals but can't be replicated on a daily basis in terms of people's leisure choices."
The panel was moderated by Diane Henderson, deputy artistic director of the Edinburgh International Film Festival.