SCREEN FILM SUMMIT: Understanding the differences between platforms is key to unlocking the potential of a converging world, attendees at Screen's Film Summit at the BFI Southbank heard today (Dec 2).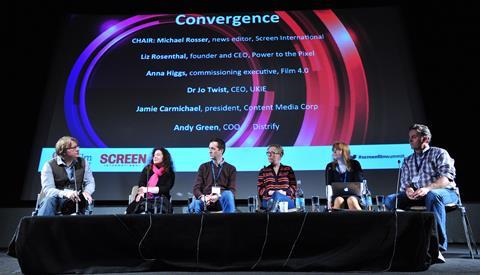 A panel on convergence discussed the huge amount of creative potential in the multi-platform arena, but underlined the fact that the appeal of different platforms to audiences had to be fully understood to make projects really work across diverse platforms.
"The promise of convergence is that we can create these storyworlds," said Film 4.0 commissioning executive Anna Higgs.
Higgs highlighted the strategy taken by Film 4.0 to the multi-platform release of Ben Wheatley's A Field In England earlier this year which looked to understand the attraction — and differences — of different platforms.
"Thinking about them all as the same pipe to put the same content is dangerous," she explained.
The problems posed by the range of terms used to describe the arena was also said to be unhelpful.
"All of these terms mean different things to different people," said Liz Rosenthal, founder and CEO of Power To The Pixel, pointing to the difference between 'converged media projects' — such as graphic novels with multimedia elements — or transmedia projects which "extend brands and tell stories across media".
"It really depends what you're trying to do with different content," said Dr Jo Twist, CEO of trade body UKIE.
"There has been a tendency to think of all content as coming together but you've got to understand how to do different things with the content across different media."
Panelists also discussed areas of content that they found exciting. Power To The Pixel's Rosenthal pointed to Highrise's "organic growth as a piece of storytelling".
The National Film Board of Canada-backed project has explored high-rise living across a range of platforms including documentaries, installation and so on
Film 4.0's Higgs underlined the fact that convergence across platforms should start with the story pointing to Aningaaq, a short film that extends the story of Alfonso Cuaron's Gravity. "It's a great example of a film-maker thinking about how parts of the world can be engaged."
Higgs also pointed to David Cronenberg's "very cutting-edge" Body/Mind/Change project, an immersive project that spans online, mobile and the real world and involves plotlines and game mechanics.
The panel also underlined the huge potential of the games industry. Twist spoke of a lack of understanding of games "as interactive systems of content" and pointed to the fact that the value of the games industry has been forecast to reach $87bn in 2017.
"There is a tremendous creative opportunity here," Twist explained.
Jamie Carmichael, president of Content Media Corp, pointed to the success of its adaptation of the Halo video game, and also to its current project based on the Street Fighter franchise, which is being licensed in both traditional ways and digitally.
"When you have a brand there is a built-in audience," explained Carmichael.
Thinking about platforms early in the project's development is also key.
Panelists also discussed how to judge the success of multi-platform projects, with Distrify COO Andy Green pointing to the ability to continue in the same area as success.
Film 4.0's Higgs agreed: "The success is about taking risks and being able to continue to take risks because the more we can do that the more we can learn."