Montreal's genre film festival to showcase 135 features and almost 300 shorts across its three-week run from July 14-Aug 4.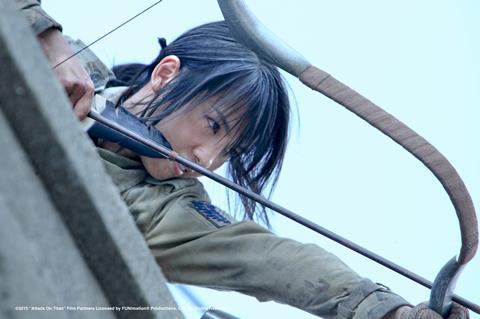 Scroll down for line-up
Fantasia International Film Festival has unveiled its full line-up for its upcoming 19th edition which kicks off next Tuesday [July 14].
Over its three-week run, the Montreal-based genre film festival will showcase 135 features, including 22 world, 13 international premieres and 21 North American premieres, and almost 300 short films.
Shinji Higuchi's Attack on Titan will receive its Canadian premiere as the closing film of this year's edition on Aug 4. The live-action film is based on Hajime Isyama's steampunk fantasy war opera manga series.
Additional highlights of the final wave of titles include the world premieres of Malik Bader's thriller Cash Only and Ken Ochiai's Ninja the Monster, as well as the Canadian premiere of Jonathan Milott & Cary Murnion's horror comedy Cooties starring Elijah Wood.
A trio of Sion Sono films will also be shown at this year's Fantasia: the international premiere of manga adaptation Shinjuku Swan and the North American premieres of family film Love & Peace and black comedy Tag.
Other titles announced for Fantasia include anthology A Christmas Horror Story, Nathan Oliver's Lady Psycho Killer, Daniel & Matthew Wolfe's Catch Me Daddy, Sean Baker's Tangerine, Adam Brooks & Matthew Kennedy's The Editor, Yoo Ha's Gangnam Blues, Mamoru Oshii's Nowhere Girl and Chris & Ben Blaine's Nina Forever.
Strands
This year's Camera Lucida strand will open with the world premiere of Q & Nikon's Ludo, as well as hosting the world premieres of Asiel Norton's post-apocalyptic Orion and Trevor Juras' feature debut The Lamp.
Meanwhile, Fantasia's Action! strand will host the world premiere of Stephen S. Campanelli's action thriller Momentum, starring Olga Kurylenko, and the international premiere of Choi Dong-hoon's period thriller Assassination.
Harold P. Warren's Manos: The Hands of Fate and Philip Ridley's The Reflecting Skin are among the restorations screening at this year's Fantasia.
The first-ever Canadian presentation of Larry Fessenden & Glenn McQuaid's Tales from Beyond the Pale radio drama leads this year's special events, which will also see book launch of Kier-la Janisse & Paul Corupe's Satanic Panic: Pop-Cultural Paranoia in the 1980s.
Guests / Juries
Over 55 directors, producers and actors will attend the festival in support of their films, as well as more than 400 film-makers and film industry professionals.
Guests include Kevin Bacon (Cop Car), Neil Marshall, Axelle Carolyn & Darren Lynn Bousman (Tales of Halloween), Doron & Yoav Paz (Jeruzalem), Ken Ochiai (Ninja the Monster), Adrián García Bogliano (Scherzo Diabolico), Nathan Ambrosioni (Hostile) and Ted Geoghegan & Barbara Crampton (We Are Still Here).
Notable industry representatives attending this year's Fantasia Industry Rendez-Vous include Amazon Studios, Blumhouse Productions, ICM Partners, Magnolia Pictures, Gaumont and the Nikkatsu Corporation.
This year's Cheval Noir jury consists of Mongrel Media's Andrew Frank, film-maker Roxanne Benjamin, actor/screenwriter François Létourneau, FrightFest co-founder Ian Rattray and Blumhouse's Ryan Turek, while the New Flesh Award will be decided by Epic Pictures' Patrick Ewald, Rue Morgue editor Dave Alexander, cartoonist Jimmy Beaulieu and Nikkatsu's Emico Kawai.
Film-maker John McNaughton, journalist Matthew Hays and Arrow Video's Francesco Simeoni make up the international short film competition jury, and a trio of film-makers - Benoit Godbout, Marie-Josée Saint-Pierre and Johanne Ste-Marie - will sit on the animation jury.
For the first time ever, the Barry Convex Award for Best Canadian Feature will be administered by Spectacular Optical with the winner receiving a cash prize of $1,000 courtesy of the Paul A. Ray Memorial Fund.
Fantasia International Film Festival runs July 14-Aug 4. For the full line-up and schedule, visit its official website.
Full list of final wave titles
WP - World Premiere; IP - International Premiere; NAP - North American Premiere; CP - Canadian Premiere; QP - Quebec Premiere; MP - Montreal Premiere
100 Yen Love (CP)
Dir: Masaharu Take
Anima State (QP)
Dir: Hammad Khan
The Arti: The Adventure Begins (NAP)
Dir: Huang Wen Chang
Assassination (IP)
Dir: Choi Dong-hoon
Attack on Titan (CP)
Dir: Shinji Higuchi
Battles Without Honour and Humanity
Dir: Kinji Fukasaku
Black & White: The Dawn of Justice (CP)
Dir: Tsai Yueh-Hsun
Buddha's Palm
Dir: Taylor Wong
The Case of Hana & Alice (NAP)
Dir: Shunji Iwai
Cash Only (WP)
Dir: Malik Bader
Catch Me Daddy (QP)
Dirs: Daniel Wolfe, Matthew Wolfe
A Christmas Horror Story (WP)
Dirs: Grant Harvey, Brett Sullivan, Steven Hoban
Cooties (CP)
Dirs: Jonathan Milott, Cary Murnion
Cosmodrama (NAP)
Dir: Philippe Fernandez
Deadman Inferno (NAP)
Dir: Hiroshi Shinagawa
The Editor (MP)
Dirs: Adam Brooks, Matthew Kennedy
Excess Flesh (CP)
Dir: Patrick Kennelly
Gangnam Blues (CP)
Dir: Yoo Ha
Goodnight Mommy (QP)
Dir: Veronika Franz, Severin Fiala
Haemoo (QP)
Dir: Shim Sung-bo
A Hard Day (QP)
Dir: Kim Seong-hun
I Am Thor (QP)
Dir: Ryan Wise
The Interior (WP)
Dir: Trevor Juras
Kahlil Gibran's The Prophet (QP)
Dirs: Roger Allers, Paul Brizzi, Gaëtan Brizzi, Joan C. Gratz, Mohammed Saeed Harib, Tomm Moore, Nina Paley, Bill Plympton, Joann Sfar, Michal Socha
Lady Psycho Killer (WP)
Dir: Nathan Oliver
Love & Peace (NAP)
Dir: Sion Sono
Ludo (WP)
Dirs: Q, Nikon
Lupin the Third (QP)
Dir: Ryuhei Kitamura
Manos: The Hands of Fate
Dir: Harold P. Warren
Minuscule: Valley of the Ants 3D (QP)
Dirs: Hélène Giraud, Thierry Szabo
Momentum (WP)
Dir: Stephen S. Campanelli
Nina Forever (CP)
Dir: Chris Blaine, Ben Blaine
Ninja the Monster (WP)
Dir: Ken Ochiai
The Ninja War of Torakage (NAP)
Dir: Yoshihiro Nishimura
Nowhere Girl (CP)
Dir: Mamoru Oshii
The Nutcracker 3D (NAP)
Dir: Sebastian Masuda
Office (NAP)
Dir: Hong Won-chan
On the Horizon (WP)
Dir: Pascal Payant
Orion (WP)
Dir: Asiel Norton
Poison Berry in my Brain (NAP)
Dir: Yuichi Sato
Port of Call (CP)
Dir: Philip Yung
Princess Jellyfish (CP)
Dir: Taisuke Kawamura
Raiders! The Story of the Greatest Fan Film Ever Made (QP)
Dirs: Jeremy Coon, Tim Skousen
The Real Miyagi (QP)
Dir: Kevin Derek
The Reflecting Skin
Dir: Philip Ridley
Roar
Dir: Noel Marshall
Robbery (CP)
Dir: Fire Lee
The Royal Tailor (CP)
Dir: Lee Won-suk
Scandale
Dir: George Mihalka
Scratch (WP)
Dir: Sébastien Godron
Shinjuku Swan (IP)
Dir: Sion Sono
Singham Returns
Dir: Rohit Shetty
Snow Girl and the Dark Crystal (CP)
Dir: Peter Pau, Zhao Tianyu
Strayer's Chronicle (CP)
Dir: Takahisa Zeze
Tangerine (MP)
Dir: Sean Baker
Tag (NAP)
Dir: Sion Sono
Tazza: The Hidden Card (QP)
Dir: Kang Hyoung-chul
Teana: 10,000 Years After 3D (NAP)
Dir: Yi Li
(T)error (QP)
Dirs: Lyric R. Cabral, David Felix Sutcliffe
Un Homme Ideal (A Perfect Man) (CP)
Dir: Yann Gozlan