First wave of titles unveiled for 19th edition of Montreal's genre film festival .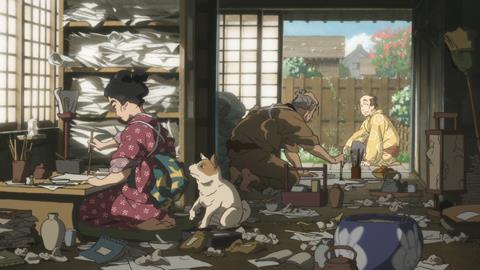 Keiichi Hara's Miss Hokusai will receive its North American premiere as the opening film of this year's Fantasia International Film Festival (July 14-Aug 4).
Based on Hinako Suguira's manga Sarusuberi, the film centres on the relationship between ukiyo-e (woodblock prints) artist Katsushika Hokusai and his talented daughter O-Ei.
Fantasia's opening night will also see the Montreal premiere of Marvel Studios' latest outing Ant-Man, directed by Peyton Reed.
The first wave of titles also includes the world premieres of horror omnibus Tales of Halloween, featuring segments directed by the likes of Darren Lynn Bousman, Neil Marshall and Lucky McKee, and Israeli duo Yoav & Doron Paz's Jeruzalem which follows a group of American teenagers who find themselves inside their worst nightmare when they visit Jerusalem on Yom Kippur.
This year's festival will also host the international premiere of Eiichiro Hasumi's sci-fi comedy Assassination Classroom, based on the popular manga about a super-powered happy-faced alien who will destroy Earth if the school kids don't do their homework.
Festival hit and SXSW audience award winner Turbo Kid, from François Simard, Annouk Whissell and Yoann-Karl Whissell, will receive its Canadian premiere at Fantasia, marking its return to the place of its birth as the project came out of the first edition of Fantasia's Frontières market.
Other first wave highlights include the world premieres of Gabriel Carrer's The Demolisher and Joseph Sims-Dennett's Observance, the North American premiere of Mari Asato's Fatal Frame and the Canadian premieres of Miguel Llansó's Crumbs and Jason Lei Howden's Deathgasm.
This year's poster [pictured right] has been designed by Montreal artist Donald Caron and depicts the Cheval Noir, the official festival emblem, facing the Native American mythical creature the Wendigo.
Fantasia's full line-up of screenings and events will be announced on July 7, preceded by a second wave of announcements in June.
Full list of first wave titles
WP - World Premiere; IP - International Premiere; NAP - North American Premiere; CP - Canadian Premiere; QP - Quebec Premiere; MP - Montreal Premiere
Ant-Man (MP)
Dir: Peyton Reed
Assassination Classroom (IP)
Dir: Eiichiro Hasumi
Big Match (CP)
Dir: Choi Ho
Crumbs (CP)
Dir: Miguel Llansó
Deathgasm (CP)
Dir: Jason Lei Howden
The Demolisher (WP)
Dir: Gabriel Carrer
Experimenter (CP)
Dir: Michael Almereyda
Fatal Frame (NAP)
Dir: Mari Asato
Full Strike (CP)
Dir: Derek Kwok, Henri Wong
The Golden Cane Warrior (CP)
Dir: Ifa Isfansyah
Jeruzalem (WP)
Dirs: Yoav & Doron Paz
La La La at Rock Bottom (CP)
Dir: Nobuhiro Yamashita
Miss Hokusai (NAP)
Dir: Keiichi Hara
Observance (WP)
Dir.: Joseph Sims-Dennett
Possessed (CP)
Dir: Sam Ortí Martí (AKA Sam)
Tales of Halloween (WP)
Dirs: Darren Lynn Bousman, Axelle Carolyn, Adam Gierasch, Neil Marshall, Lucky McKee, Mike Mendez, Dave Parker, Ryan Schifrin, John Skipp and Andrew Kasch, and Paul Solet
They Look Like People (IP)
Dir: Perry Blackshear
Turbo Kid (CP)
Dirs: François Simard, Annouk Whissell and Yoann-Karl Whissell
The Visit (QP)
Dir: Michael Madsen