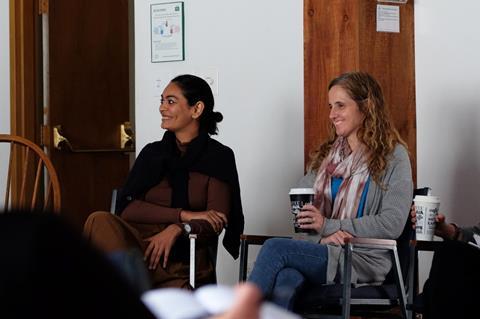 The Writers Lab in the US, the non-profit for female screenwriters over 40 that counts Meryl Streep and Nicole Kidman among its supporters, is partnering on an international platform with Untamed Stories in the UK and Spain's Filmmarket Hub.

The collaboration will expand the reach of The Writers Lab beyond the US for the first time. Elizabeth Kaiden and Nitza Wilon co-founded the lab in 2015 and produce it with New York Women in Film & Television (NYWFTV).
Online marketplace Filmarket Hub will offer The Writers Lab a section for its 2018, 2019 and 2020 writers' projects. The Hub boosts the profile of emerging talents in film and TV, connects them to international networks, distributors, digital platforms and sales agents.
It currently has more than 25,000 users worldwide and organises pitching events under the brand 'Pitchbox', while offering services such as script analysis, marketing analysis and poster design, and script contests with cash prizes.
"I am convinced that for us to succeed, we must elevate each other," said Filmarket Hub co-founder and CEO Andrea Giannone. "We must build a chain of empowerment, self-knowledge and support among us. And that's what we do at Filmarket Hub."
The UK's Untamed Stories, formed by Julia Berg and Ruth Spencer, will partner on developing content from underrepresented writers in new territories. To date, the company has developed material for new talent and secured commissions with the BFI, Stan, Film Victoria, ABC, Uncertain Kingdom, and Liverpool Film Office.
"We're excited to work with the TWL founders to bring their model to Europe, the UK, and Australia/New Zealand, using virtual tools to elevate exponentially more underserved women screenwriters over 40," said partner Berg.
Filmarket Hub and Untamed Stories join existing partners of The Writers Lab: The Writers Guild of America, East, with in-kind support from partners Final Draft, The Black List, Falco Ink, Film Fatales, Filmarket Hub, Relativity Ventures, Roadmap Writers, Stony Brook Manhattan Center for Creative Writing & Film, and Untamed Stories.
In its sixth year, The Writers Lab is building a virtual experience for its 12 winning writers with emphasis on completing screenplay drafts.
The 12 participants for 2020 are: Nichole Abshire, Imposter Impersonator; Charlotte Cameron, Throw Money; Elisa Greven, Silent Spring; Joey Day Hargrove, Highway To Heck; Christine Hoang, The Fly Girls; Christine Autrand Mitchell, The Field; Carolyn Saunders, Island West; Kelly Yoon Strathmore, Wing And A Prayer; Barbara Ward Thall, Little Sister; Victoria Thomas, Street Food; Sandy Thomson, A Sharp Arrow; and Julie Zografos, Dark Quarry.
This year The Writers Lab has introduced additional resources, including podcasts and recorded talks with lab mentors and supporters, and curated links.
The Writers Lab has also announced an expanded roster of mentors: producers Anne Carey (Can You Ever Forgive Me?), Susan Cartsonis (What Women Want), Shruti Ganguly (The Color Of Time), Mary Jane Skalski (Hello I Must Be Going), Frida Torresblanco (Pan's Labyrinth), Jamie Zelermyer (NYWIFT board president and former Focus Features VP), and screenwriters Mara Brock Akil (The Game), Pamela Gray (A Walk On The Moon), Lisa Jones (Disappearing Acts), Gina Prince-Bythewood (Beyond the Lights), Theresa Rebeck (355), Robin Swicord (The Curious Case Of Benjamin Button), and Pat Verducci (True Crime).
The Writers Lab co-founders Kaiden and Wilon, and NYWFTV executive director Cynthia Lopez said the international partnerships marked a timely development that reflected the global marketplace.