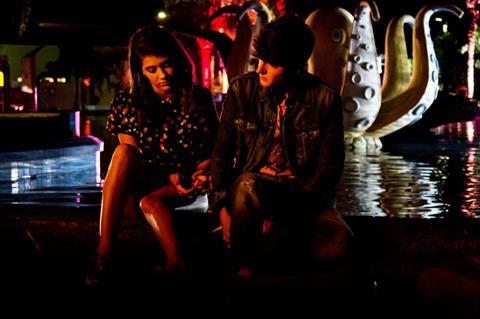 The Brazilian production Ferrugem (Rust) directed by Aly Muritib won the biannual Films In Progress 32 industry award at the San Sebastián Film Festival.
The initiative, run jointly with Cinélatino Rencontres de Toulouse, aims to help a project get to the post-production stage and promote its international distribution.
Other productions that have been helped in the past by Films In Progress include Berlin title Ixcanul, Rara and The Desert Bride, which premiered at Cannes.
At the closing ceremony Ferrugem also won the CAACI/Ibermedia TV Films in Progress Award, and an award given by Spanish based sales company Film Factory. The latter, given for the first time this year, secures the winning film a world sales deal worth a guaranteed €40,000 ($46,982) for the main producer.
Also new this year in San Sebastián was Glocal in Progress, an initiative for films made in European languages other than Spanish, English, French, German, Russian and Italian.
The winning project was Dantza (Spain) by Telmo Esnal, shot in Basque. Esnal has been a regular at the San Sebastian Festival since Aupa Etxebeste!, co-written and co-directed with Asier Altuna, premiered at the New Directors section in 2005.
Full list of awards
FILMS IN PROGRESS 32 AWARDS
Ferrugem, by Aly Muritiba (Brazil)
FILM FACTORY AWARD
Ferrugem, by Aly Muritiba (Brazil)
CAAC/IBERMEDIA TV FILMS IN PROGRESS AWARD
Ferrugem, by Aly Muritiba (Brazil)
GLOCAL IN PROGRESS AWARD
Dantza, by Telmo Esnal (Spain)
IV EUROPE-LATIN AMERICA CO-PRODUCTION FORUM AWARD FOR BEST PROJECT
Planta Permanente, by Ezequiel Radusky (Argentina)
IV EUROPE-LATIN AMERICA CO-PRODUCTION FORUM AWARD FOR BEST PROJECT
Planta Permanente, by Ezequiel Radusky (Argentina)
EFADs-CAACI EUROPE-LATIN AMERICA CO-PRODUCTION GRANT
El Agente Topo, by Maite Alberdi Soto (Chile/France/US)
EURIMAGES DEVELOPMENT CO-PRODUCTION AWARD
Las Consecuencias, by Claudia Pinto (Spain/Mexico)
ARTE INTERNATIONAL PRIZE
Akelarre, by Pablo Agüero (Spain/Frace)
REC GRABAKETA-ESTUDIA POST PRODUCTION AWARD
Las Letras De Jordi, by Maider Fernández Iriarte (Spain)