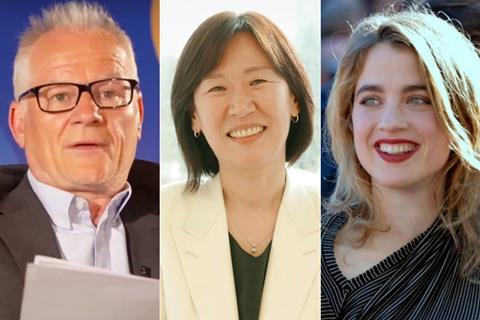 Cannes Film Festival delegate general Thierry Frémaux, French actress and gender equality activist Adèle Haenel, and a number of the key cast and crew of Oscar-winning picture Parasite are among the some 400 international film industry professionals invited to join the US' Academy Of Motion Picture Arts and Sciences (AMPAS) on Tuesday June 30.
With 49% of the 819 invitees hailing from 68 countries outside of the US, the latest round of invitees was one of the most international selections ever.
Frémaux is among a number of festival chiefs to be invited into the Academy under its 'members-at-large' category alongside Venice artistic director Alberto Barbera and Berlinale artistic director Carlo Chatrian.
France was one of the best-represented territories in terms of invites. Haenel, whose recent credits include Portrait Of A Lady On Fire, is among 35 French cinema professionals invited to join the Academy. She is a high-profile feminist and activist who went public last year with allegations against director Christophe Ruggia that he molested her as a teenager.
She was back in the news in early 2020 when she walked out of the ceremony for the French César awards after Roman Polanski was feted with best director for An Officer And A Spy amid controversy over fresh sexual abuse allegations which he denied.
Polanski himself was expelled from the Academy in 2018 in relation to historic sexual abuse allegations, in the wake of the rise of the MeToo movement.
Further French invitees included distributor and Le Pacte CEO Jean Labadie; Oscar-nominated Les Misérables filmmaker Ladj Ly and its producers Toufik Ayadi and Christophe Barral; producer Rosalie Varda, who worked closely with her late mother Agnès Varda in the final decade of her life; and director Mati Diop, whose debut feature Atlantics was acquired by Netflix and made it into the nomination long list in the international film category.
Further new European members included German actor Udo Kier, who was seen recently in The Painted Bird, Italian directors Francesca Archibugi and Cristina Comencini, Spanish actor and director Icíar Bollaín, Polish director Jan Komasa (Corpus Christi), Danish documentary Pernille Rose Grønjaer (The Monastery) and North Macedonia's Ljubomir Stefanov, who co-directed the Oscar-nominated documentary Honeyland.
New Asian members include The Farewell director and writer Lulu Wang, Bollywood stars Alia Bhatt (Gully Boy) and Hrithik Roshan (Super 30), Indian casting agent Nandini Shrikent (Gully Boy, Life of Pi), Chinese actor Huang Jue (Long Day's Journey Into The Night) and compatriot actress Zhao Tao (Ash Is Purest White), Hong Kong star Star Tzi Ma (The Farewell) and Japanese cinematographer Katsumi Yanagijima (Battle Royale
A number of Asia's invitees had connections to Korea's 2020 best- picture winner Parasite, including producer Kwak Sin-Ae, production designer Lee Ha Jun, writer Han Jin Won, costume designer Choi Seyeon and cast members Choi Woo-Shik, Jang Hye-Jin, Jo Yeo-Jeong and Park So-Dam. Director Bong Joon Ho is already an Academy member.
From Latin American, new members included Argentinian casting director Javier Braier (The Two Popes, Wild Tales), Mexican casting director Carla Hool (A Better Life, Sin Hombre), Mexican producer Nicolas Célis (Roma) and compatriot producer Monica Lozano (I Dream In Another Language).
Middle East and North African invitees included Israeli casting director Orit Azoulay (The Kindergarten Teacher, The Band's Visit) and compatriots, filmmaker Alma Har'el and documentarian Yael Bitton; Palestinian director Mai Masri (3,000 Nights) and Algerian documentarian Malek Bensmaïl (The Battle Of Algiers, A Film Within History).Academy declares success on membership diversity goals.