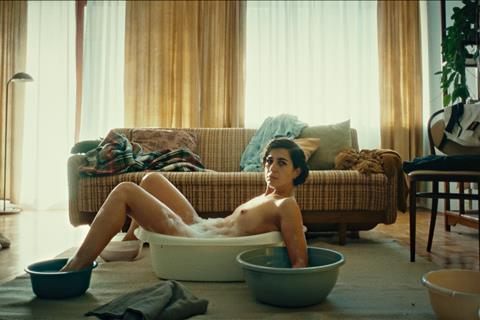 24 films will be pitched to an audience of festival programmers, sales agents and distributors at the fourth edition of European Work in Progress Cologne (EWIP), which runs as part of the Cologne film festival from October 19-21.

Scroll down for full list of projects
All are in production or at the post-production stage with at least one European country attached. The selection includes five documentaries and two animated films.
More than half of EWIP's line-up (15) has a connection with host country Germany in their financing structures: six films are 100% German productions including Gebrüder Beetz Filmproduktion's music documentary The Joy Of Singing and Natalia Sinelnikova's absurd drama We Might As Well Be Dead – while two are majority German co-productions with international partners: Veit Helmer's Gondola with Georgia and Cyril Aris' documentaryDancing on The Edge Of A Volcano with Lebanon.
In addition, German co-producers are serving as production partners on another seven of the projects, including Halle-based 42film on Colombian director Fernando López Cardona's drama Memento Mori; Twenty Twenty Vision Filmproduktion on French-Israeli writer-director Michale Boganim's historical drama Tel Aviv – Beirut; and Cologne-based animation studio Trickstudio Lutterbeck on Sepideh Farsi's The Siren.
This year's selection also includes German actress Saralisa Volm's directorial debut The Silent Forest, which has already attracted Alpenrepublik as a German distributor and the US sales agent Blue Fox Entertainment to handle international sales; Los Angeles-based Spanish filmmaker and visual artist Rocio Mesa's fantasy drama Tobacco Barns which was picked up by Latido Films for sales; and Sri Lankan filmmaker Sanjeewa Pushpakumara's third feature Peacock Lament which had been developed as part of the Venice Biennale College – Cinema and the Nipkow Programme residency in Berlin.
In addition, Azerbaijan-born director Elmar Imanov and producer Eva Blondiau, a Screen Future Leader in 2015, are back at EWIP with coming of age drama Ferragosto. Imanov has co-directed with the NFTS graduate Adel Oberto.
Imanov and Blondiau had received the MMC Studios award at the first edition of EWIP in 2018 for his feature debut End Of Season which was produced by their company Color of May.
According to AG Verleih, the association of German independent distributors, who is organising EWIP for the fourth time, programmers from such leading festivals as Cannes, Venice, Berlin, Locarno, Rotterdam and Tallinn will be among the participants, along with representatives from sales companies including BAC Films, The Match Factory, Level K, Film Republic and Media Luna and distributors ranging from Frenetic Films, AS Fidalgo Film Distribution and Gutek Film.
The pitches will be presented on-site at Cologne's Cinenova in 15-minute presentations – with the option as last year to follow proceedings online – followed by one-to-one meetings and complemented by a programme of panels.
Prizes worth a total value of €52,000 ($60,377) will be decided on by a jury comprising broadcaster Alexander Bohr (ZDF/ARTE), Clémence Lavigne (The Party Film Sales), film distributor Daniel Melamed (New Cinema), Aranka Matits, founder of the Amsterdam-based Featurette agency and German producer Fabian Massah (Endorphine Productions).
Many of the works in progress presented at the previous three editions of EWIP have since premiered at international festivals, won awards and subsequently been released in cinemas around the globe.
They include Philip Yuryev's The Whaler Boy, Sonja Liza Kenterman's Tailor, Dominik Graf's Fabian – Going To The Dogs, João Paulo Miranda Maria's Memory House, Ameer Fakher Eldin's The Stranger, Srdjan Dragojevic's Heaven's Above, and Wendla Nölle's debut Quiet Freedom which premiered at Filmfest Hamburg last week.
The 24 projects selected for the 2021 edition of EWIP
Descriptions provided by EWIP
A Provincial Hospital (Bul-Ger)
Dirs: Zlatina Teneva, Ilian Metev
Observational documentary following the everyday life of Dr. Popov and his colleagues at a COVID award in a provincial hospital in Bulgaria
Balentes (It-Ger),
Dir: Giovanni Columbu
2D Animation set in Sardinia on the eve of the Second World War and against the backdrop of Fascism. Two friends steal all the horses of a military stud in the mountains, only to then set them free.
Century Of Women (Aust-Turk-Cuba-India-Isr)
Dir: Uli Gaulke
Documentary about magnificent ladies who have already lived for a century from Cuba, Austria, Turkey, India and Israel whose fascinating life stories give a restless century a wonderful feminine perspective.
Dancing On The Edge Of A Volcano (Ger-Leb)
Dir: Cyril Aris
A portrait of Beirut society in the aftermath of the August 2020 explosion, struggling to rebuild, resist, and ultimately find life again.
Devka-Baba (Rus)
Dir: Aglaya Nabatnikova
Miracles start happening after Tanya makes a doll according to the old Russian traditions. After experiencing all kinds of adventures, Tanya and her friends can now believe in themselves and grow up.
Felipe (Arg-Guat-Sp-Fr)
DIr: Federico Schmukler
Felipe lives between two worlds: his mother in Córdoba as part of the social movements and his father in Buenos Aires representing the interests of the state. Then Felipe escapes with the girl next door.
Ferragosto (Ger)
Dir: Elmar Imanov, Adel Oberto
Eva and Mati are a young couple spending their holidays in Liguria, Italy. Everything changes when they meet Bianca on the day of Ferragosto.
Gondola (Ger-Geo
Dir: Veit Helmer
A love story told without dialogue between two female cable car attendants in the remote mountains of Georgia.
If We Had The Word (working title) (Ger)
Dir: Katharina Lüdin
Suburbs in the summer heat – and relationships in crisis.
Memento Mori (Col-Ger)
Dir: Fernando López Cardona
A headless corpse is buried as John Doe in Puerto Berrio. The dismembered corpse generates fear among the people. One man has the courage to write "chosen" on the tombstone. It is a pact that will take him to hell to find the head and return the body's dignity.
Nina (Ru-Geo)
Dir: Oksana Bychkova
Sometimes, you believe that you've beaten your past, but it comes back to you for revenge.
One Of Us (Alb)
Dir: Ergys Meta
A former volunteer in the Kosovo war returns to Albania to pursue a career in the police force – and ends up solving the crimes he himself committed.
Oxygen Station (Ukr-Czech)
Dir: Ivan Tymchenko
Political prisoner and rights activist Mustafa Dzhemilev is kept in exile in Yakutia. Three people are heading to him with different goals – to see, destroy and protect.
Peacock Lament (Sri-It),
Dir: Sanjeewa Pushpakumara
A 19-year-old orphan Amila has to take care of his four siblings. When his sister falls ill and needs to undergo surgery in India, Amila becomes embroiled in child trafficking in a desperate attempt to earn enough money to save her life.
Piggy (Sp-Fr)
Dir: Carlota Pereda
For Sara, summer just means having to deal with constant teasing from the other girls in her small town. But this all changes when a stranger comes to town and kidnaps the bullies.
Rise Up (Ger)
Dirs: Luise Burchard, Marco Heinig, Steffen Maurer, Luca Vogel
Documentary seeling answers to the devastating environmental, economic and authoritarian developments of our time together with five extraordinary political heroes.
Tel Aviv – Beirut (Fr-Ger)
Dir: Michale Boganim
Set against the backdrop of the Israeli-Lebanese conflict of 1982 and 2006, this historical drama tells the story of two families on both side of the border, whose fates are intertwined by the war in Lebanon.
The Cow That Sang A Song About The Future (Fr-Ger-Chile)
Dir:Francisca Alegria
Cecilia and her children travel to her ageing father's dairy farm after he nearly dies of a heart attack. Back in her childhood home, the past comes to life and Cecilia must reckon with family secrets.
The Joy Of Singing (Ger)
Dirs: Torsten Striegnitz, Simone Dobmeier
A captivating music documentary about the power of singing together and the longing for community.
The Silent Forest (Ger),
Dir: Saralisa Volm
Forestry student Anja Grimm returns to the remote region where her father had disappeared without trace when she was eight years old. Her desire to find out the truth about her father's fate is met with increasing suspicion and a wall of silence from the local villagers, but her uncanny ability to "read" the forest puts her on the trail of something that even the local police want to keep hidden and could have catastrophic results.
The Siren (Fr-Ger-Lux-Bel)
Dir: Sepideh Farsi
Animation film set in Abadan, the oil capital of Iran, in 1980 during the Iraqi siege. 14-year-old Omi doesn't leave town, waiting instead for his elder brother to return from the front. Since the city can fall into Iraqi hands at any moment, Omi tries to save all those he loves on an abandoned ship which he will turn into an ark.
Three Brothers (Arg-Chile-Ger-Fr),
Dir: Francisco Paparella
Three brothers, hunters and heavy metal fans, struggle with their issues in deepest Patagonia. Meanwhile, a neighbouring river threatens their farm with flooding that could ruin their harvest.
Tobacco Barns (Sp-US)
Dir: Rocio Mesa
Two parallel stories take place among tobacco barns over the course of a summer full of magic and realism.
We Might As Well Be Dead (Ger)
Dir: Natalia Sinelnikova
The high-rise building block near the forest is famous for its carefully curated community. When a dog disappears and her daughter refuses to leave the bathroom, the security officer Anna faces an absurd battle against the fear that slowly spreads among the residents and shakes "the utopia with a view".