Film festivals must go beyond simply waiting for the industry to address its imbalance issues In an effort to achieve gender parity in their main selections, was the rallying call from a panel at the Odesa International Film Festival on Thursday (July 18).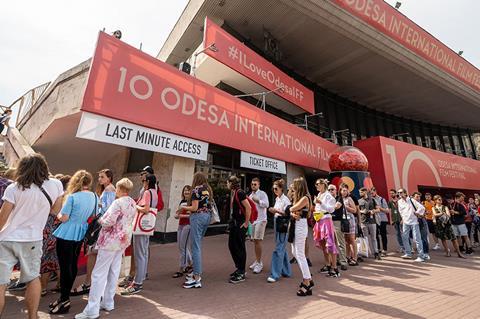 While it is acknowledged there are not enough films made by women playing in significant, competitive strands at festivals, the festival community has been divided on how to address this problem.
Some festivals have started actively shaping their programmes along equal gender lines, regularly selecting 50% or more female participants for competition strands (Sweden's Goteborg Film Festival was highlighted during the panel), while others have claimed the issue is at a production level and that there are not enough quality films directed by women to choose from (such as Venice Film Festival head Alberto Barbera).
Julia Sinkevych, general producer of the Odesa film festival, said the issue was one with which she regularly grapples.
"I constantly have a dilemma – should I consider it an extra plus if a film was made by a woman? Many festivals now really make it a point that, if a competition has 12 films, they must have six or seven directed by a woman," she said. "This puts me in a difficult position [due to a lack of submissions from women directors]."
Francine Raveney, who oversees second features and gender issues for funding body Eurimages, said festivals must do more to address the problem.
"It's a good idea to have positive measures, to show that you're open to diversity of content," said Raveney. "Over time, it [more gender balance] will happen, but it's also about scouting for the female talent and making it clear that women are welcome."
She pointed to a recent initiative in Sweden, where a fund which had been struggling with a lack of female applicants put out a call specifically for scripts written by women. The outcome was an avalanche of female project submissions. Festivals could learn from this example, Raveney said.
"What you can do as a festival is be clear that you're looking for diverse content and encourage applications," she said.
Sinkevych noted Odesa had a strategy of organising events supporting gender equality alongside it's programme but it was looking to do more to achieve a 50/50 balance of men and women across its international competition.
Goteborg Film Festival programmer Freddy Olsson was unequivocal in backing his organisation's drive to achieve 50/50 by 2020. He noted that, when a festival only programmes male directors, it only programmes male perspectives. "I'm tired of that [those stories]," he admitted. "Quality is many things, [including] diversity of subjects."
"Goteborg has signed the 50x50 2020 pledge but I think we are the only one taking it really seriously – we're going to have 50/50 [gender split in its competitive programme] next year," said Olsson.
By doing this the festival hoped to encourage women to be more forward in applying to festivals, and also to make more films in general. Olsson noted the drive to improve gender balance in festival teams was essential. "Men need to speak up, but they also have to step down, [including on] programming teams."