Universal's raunchy adaptation becomes highest grossing 18-rated film of all time with $38.9m (£25.2m).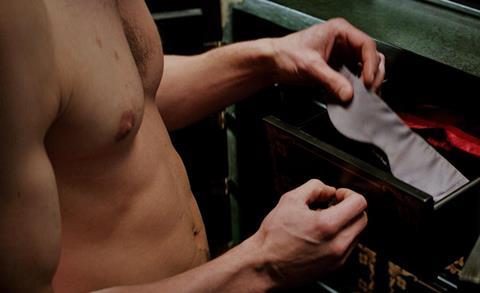 Following last week's tremendous opening, it was only a case of how quickly Fifty Shades of Grey could become the UK's highest grossing 18-rated film of all time,
The answer was very quickly as Universal's raunchy adaptation secured top spot with a second weekend of $7m (£4.56m) saw it to $38.9m (£25.2m) to comfortably sail past The Wolf of Wall Street's UK result of $34.9m (£22.7m).
How far it can now go remains to be seen given that it did drop 66% on its opening weekend, but it will potentially hit its next milestone of £30m by the end of next weekend.
Also for Universal, The Theory of Everything (which saw Eddie Redmayne win the Oscar last night) added $673,000 (£438,000) after a slim drop of 17% in its eighth weekend. The Stephen Hawking biopic is now on the cusp of £20m and stands at $30.6m (£19.89m).
Blackhat could only manage a $224,000 (£146,000) UK debut at a soft site average of $1,513 (£984) for one of Michael Mann's worst-ever UK openings. Ali debuted with $193,000 (£125,573) but that came from a release of just 17 sites initially.
DISNEY
Enjoying a 39% boost in its fourth weekend was Big Hero 6 which remained in second with $3.9m (£2.57m).
Disney's latest animation prospered over half term and stands at $24.8m (£16.17m), a total that could receive an Oscar win uplift this coming weekend. In terms of Walt Disney Animation Studios outings in the UK, it will shortly overtake Bolt's final tally of $27.5m (£17.9m).
Also for Disney, Into the Woods has amassed $14.8m (£9.64m).
STUDIOCANAL
Also enjoying a half term boost was Shaun the Sheep Movie with a $3.7m (£2.4m) third weekend. StudioCanal's big screen adaptation has now crossed the £10m mark to stand at $15.9m (£10.4m).
Also for StudioCanal, homegrown hit Paddington has amassed $56.8m (£36.95m) following a $435,000 (£283,063) weekend, while The Imitation Game reached $24.9m (£16.2m).
FOX
Falling just 25% in its fourth week, Kingsman: The Secret Service added $1.9m (£1.2m) for $20.6m (£13.4m) to date. Fox's adaptation is on track to become Matthew Vaughn's best-ever UK performer, currently X-Men: First Class at $23.12m (£15.03m) which is shortly followed by Stardust with $23.10m (£15.02m).
Also for Fox, Selma dropped 34% on its way to a $442,000 (£287,520) for $3.7m (£2.4m) after three weeks in play.
SONY
The week's highest new entry came in the form of Sony's The Wedding Ringer with a solid $1.5m (£990,000) from its 384 sites. Its opening includes $252,000 (£164,000) from Valentine's Day previews last weekend.
PARAMOUNT
Project Almanac posted a non-final $1.3m (£865,000) UK bow from its 365 sites. Effectively, Paramount's found footage time travel thriller had a seven-day opening having landed in cinemas last Monday [Feb 16], with Mon-Thurs providing $572,000 (£372,000) of its opening figure.
EONE
Peppa Pig: The Golden Boots fell a decent 27% on its way to a second weekend of $771,000 (£502,046) for $3.1m (£2m). eOne's animation leaves UK cinemas on March 1, ahead of a TV broadcast.
WARNER BROS
Now in its third week of release, Warner Bros' Jupiter Ascending took a further $667,000 (£434,000) for $6m (£3.9m) to date, the best UK result for the Wachowskis outside of The Matrix trilogy.
Also for Warner Bros, American Sniper has now shot to $20m (£13m) following a $636,000 (£414,000) sixth weekend, while Cake landed with a UK opening of $172,000 (£112,000) from its 110 sites.
ALTITUDE FILM DISTRIBUTION
Love is Strange posted a minimal drop with a second weekend of $87,000 (£56,138) from its 41 sites for $322,000 (£208,455) to date through Altitude Film Distribution.
ARTIFICIAL EYE
Peter Strickland's The Duke of Burgundy got off to a $64,000 (£42,030) start in the UK from its 23 sites through Artificial Eye. That's narrowly behind the $70,000 (£45,516) debut of Berberian Sound Studio from the same amount of sites, which went on to take $249,000 (£162,000).
SODA PICTURES
Released in 14 sites through Soda Pictures, Kumiko, the Treasure Hunter found $24,000 (£16,314) on its UK debut.
DOGWOOF
Maidan grossed $4,300 (£2,756) from its three sites on its UK bow through Dogwoof.
UPCOMING RELEASES
This week sees saturation releases for Fox's The Second Best Exotic Marigold Hotel (opens Feb 26), More2Screen's Backstreet Boys: Show 'Em What You're Made Of (opens Feb 26), Universal's The Boy Next Door and Warner Bros' Focus.
Icon's critically acclaimed horror It Follows receives a wide release, while Metrodome's White God and StudioCanal's Catch Me Daddy are among the films receiving a limited release.