A Tallinn Black Nights industry panel on Tuesday, November 27, explored the ongoing debate around the lack of women directors in the international film industry.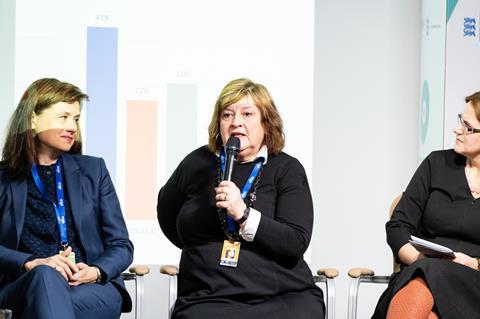 How festivals play into the discussion, and to what degree they are also culpable for an apparent lack of opportunities for women directors, was the primary discussion topic.
This year has seen French gender equality initiative 5050x2020 introduce a pledge for film festivals to sign that commits them to strive for greater equality and transparency in their programming and teams. The pledge has been signed to date by festivals including Cannes, Venice, Locarno, IDFA, Sarajevo and San Sebastian.
Black Nights has not signed the pledge, but a festival representative told Screen that this is because the pledges are initially proposed to festivals by their local governing film organisation (in Estonia it would be the Estonian Film Institute) and that this has not yet been done.
If this does happen in the future, Screen understands Black Nights would follow Venice in signing only the portion of the pledge that relates to the make-up of the team, not the programming side. Currently, the organisation has more than 50% women employees and 11 of the its 26 programmers are women.
On the panel, Black Nights head Tiina Lokk noted that she is acting as festival director and programme director, with Marge Liiske running its industry activities. The CEO of the Estonian Film Institute is also a woman, Edith Sepp.
As other festival heads, including Venice's Alberto Barbera, have done, Lokk pointed to a lack of opportunities for women directors in the film industry as the key reason behind a lack of women directors in film festival line-ups and said that she did not want to make her programming decisions based on gender.
"I am always going to pick my films based on the films – not the name of directors. We have less women directed films than last year, it's going to happen sometimes," commented Lokk.
This year, Black Nights' Official Selection only features one female director from 19 titles (5.26%), while its First Feature Competition has four out of 18 (21.05%).
The picture is rosier in the festival's regional Baltic Competition, with seven out 12 films being female-directed (58.3%), and in its Estonian Competition, where the figure is 4 out of 9 (44.4%).
Edvinas Pukšta, a programmer for Black Nights, added on the panel, "You cannot keep selecting films based on gender. I will always try to look for new female voices and to research in unknown countries to find a female voice. I completely disagree with [Cannes chief] Thierry Fremaux that there are no films made by female filmmakers. This year, Cannes made very bad choices and [Venice head] Barbera made very bad choices. Female directors are out there, you just need to look."
Marija Kavtaradze, a film director from Lithuania, noted on the panel that she did not want to receive positive discrimination because of her gender. "Programming my films just because I'm a woman would be awkward," she commented. Her latest film, Summer Survivors, premiered in Toronto last year.
Christoph Gröner, head of the FilmFest Munich and also a programmer for Black Nights, added that he didn't think festival programmers could look to achieve gender parity in their selections until there is "a very different ratio" of gender split in the films that get made. He noted that Germany's major national fund has pledged to give 50% of its awards to women and 50% to men and said that there was a "very vocal" pro quota movement in the country.
Lokk, however, dismissed the idea of quotas. "Some countries need the quotas, but here it is about creating the conditions [in the industry]." She said that the situation in Estonia has improved in recent years. "In Estonia, we have a really good generation of women producers and directors," she suggested, adding that "everything happened without a campaign".
Lokk said they were looking to extend this mantra to the festival itself, and would be implementing initiatives that could help women directors attend the festival, in particular parents. These will include the proposed introduction of childcare support for attending delegates from next year's edition.
The discussion was hosted by Tara Karajica, the founder of magazine Fade To Her, which focuses on women in film.