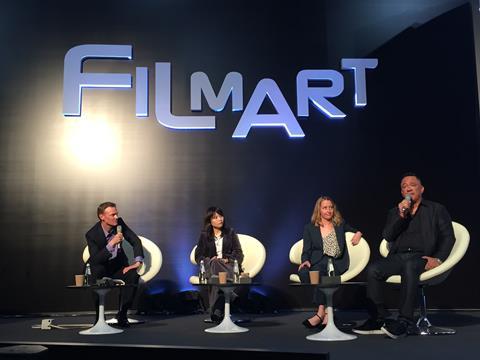 China's animation industry is starting to explore international markets, but with a more realistic view of what works outside China, said speakers on a panel about Chinese-foreign animation alliances at Filmart yesterday.
"It's harder to please both East and West – you can try to make content that is successful in other markets, but you have to gear it to one side or the other," said Joe Aguilar, CEO of Huayi Brothers Wink Animation. "Trying to be in the middle is just confusing for audiences."
Aguilar explained Wink's business model, which is to produce more China-focused animation through its Shanghai offices, at the same time as producing global animation out of its offices in Burbank in the US. The two offices are in constant communication "to ensure we're not offending either side, but we're not making something meant to please both sides," Aguilar added.
Wink is currently producing Extinct, directed by David Silverman (The Simpsons Movie), for global markets. "The project originated in the West and was developed with Chinese dollars. Chinese talent was involved in the creation and production, so we hit the co-production qualifiers," Aguilar said.
iQiyi Pictures producer Zozo Zuo explained how the company's China-French collaboration Spycies, directed by Guillaume Ivernel, is being dubbed and adapted for different markets to help it travel. "We'll change it slightly depending on the market and how they understand the story," said Zuo, adding that storytelling styles are different in China and the West.
Aguilar explained how DreamWorks Animation's Kung Fu Panda was regarded as a foreign film by Chinese audiences, albeit one that paid respect to Chinese culture. He added that locally-produced animation is regarded by Chinese audiences as being primarily for kids, although "more titles like The Monkey King and White Snake are starting to hit that young adult audience."
Annecy International Animated Film Festival CEO Mickael Marin opened the panel with an outline of the global animation industry, which was worth $24bn in 2017, with year-on-year growth of 15%.
"China's animation industry is booming, through theatrical, TV, streaming and licensing, and there are more co-production partnerships, but it can be a tough market for Western companies," Marin said.