Speakers discussed how platforms can offer differentials from terrestrial TV content.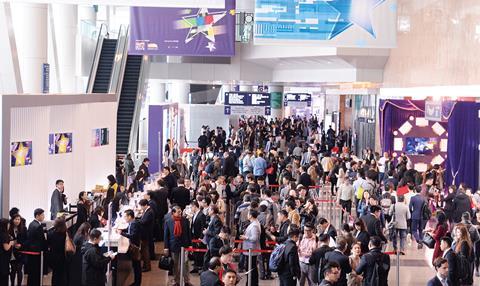 Localising content and producing originals are key to developing OTT platforms in Asia, said speakers on a Hong Kong Filmart panel, 'New Opportunities in the Explosive Growth of Online Entertainment', today (March 14).
Meg Lee, PCCW's assistant vice president, content management – digital media, explained that the company's Viu OTT platform offers local-language content in most markets it operates in across southeast Asia, India and the Middle East. However, Korean dramas that it licenses from Korea's major broadcasters seem to work almost everywhere.
Lee also said that Viu creates news and other information content around its Korean shows: "We believe demand for social media and short-form news content is growing and this allows us to build a closer connection with the fans."
Dan Zonmani, content business director of Korean platform LINE's Thai operations, said K-dramas are also gaining traction among the service's 33 million Thai users.
Localisation is still important, however, so the platform produces Thai-language spin-off programmes around the Korean shows. Zonmani added: "In Taiwan, LINE users are consuming international content rather than local, but in Thailand 80% of what they consume is local shows."
Speaking about originals produced for OTT platforms, Keiko Nakase of Japanese aggregator Mytheater DD said spin-offs of local movies and R-rated dramas lead the way in Japan. "It has to be differentiated from terrestrial TV content, which is free and easy for viewers to find," said Nakase. "However, it's a challenge to convince Japanese talent agencies to allow their talents to work beyond movies and TV."
Mytheater DD and Japanese platform U-NEXT have co-produced an R-rated miniseries, Ah Wilderness, starring Masaki Suda, which Nakase described as heavy on sex and violence but also "a deep human drama". The show has a complex windowing system that enables it to stream online at the same time as being exploited across Japanese theatres, DVD and pay-TV.
Panel speakers also said they deploy different revenue models in different markets, depending on the purchasing power of the local audience. Yang Xianghua, senior vice president of iQiyi, which launched with an advertising-based VoD model but now has 20 million paying subscribers, said Chinese streaming platforms have ended their user acquisition phase and are now focusing on profit.
"Young Chinese viewers are relatively affluent so they're willing to pay for higher-quality content and don't like to waste time finding pirate content and watching ads," said Yang. "It was different for my generation. But we charge RMB20 per month, which is half the price of a Starbucks coffee."