Dragon Gate Zombie Inn is being produced by The Monkey King producer Soi Cheang.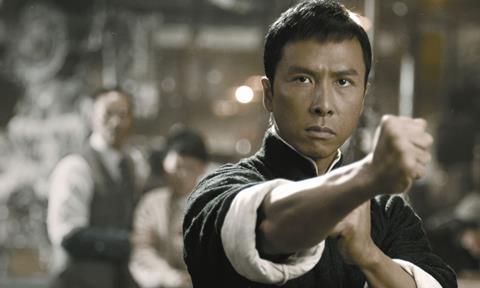 Hong Kong's Mei Ah Entertainment is launching its slate at Filmart headed by Dragon Gate Zombie Inn, a mash-up of the martial arts and zombie thriller genres from Ip Man [pictured] director Wilson Yip.
Currently in pre-production, the film is set in the desert in the fortress-like Dragon Inn, which becomes ground zero for a zombie invasion. It will be produced by Soi Cheang, who is currently directing Filmko Entertainment's big-budget fantasy sequel, The Monkey King 3.
Wilson Yip and Soi Cheang will then switch roles on Mei Ah's sci-fi action title Marauder, which Yip will produce with Cheang directing. The story follows an alien who accidentally lands on Earth and is hunted by humans, while trying to get his spaceship off the ground.
Mei Ah is also selling Philip Yung's Theory Of Ambitions, his first feature project since award-winning drama Port Of Call. Starring Aaron Kwok, the film follows a corrupt police sergeant whose career is curtailed by the launch of Hong Kong's Independent Commission Against Corruption (ICAC).