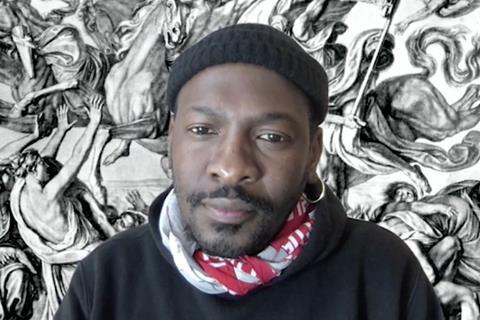 Director Lemohang Jeremiah Mosese, whose film This Is Not A Burial, It's A Resurrection is Lesotho's Oscar submission this year, is developing a new feature around the theme of siege and fear after being grounded in his adopted home city of Berlin by the Covid-19 pandemic.
Mosese teased the new project in the Big Talk programme of this week's online International Film Festival Rotterdam. The filmmaker is also participating as a member of the jury.
"It's been a hard year and now we're heading into the second year. But it also comes with so much beauty to it in a way because these are times that are forcing us to crawl back to ourselves," Mosese told Rotterdam artistic director Vanja Kaludjercic.
"I'm trying to embrace being surrendered… the idea of being that you can do nothing… and to keep my head above the waters."
The director had been in the midst of a packed festival tour with This Is Not A Burial, It's A Resurrection when the pandemic hit Europe and North America, shortly after the film's successful US premiere at the 2020 edition of Sundance, where it scooped a special jury award for visionary filmmaking.
Set against the backdrop of a verdant valley in the landlocked South African country of Lesotho, the drama follows an elderly widow who responds to the death of her son by leading a campaign to save her village from destruction. The film has continued to travel to multiple virtual festivals over the past 12 months while Mosese has been stuck in Germany.
He suggested his experience of being locked down, or "confined", had influenced his line of research during this time.
"I started to research sieges… It opened the portals of history that I've always been fascinated by, but I've never got into that deep. But since I've had a lot of time, I've been able to do a lot of reading, " he said.
This research has encompassed historical figures such as Napoleon Bonaparte and Alexander the Great as well as the Greek mythological figure of Achilles; colonial wars that devastated his native Lesotho; the impact of the Black Death on Medieval societies and modern classics such as Albert Camus's The Plague, and is now coalescing into a feature exploring the theme of fear and siege mentalities, he revealed.
"It has something to do with fear… how people project it… how people can actually crystallise it [so] it can become a person… how people or a village or community can create this with the projection of their own fears, so they end up sort of in a siege, where they quarantine themselves away from the people that they think are a threat to them, which in this case, are the cannibals. It's not necessarily about the cannibals but more about this mortal fear that is around."
Revealing more about his creative process, Mosese said he liked to percolate and process ideas while walking rather than at a desk, adding that his initial ideas very often led to a very different final work.
"I am like a sower. I have seeds of ideas, ideas that I've heard since my childhood, and new ideas. I walk a lot and I write when I walk… so like when I'm writing a movie, most of the time I actually walk and then I already have a story that I write down. It is the boring part for me to sit down and write," he explained.
Developing this idea, Mosese said he increasingly saw his creative process as him being "a vessel" for urgent ideas that needed communicating.
"It is almost like my work is to avail myself to which idea, I need to embrace, structure, facilitate, or make a movie about," he said.
As a jury member of Rotterdam's special online iteration, Mosese has been watching the competition titles in Berlin's Wolf Kino cinema, in a socially-distanced screening alongside International Documentary Film Festival Amsterdam (IDFA) artistic director Orwa Nyrabia.
The other jury members, including visual artist and filmmaker Hala Elkoussy, critic Helena van der Meulen and film producer Ilse Hughan, have been watching the line-up film at the Eye Film Museum in Amsterdam.
Mosese described this unusual jury duty as "magical", saying he preferred to watch films in a theatre with less than five people in the audience.
"I don't know why, but for some reason, I like it when there are a few people in the cinema. So there's like two of us in the cinema, watching these beautiful works. So thank you for the experience. It's really lovely," he told Kaludjercic.