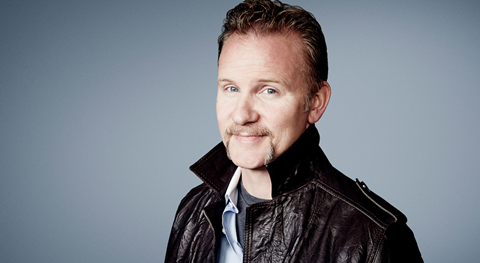 The Hollywood sex scandal continues to engulf high profile figures, with filmmaker Morgan Spurlock, a Netflix children's exec and the US version of the Great British Bake Off the latest to be affected.
Super Size Me director Spurlock issued a personal statement via Twitter detailing his own sexual misconduct. It began with the words: "As I sit around watching hero after hero, man after man, fall at the realization of their past indiscretions, I don't sit by and wonder "who will be next?" I wonder, "when will they come for me?"
"You see, I've come to understand after months of these revelations, that I am not some innocent bystander, I am also a part of the problem."
He went on to detail a sexual encounter when he was in college, admitted to settling a sexual harassment allegation at his office, and confessed to numerous infidelities.
He added: "I am part of the problem. We all are," he wrote. "But I am also part of the solution. By recognising and openly admitting what I've done to further this terrible situation, I hope to empower the change within myself. We should all find the courage to admit we're at fault."
Meanwhile, The Great American Baking Show has been pulled from the schedule by ABC following multiple allegations of sexual misconduct against one of its judges, Johnny Iuzzini.
The third series of the show debuted last week and the second ep had be due to play today (14 December).
A statement by ABC issued to multiple US publications said: "In light of allegations that recently came to our attention, ABC has ended its relationship with Johnny Iuzzini and will not be airing the remainder of 'The Great American Baking Show' episodes.
"ABC takes matters such as those described in the allegations very seriously and has come to the conclusion that they violate our standards of conduct. This season's winner will be announced at a later date."
GBBO's Paul Hollywood appears as a judge alongside Iuzzini on The Great American Baking Show.
Finally, Streaming service Netflix has let director of global kids content Andy Yeatman go after he reportedly told one of Danny Masterson's alleged sexual assault victims that he did not believe the claims against the actor.
Netflix said Yeatman's comments "were careless, uninformed and do not represent the views of the company."
Yeatman issued a statement that said: "While I was coaching one of my daughter's soccer games, I was approached by a stranger who asked if I worked at Netflix. She went on to question why we were not canceling a show in which one of the actors was accused of sexual assault. To try and end the conversation and refocus on the soccer game I made a careless and uniformed comment. I did not know that the woman was one of the victims and I deeply regret that I did not have the opportunity to focus on the conversation.
"I am proud of Netflix's values and I condemn sexual violence in the strongest possible terms. I have always believed that victims voices should be heard and that every victim should get the justice they deserve. My heart goes out to anyone who has been sexually assaulted or harmed in any way."
This article first appeared on Screen's sister publication Broadcast.