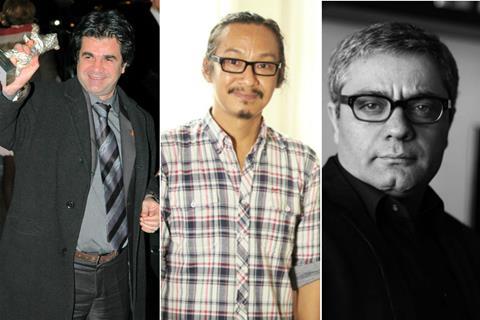 The European Film Academy (EFA), the International Documentary Festival Amsterdam (IDFA) and the International Film Festival Rotterdam (IFFR) are joining forces to create the International Coalition for Filmmakers at Risk, a permanent organisation aimed at supporting filmmakers facing political persecution for their work.
The body would advocate for film professionals who have been imprisoned, face prosecution or censorship for their work and views.
The final framework is still being developed but its remit would include running coordinated campaigns publicising the cases of filmmakers in peril and providing legal representation.
EFA executive director Marion Doering and deputy chairman Mike Downey, IDFA artistic director Orwa Nyrabia and outgoing IFFR chief Bero Beyer are spearheading the initiative.
"Many other artistic disciplines have dedicated advocacy bodies but strangely cinema has none," said Nyrabia. He and Beyer will be holding meetings with other potential partners at IDFA, running November 20 to December 1.
Sentsov case
Downey said the need for a permanent body became apparent to him through his involvement in the campaign to secure the release of Ukrainian filmmaker Oleg Sentsov from Russian custody over the last five years, until his release in September.
The campaign, which galvanised film professionals worldwide, set in motion a range of initiatives in an ad-hoc manner. These ranged from setting up a fighting fund to support Sentsov's lawyer and family to political lobbying and gestures such as empty seats at film festivals and vigils outside Russian embassies across Europe.
"What has become clear as the dust settles on the Sentsov case is that we were ill-equipped to react and handle a case like this. It was only with the energy of the neophyte and the enthusiasm of the activist that one could get through it," says Downey. "The fundraising, the establishing of empty chairs at festivals around the world, the letter writing to ambassadors and cultural attachés in Russia endlessly."
"As I watched Oleg get off the plane in Kiev in September and be reunited with his daughter and family, a harsh reality dawned. The reality was that if something like this ever happened again, we would still be reacting in an improvisational, enthusiast-like uncoordinated way."
Nyrabia says another key remit of the body would be to document the cases of persecuted filmmakers and assess whether they were legitimate.
"Film professionals can be wary of publicly pledging support for filmmakers in political danger because they don't really understand the political situation in the backdrop. They want to make sure they're backing a legitimate cause. The body would help establish this," he explained.
Legacy of campaigning
EFA, IDFA and IFFR have a long history of campaigning for filmmakers at risk. EFA was at the forefront of the efforts to highlight Sentsov's plight. IDFA and IFFR also supported Sentsov and have recently put out calls for the release of Myanmar filmmaker Min Htin Ko Ko Gyi, who is also the founder of the Human Rights Human Dignity International Film Festival.
The director, who is suffering from liver cancer, was sentenced at the end of August by a Yangon court to one year's imprisonment for hard labour for criticising Myanmar's armed forces on Facebook. Other directors supported by all the bodies include Mohammad Rasoulof who was sentenced to a one-year prison sentence in July on charges linked to his film A Man Of Integrity, which premiered in Cannes in 2017.
In further initiatives, IFFR ran a brainstorming event at its last edition entitled, Call to Action: Support for Filmmakers at Risk exploring how the film community can help industry professionals in danger.
The initiative also has personal resonance for Nyrabia following his experiences in 2012 when he was detained by Syrian authorities at Damascus airport. His disappearance sparked an industry-wide campaign supported by cinema bodies and festivals worldwide – including Cannes and Toronto – as well as figures such as director Martin Scorsese and actor Robert De Niro.
Nyrabia, known then as a producer and founder of pan-Arab DOX BOX film festival, recounts how one of his jailers called him in for questioning on whether he knew De Niro.
"The fact De Niro issued a statement made more of an impact than any political figure," says Nyrabia. "That's the power of the film-making community. I've been dreaming about creating a body like this for a long time."
Celebrity endorsement
The initiative has already garnered the support of actress Helen Mirren and Iranian filmmaker Jafar Panahi.
Welcoming the creation of the body, Mirren said: "Artistic freedom is not a privilege – it is a human right. Standing in solidarity with our filmmaking colleagues and friends around the world, being deprived of their creative freedom has to be our honourable duty."
Panahi, who is midway through a 20-year travel ban imposed by the Iranian authorities, said "the unconditional support" of filmmakers was the "best support a filmmaker at risk could get", better than the support of politicians.
"If there could be an institution representing all the world's famous and respected filmmakers, they could then at any time, support actively and efficiently any filmmaker in danger."