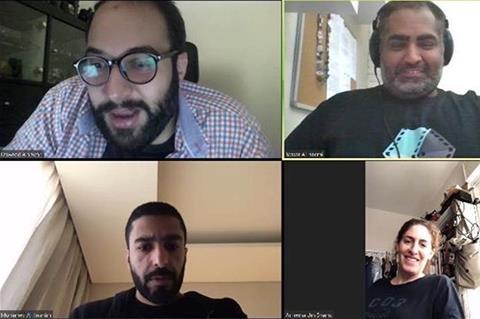 The Doha Film Institute (DFI) has released first data for the online edition of its sixth annual talent incubator meeting Qumra. It set up the digital iteration at top speed after the physical event had to be abandoned at the 11th hour due to the Covid-19 pandemic.
Over the course of the five-day virtual event, running March 20 to 25, the DFI organised 220 online mentoring sessions and fostered a further 200 connections between projects and potential industry and festival partners.
All the original 46 projects from 20 countries participated in the initiative, working with 34 mentors from 18 countries, including France, India, the Netherlands, Palestine, the UK and the US, as well as meetings with key sales, distribution and festival professionals, according DFI data.
"Nothing can ever replace the physical event but the online version distilled the philosophy of Qumra and DFI in the way it brought people together from across the globe to support these projects," said DFI CEO Fatma Hassan Alremaihi.
Qumra was one of the first key indie events to be cancelled due to the worsening Covid-19 pandemic. Its cancellation was a blow for filmmakers in the Middle East and North Africa looking for production partners as well as sales and festival berths. Claire Denis and James Gray were among the honorary guests known as 'Qumra Masters who were due to attend this year alongside 100 key production, sales, distribution and festival professions from around the world.
"It was hard because we were just on the cusp of events being cancelled," said Alremaihi. "There had not been that big wave of cancellations at that point but we knew it was the right decision."
DFI's director of film funding and programmes Hanaa Issa said the virtual event benefited from the fact that all the mentors and participants were in place and had been poised to participate in the physical initiative.
"When we out to the mentors to see if they were willing to do something online they were all really enthusiastic," she says. "We were at the beginning of the period of locking down and social distancing. People wanted to be productive and help the filmmaking community.
"I don't know if we tried to do this a month from now what the motivation levels would be," she admitted. "I think as the lockdowns continue there is a mental health effect happening. A physical event is much better, where filmmakers meet professionals in person, but we're still pleased with the online event."
She added the DFI team had been overwhelmed by the support they received from Qumra's long-time mentors and consultants including filmmakers Rithy Panh, Karim Ainouz, Tala Hadid, Annemarie Jacir and Ghassan Salhab as well as producers Didar Domehri, Catherine Dussart, Dora Bouchoucha and Jad Abi Khalil and festival and industry event professionals such as Matthieu Darras Teresa Cavina and Orwa Nyrabia.
"We used Skype because most the sessions were one-on-one. We wanted a platform that people already had, that was easy for them, and we found most people had Skype," says Issa.
Alongside meetings for the projects in development, Qumra's rough-cut showcase of around a dozen fiction and non-fiction in post-production was also maintained in partnership with Paris-based festival and industry event platform Festival Scope.
"They were already our partner for the physical event but they went above and beyond, tailor-making everything for us to go online," said Issa.
Platforms and festivals accessing the platform included Amazon, Netflix, Mubi as well as Cannes, Venice, Sundance, Berlinale, Toronto, Tribeca, Mumbai, Rotterdam, Karlovy Vary, Marrakech, Sarajevo, IDFA, Visions du Reel.
Sales agents signing up for the project catalogue and online screenings including Wild Bunch, The Match Factory, New Europe Film Sales, Luxbox, Stray Dogs, Films Boutique, The Party Film Sales, Bac Films, MC Distribution.
The filmmakers
The participants contacted by Screen voiced their gratitude to the DFI for its online efforts even if they were disappointed they had not been able to attend the physical event as planned.
"We live in Doha and have attended past Qumras as observers so we know how amazing it was. It was our bad luck it was cancelled," said Syrian director Anas Khalaf, co-director of Syrian Revolution thriller The Translator alongside his partner Rana Kazkaz.
The project was among seven fiction productions showcased in the rough cut selection. "It has always been my dream to get a project selected for Qumra. It was generous of the DFI to have gone through this pain of trying to give some kind of experience, even if the discussions were minimal in comparison to what have happened if the event had gone ahead," added Kazkaz.
French-Palestinian-Algerian filmmaker director Lina Soualem presented a rough cut extract of her documentary Their Algeria which will now publicly premiere online as part of Switzerland's Visions du Reel festival selection.
"It was great to feel that people are getting to know your work, are concerned about how you're going to release your film and committed to helping you by giving you the advice and contacts that you might need," said Soualem.
"One professional who watched the film told me, 'You're in the right career'. It was so heart-warming to hear, especially when you've just finished your first film and haven't yet shared it with the audience yet, and you're still at the stage where you're asking yourself how it will be received."
Mexican producer Nicolás Celis at Piementa Films, who had been invited with Tatiana Huezo's drama Night Of Fire, said the online edition helped with feedback and making connections.
"It was amazing at the end of the day. We connected with many potential partners and I feel long relationships were created for this film and future projects," he said.
The feedback from the mentors was also of help to Celis. "They were very excited for the potential it has globally. After so many years of work on this film, it feels amazing to get very positive feedback and love for the movie."
French-Algerian filmmaker Kamir Aïnouz, who participated with her coming-of-age drama Honey Cigar, said she had got "detailed and productive" feedback on a 72-minute rough cut.
"It came at the perfect time in the editing and post-production process of the film because I can now implement this feedback before picture lock," said Aïnouz. "In terms of the feedback itself, it comes from the fresh eyes of experts who had seen no footage before. Their detailed and honest takes on the rough cut gave us perspective and now concretely helps me to bring the film to its full potential."
In addition, the project also received festival strategy advice from producer Dora Bouchoucha as well as consultations on working with VOD platforms from Mubi acquisitions chief Kevin Chan, marketing insight from distribution and production consultant Aranka Matits and post-production workflow tips from Konstantina Stavrianou.
"I like to give a special shout-out to editor mentor Sebastian Sepulveda who nailed the spirit of Honey Cigar and articulated notes and suggestions that respect and enhance my vision - which is precious when it comes to a first feature," she added.
Lebanese director Bassem Breche said he had managed to connect with festival and sales agents for his film The Maiden's Pond.
"It was surprisingly beautiful this Qumra happened in such hard times," he said. "Qumra usually is a whole experience that starts from masterclasses to intensive rounds of meetings and watching films. This year's edition missed these aspects but kept the most important aspect which is the business of filmmaking, as filmmakers still managed to do the meetings and the mentoring online."
Following on from its Qumra experiences, the DFI is now considering solutions for its youth and family-oriented Ajyal Film Festival, due to take place in November, as well as assessing the applications for its second 2020 funding round, the results of which will be announced in September.