OCTOBER 10 UPDATE: Fox's Miss Peregrine's Home For Peculiar Children retained overseas lead with $42.5m from 77 markets for early $94.1m.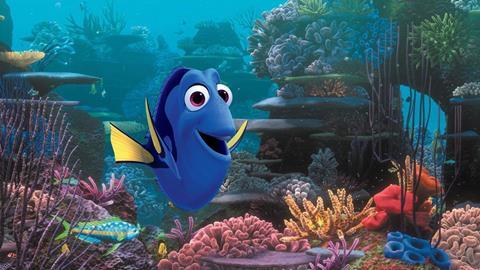 WALT DISNEY STUDIOS MOTION PICTURES INTERNATIONAL
Finding Dory has become the third release of 2016 to hit the $1bn mark at the worldwide box office, and Pixar's second $1bn release alongside Toy Story 3.
Pixar's latest swum to an extra $8.9m from its 16 territories for $516.7m overseas and combined with its North American haul of $484.8m, it has now become the third Disney film of 2016 to hit the milestone, following Captain America: Civil War and Zootopia.
Finding Dory's leading overseas markets are Japan ($65.9m), the UK ($55m) and China ($38.4m), while it has posted strong holds across German-speaking Europe this weekend to retain top spot for the second straight week.
FOX INTERNATIONAL
UPDATE: Opening its doors in 20 new markets, Miss Peregrine's Home For Peculiar Children retained the overseas lead with a $42.5m weekend from its 77 markets for an early $94.1m.
The best new debuts came in Russia and France with chart-topping openings of $6.3m and $5.3m, respectively, followed by a $2.5m bow in Germany and Tim Burton's best-ever opening in Argentina with $694k.
Holdover-wise, the adaptation boosted 21% in South Korea on its way to a $5.6m second weekend for $14.6m and fell only 32% in the UK with $3m for a local tally of $8.9m.
Fox International Productions and Fox Star's M.S. Dhoni: The Untold Story bowled to a further $3.1m from its two markets for $22.2m to date, retaining the lead in India with $3m for $21.8m.
CHINESE TITLES
Dante Lam's Operation Mekong shot to an estimated $26.5m from its seven territories for $97.3m to date, according to ComScore.
I Belonged To You recorded a $12.2m second weekend for $94m, while action-comedy Mission Milano added $4.2m from its seven territories for $33m.
MISTER SMITH ENTERTAINMENT
From its 28 Mister Smith Entertainment territories, The Girl On The Train posted an estimated international debut of $15.3m. Combined with the Universal tally, the adaptation has taken $16.5m.
The film opened top in the UK and Australia through eOne, as well as delivering the eighth best opening day of the year in Portugal on its way to a chart-topping bow. Releases to come include Spain (October 21), France (October 26) and Germany (October 27).
UNIVERSAL PICTURES INTERNATIONAL
UPDATE: Landing in France with a $3.7m bow through Studiocanal, Bridget Jones's Baby delivered $15.2m from its 54 territories for $124.5m to date.
The Working Title production, presented by Universal, Miramax and Studiocanal, held strong in the UK with a $3.7m fourth weekend for an excellent local tally of $48.8m, while South Korea took $1.2m for $4.7m after 11 days in play.
It opens in Belgium, Bolivia and Ecuador next weekend.
The Secret Life Of Pets hopped to an additional $10.2m from its 52 territories for $483.8m. Illumination Entertainment's hit animation opened in its final market of Italy with a chart-topping $5.1m from 515 sites.
Shooting into its final market of Japan with an excellent $4.4m to chart second behind a local animation (Your Name), Jason Bourne now stands at $243.1m overseas and $405m worldwide.
JA Bayona's A Monster Calls, from Focus Features, achieved the biggest opening for a Spanish film this year in Spain with a number one debut of $3.6m from 332 sites and a 40% market share.
DreamWorks Pictures' adaptation The Girl On The Train arrived in six Universal territories with $1.2m, led by a $365k debut from 76 sites in Taiwan. Universal will release the film in 14 more territories overseas.
Kubo And The Two Strings and The Purge: Election Year stand at $16.2m and $38.7m, respectively.
LIONSGATE INTERNATIONAL
UPDATE: Deepwater Horizon drilled up a further $10.4m from its 70 markets for an early $27.7m.
Taiwan provided the best new opening with $1.4m, followed by Australia with a preview-boosted $1.3m. Ahead of its release in France and Belgium next weekend, the UK and Middle East have grossed $4.8m and $3.7m, respectively.
Currently playing in four markets, Guo Jingming's fantasy epic L.O.R.D.: Legend Of Ravaging Dynasties added $5m for $53.9m, the majority come from its $53.7m take in China after two weeks.
WARNER BROS PICTURES INTERNATIONAL
UPDATE: Storks flew to a confirmed $10.4m from its 55 markets for an early $56.8m, falling only 19% in Spain with a $1.2m second weekend for $2.8m. It arrives in France and the UK next weekend.
Currently playing in 45 territories, Sully grossed $3.3m for $54m to date. It enjoyed an $884k second weekend in South Korea for $4.1m and a $1.1m third weekend in Japan for $9.6m.
War Dogs and Suicide Squad have now grossed $40m and $419.6m, respectively. The latter has overtaken Deadpool's overseas tally.
SONY PICTURES RELEASING INTERNATIONAL
Creeping into six new markets, Don't Breathe scared up an estimated $7.6m from its 39 markets for $53.9m to date.
The hit horror posted an outstanding preview-boosted $4.5m debut in South Korea from 670 screens, marking the third biggest opening of all time for a Hollywood horror film in the market.
Columbia Pictures-MGM western remake The Magnificent Seven corralled a further $6.9m from its 68 markets for $58.7m. It posted a $1.1m second weekend in Australia for a local tally of $4.9m and a $1m second weekend in France for $3.2m.
Led by a $1.5m opening in Germany, Sausage Party bit into $4.1m from its 33 markets for $31.9m so far. The adult animation also opened in Spain ($1.2m from 300 screens) and Mexico ($260k from 360 screens).
The Duelist, a co-production from Sony Pictures International Productions, fell 47% in Russia with a $1.3m second weekend for a local running total of $4.6m.
TF1
Radin! posted an estimated $3.9m second weekend in France for $12.9m to date, according to ComScore.
STX ENTERTAINMENT
Bad Moms partied to an extra estimated $2.3m from its 60 markets for $62.5m overseas and $175.4m worldwide.
Ahead of its release in Italy next weekend, the comedy fell only 32% in Germany with a $1.5m third weekend for a local tally of $7.6m.