JUNE 20 UPDATE: Warner Bros' The Conjuring 2 crossed $100m overseas; Universal/Legendary's Warcraft hits $200m in China.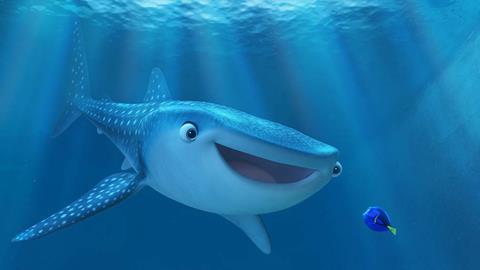 WALT DISNEY STUDIOS MOTION PICTURES INTERNATIONAL
To go with its record-breaking North American bow, Finding Dory swum to an estimated $50m on its international debut in 29 territories.
The sequel achieved the biggest Pixar opening ever in China with an estimated $17.5m, while its $7.6m Australian bow was the biggest Disney/Pixar opening weekend ever in the market.
Argentina posted the second biggest Disney/Pixar opening with $3.5m, behind only Monsters University, despite Argentina's Copa America football match on Saturday [June 18], while Russia and Colombia opened with $3.4m and $2.1m, respectively.
Globally, Finding Dory grossed $6.4m on 344 IMAX screens, including $5m from 211 screens in North America. It opens in France, Spain, Belgium, Switzerland, Israel, Portugal, New Zealand and Bolivia next weekend.
In its fourth weekend of overseas release, Alice Through The Looking Glass sailed to an estimated $8m from its 45 territories for $166.7m to date.
China remains the top market with $57.9m to date, while the fantasy sequel opened top in Hong Kong with $930k. It opens in Japan on July 1 and South Korea on Sept 8.
The Jungle Book fell only 16% on its way to a $4.8m second weekend in South Korea for a local tally of $12.7m. Internationally, it has now swung to $566.7m and $922.4m globally.
Zootopia and Captain America: Civil War have amassed $672.5m and $743.6m, respectively, overseas.
WARNER BROS PICTURES INTERNATIONAL
UPDATE: The Conjuring 2 has crossed the $100m mark at the international box office.
New Line's horror sequel scared up $43.1m from its 57 markets for $117.5m to date. The UK led the way with a preview-boosted $6.6m bow from 780 screens, as Spain and Russia landed with $1.85m and $1.75m, respectively.
Mexico is currently the leading overseas market with $15.8m, followed by India with $9.4m and South Korea with $8.7m. It creeps into Italy on June 23 and France on June 29.
Opening in Brazil on an excellent chart-topping $3.3m, Me Before You grossed an extra $13.5m for $35.8m to date.
Australia also enjoyed a strong debut with a preview-boosted $2.5m from 228 screens, only 12% behind The Fault In Our Stars, while the UK fell only 28% for a $1.4m third weekend for a local tally of $9.4m.
The adaptation opens in Germany next weekend.
UNIVERSAL PICTURES INTERNATIONAL
UPDATE: Following its record-breaking China bow last week, Warcraft marched to an additional $41.54m from its 57 territories for $340.5m overseas.
Legendary and Universal Pictures' adaptation has hit the $200m mark in China, where it is being distributed by Dalian Wanda-owned Legendary, as it stayed top with $23.54m for $205m.
In its Universal territories, Australia opened $2.5m to chart second, Mexico also landed second with $3.4m, while South Korea was the top holdover with a $1.7m second weekend for an 11-day total of $7.9m.
Warcraft is now IMAX's third best-grossing Hollywood title in China with a terrific $27.5m after just 12 days in play, more than half of its global IMAX running total of $44m.
New Line Cinema and Universal Pictures' Central Intelligence shot to a $7.2m overseas debut from its 24 territories.
The action-comedy took the top spot in Germany with a $2.2m debut from its 494 dates, and it also opened top in the likes of Sweden ($421k), the Netherlands ($420k) and Israel ($312k).
Central Intelligence still has 38 more territories to open over the next three months, starting with Cyprus, Estonia, Peru and South Africa next weekend.
Neighbors 2 and The Witch stand at $44.3m and $14.7m, respectively, at the international box office.
LIONSGATE INTERNATIONAL
UPDATE: Ahead of its release in China next Friday [June 24], Summit Entertainment's Now You See Me 2 conjured up $16m from its 54 markets for an early $49.7m overseas.
The Middle East and Malaysia debuted with $900k and $1.2m, respectively, while Russia remains the sequel's top market with $11.9m after two weeks in play. Australia has grossed $5.5m after three weeks, while Taiwan has provided $4.4m after two.
Following a $686k debut in the UK, Gods Of Egypt has now grossed $111.9m overseas and $143.1m worldwide.
FOX INTERNATIONAL
UPDATE: X-Men: Apocalypse has become the biggest X-Men outing of all time in China with a local currency running total of RMB 732m.
Overall, the latest instalment added $12.9m from its 69 markets for an international haul of $364.3m to date. The UK has amassed $25.7m after five weeks in play, while France has grossed $15.1m.
In other X-Men records, Deadpool is now the biggest X-Men outing in Japan with $14.6m after a $1.4m third weekend. Overseas, it now stands at $417.4m.
Fox International Productions' recent Cannes selection The Wailing took $478k for a local haul of $47.8m after six weeks in play.
Next weekend sees Independence Day: Resurgence invade cinemas in 58 overseas markets, including seven of the top ten markets: South Korea, Australia, Brazil, Russia, UK, China and Mexico. It will play in more than 900 IMAX screens worldwide.
PARAMOUNT PICTURES INTERNATIONAL
Opening in six new markets, Teenage Mutant Ninja Turtles: Out Of The Shadows sliced to a further $10.5m from its 50 markets for $70.8m to date.
Brazil was the top new opener with $2.7m to chart third, while South Korea delivered $1.2m from 517 sites and Spain landed second with a $672k bow from 330 sites.
Its next major release comes in France on June 29, with openings in China (July 2), Italy (July 7), Germany (Aug 11) and Japan (Aug 26) to come.
SONY PICTURES RELEASING INTERNATIONAL
Flying into Italy with a chart-topping $1.6m, The Angry Birds Movie catapulted to an estimated $6.3m from its 88 markets for $224.5m to date overseas.
Germany fell only 3% to add $600k for $10.9m after six weeks in play, while China remains the leading market with $73.9m. The animation is still to open in Japan on Oct 1.
Money Monster uncovered an estimated $3.5m from its 82 markets for $42m so far internationally.
It opened in Mexico with a solid $700k, including previews, from its 395 screens, while Australia enjoyed a $610k third weekend for $4.5m and Germany added $430k for $3.4m after four weeks in play.
CJ ENTERTAINMENT
Proof Of Innocence opened to an estimated $3.75m in South Korea, according to ComScore.
BLOOM
Currently playing in 25 territories, The Nice Guys added an estimated $2.5m for $21m to date overseas, according to ComScore.