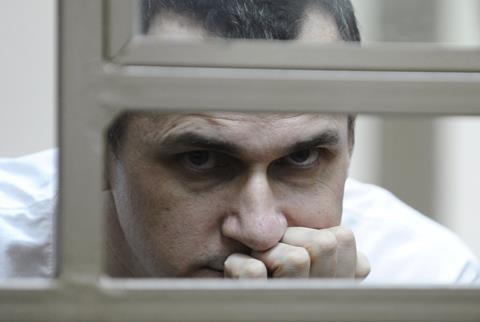 Imprisoned Ukrainian filmmaker Oleg Sentsov's 43rd birthday will be marked tomorrow (Saturday, 13 July) at the Odesa International Film Festival (OIFF) with the screening of the first footage from a feature film adaptation of his play Numbers.
The film's producer Anna Palenchuk of 435 Films told Screen that a trailer will be shown at OIFF's press centre next to the Festival Palace on Saturday afternoon.
The film version of the play has been directed by Ukrainian filmmaker Akhtem Seitablayev in consultation with Sentsov, who had been in correspondence with Palenchuk with notes and ideas from his prison cell since the end of last year. Dariusz Jablonski's Apple Film served as co-producer.
In addition, a 20-second clip about Sentsov has been prepared by the Ukrainian documentary filmmaker Andriy Lytvynenko (The Trial: The State of Russia vs Oleg Sentsov) which will be be shown before every screening at the festival in Odesa.
Lytvynenko, who was the co-director with Russian filmmaker Askold Kurov of The Trial: The State of Russia vs Oleg Sentsov, also spent spent several weeks last autumn filming the rehearsal process and impressions of the stage performance of Numbers, recording interviews with director Tamara Trunova and producer Anna Palenchuk, as well as actors and creative group.
Entitled Sentsov Should Be With Us, this separate 14-minute film was supported by the International Renaissance Foundation and the Ukrainian Cultural Foundation and is available to view online.
In May 2014, Sentsov, who was involved in supporting the Euro Maidan protests in Kiev and opposed the annexation of Crimea by Russia, was arrested by the Federal Security Service of the Russian Federation (FSB) in his house in Simferopol and brought to Moscow where he remained detained and awaited trial for over a year.
On 25 August 2015, he was sentenced to 20 years in jail, a sentence that was confirmed in late November 2015 by the Russian Supreme Court in Moscow.
Tomorrow will be his sixth birthday spent incarcerated in a Russian prison.
Following his visit to the Ukrainian director in the Labytnangi prison colony in northern Russia last month, Sentsov's lawyer Dmitry Dinze recently said that Sentsov has been working on short stories and is planning to have some published soon. In addition, he has begun starting work again on his second feature film project, Rhino, which was presented at various pitching forums in 2012.