EXCLUSIVE: Production is underway in Jerusalem on Israeli director's latest feature.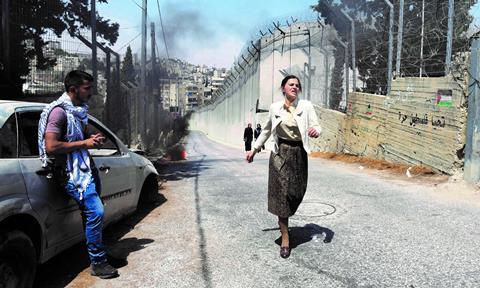 Israeli filmmaker Avi Nesher is currently shooting his new feature Pilgrim in Jerusalem, and Screen can reveal the first look from the production.
The film revolves around a once brilliant but now disillusioned and penniless psychologist, Jonathan Kedem (Yuval Segal), who is called back to Israel from the US by his ex-wife (Maya Dagan) to dissuade estranged daughter Anat (Joy Rieger) from marrying into the ultra-orthodox community.
With Anat's rejection of secular values driving a potential wedge with her family, Jonathan's journey plunges him into Jerusalem's "cauldron of competing faiths and passions". Little does the disillusioned, psychologist realize that this pilgrimage will offer him a rare chance for redemption.
Pilgrim's shoot has taken Nesher all over Jerusalem, from the religious neighbourhood of Givat Modechai to an East Jerusalem neighbourhood running alongside the separation wall.
Describing the latter location as "one of the most dangerous places in today's East Jerusalem", the writer-director-producer told Screen: "As our film deals with extremism and its many variations, we took quite a chance by deciding to film there, but we felt that the subject matter of the film warranted that risk."
Pilgrim is the second instalment in Nesher's so-called "Past" trilogy, after his 2016 Holocaust legacy drama Past Life, about two Israeli sisters alerted to a dark secret from their father's past.
Rieger, who played one of the sisters in Past Life and is regarded as one of Israel's most exciting new acting talents, reunites with Nesher in Pilgrim, opposite Israeli pop singer Nathan Goshen making his big-screen debut as Anat's pious fiancé Hasid.
The production, which began shooting on June 18 and is due to wrap on July 30. It is produced by Nesher alongside his partners on Past Life, David Silber, David Milch, Moshe and Leon Edry. Nesher's long-time French director of photography Michel Abramowicz is also working on the film.
Nesher has yet to set international sales on the picture. Past Life, which premiered at Toronto last year, was sold internationally by Bleiberg Entertainment.