Anna Chancellor, Ivan Kaye join comedy now shooting in London.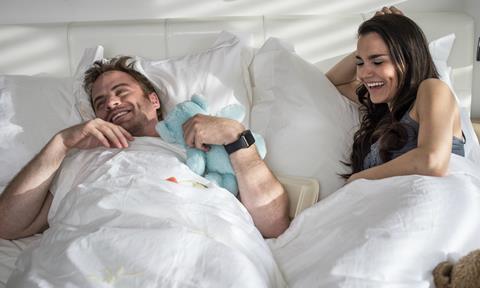 Screen can reveal the first image from The Revenger: An Unromantic Comedy, the Samantha Barks (Les Misérables) and Robert Kazinsky (Pacific Rim) starring comedy now shooting in London.
Anna Chancellor (The Hitchhiker's Guide To The Galaxy) and Ivan Kaye (Dark Shadows) have also joined the cast of the project, alongside Rachel Hurd-Wood (Peter Pan), Edward Speleers (Alice Through The Looking Glass) and Tony Way (Edge Of Tomorrow).
The film is from writer-director Mark Murphy, who is also producing for his company Solar Productions, alongside Alan Latham for GSP Studios and Eric Woollard-White.
GSP jointly financing with Birdbox Finance, Goldfinch Entertainment and Premier Pictures.
Kazinsky stars as a tech entrepreneur who discovers that his dream girl only wants him for his money. In return, he enacts a series of pranks on his fiancé (Barks) to see how far she will go to get her hands on his fortune.
Director-writer Mark Murphy commented: "I'm literally bursting with excitement for this film. Right from the rehearsals it's clear that we've got an awesome and hilarious cast; the potential here is spectacular. I'm raring to go."