UK production houses Hakawati and Banyak Films have released a first trailer for Yasmin Fedda's feature documentary The Disappeared, which probes the fates of Syrian open internet activist Bassel Khartabil and Italian Jesuit priest, Father Paolo Dall'Oglio.
These two high-profile figures in Syria's pro-democracy movement were both forcibly disappeared in the early days of the Syrian revolution never to be seen again.
Producers Elhum Shakerifar at Hakawati and Hugh Hartford at Banyak Films are launching the project at International Documentary Festival Amsterdam (IDFA) this week, where they will be talking to sales agents, producers and funders to help complete the film.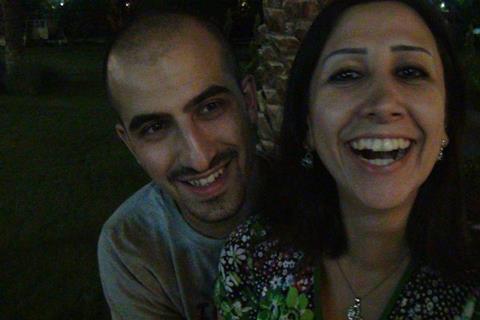 Khartabil, an open culture, open internet advocate and pioneering member of the global Creative Commons movement, was arrested by Syrian intelligence officers in Damascus in 2012.
After being detained incommunicado for nine months he was transferred to the civilian jail of Adra. In October 2015, he was taken from his cell and not heard from since.
His human rights lawyer wife Noura Ghazi received credible confirmation this August that he had been executed days after he was taken from Adra in 2015.
Filmed between Syria, Lebanon, Italy, Iraq and the UK over the last four years, the documentary recounts the love story between Khartabil and his wife, who met at a pro-democracy demonstration in 2011.
It also charts his pioneering work as an open software developer and freedom of speech advocate in Syria as well as the global campaign by his friends and family calling for his release.
The trailer shows newly uncovered, never-before-seen footage of Khartabil with friends and family.
The Disappeared is Fedda's third feature documentary after her 2014 award-winning Queens Of Syria, about a group of Syrian refugee women who stage a performance of The Trojan Women in Amman, in Jordan.
Beyond exploring the fates of the two men, Fedda has a wider ambition for the work.
"I want to interrogate how Syria as a country can be rebuilt when its civil society has been disappeared, killed and scattered across continents," she says.
"Film is not only a witness in times like these, it also offers the unique possibility of connecting the dots, investigating and trying to make sense of the big picture, through the small and intimate realities of real people"
The Disappeared was supported by Abu Dhabi's development SANAD fund, CAP Kuwait and BFI Vision Award through Hakawati, collaborating closely with the #FREEBASSEL campaign and Families For Freedom, co-founded by Ghazi.
Shakerifar's previous documentary credits include A Syrian Love Story and Almost Heaven. Hugh Hartford is the producer of Ping Pong and Thank You For the Rain.
According to the UK-based monitoring group Syrian Network for Human rights, 65,000 people have disappeared at the hands of the either the state or rebel groups since the beginning of the uprising and another 200,000 are being held in the jails of the President Bashar al-Assad regime.