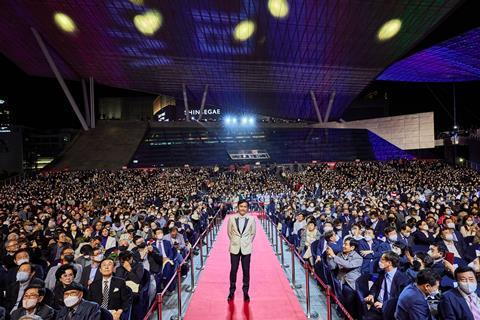 The Busan International Film Festival (BIFF) kicked off October 5 with Hong Kong superstar Tony Leung onstage accepting the Asian Filmmaker of the Year award and a return to a packed outdoor theatre at the Busan Cinema Centre.
The Coop Himmelb(l)au-designed cantilever roof was lit up with rainbow-coloured LED light displays and general audiences, film industry professionals and BIFF organizers alike expressed relief at being back to a full-scale in-person festival for the first time since 2019.
Festive reunion
The most noticeable element of this year's BIFF and Asian Contents & Film Market (ACFM) is how happy people were to be back and how festive the air felt.
In the face of spiking airfares and booked-up hotel rooms due to other events happening in the city around the same time – including the highly-anticipated free BTS concert in Busan on October 15 as part of the city's bid for the World Expo 2030 – BIFF committed to cutting costs drastically elsewhere to maintain the same level of guests as in normal years.
"It feels like everyone is here – more even than in pre-pandemic years," said Edmund Yeo, producer of Woo Ming Jin's award-winning Stone Turtle, which screened in BIFF's Window on Asian Cinema section. Yeo has been coming to BIFF since 2009 with films he has either produced or directed and is part of the network of Asian filmmakers who support and are supported by the festival.
As of the morning of October 10, BIFF was seeing 70% of its seats filled - a high rate even by pre-pandemic standards, according to organizers who judge this year's admissions so far to be successful.
If you want to see Asians…
Hong Kong Filmart took place online again this year as will the upcoming TIFFCOM in Japan, while many in the Asia industry did not make the trip to Cannes in May. This made the ACFM even more important to those who do business with Asia.
"The demand for the first ever UK umbrella stand in Busan first came from our members in Cannes because they were not seeing Asians there," said Charlie Bloye, chief executive of Film Export UK. "The BFI and DIT [Department for International Trade] got behind the initiative and here we are," he added, remarking the market has extra value in that "it is manageable and you can get around to meet everyone".
Numbers are not only back to 2019 levels but look to have increased by 20%, according to a mid-market assessment by organisers.
"The ratio of Koreans is higher, partly because the Chinese were largely unable to attend, but also because there has been a thirst within Korea as well for getting together, with the Korean Film Council holding events and participation in the first Busan Story Market," said Daniel Kim, ACFM general manager. "A lot of attendees from the West who were hesitating also decided to come at the last minute after mandatory PCR testing was ceased. It's been hard to get hotel rooms for them."
Backlog of titles
Buyers note and sellers readily admit there has been a backlog, especially in South Korea, of titles that have been held back due to the pandemic. Pre-2020, Korean sellers would often have new titles to launch at ACFM in October as well as others for the American Film Market (AFM) in November. This year sees a more measured approach with some waiting for AFM, although, notably, Acemaker movieworks has launched sales on Noryang: The Sea Of Death (working title) - the third in Kim Han-min's historical naval action franchise of Korea's all-time biggest box office hit, The Admiral: Roaring Currents, and Finecut launched sales on two Korean remakes - Secret: Untold Melody and The Dinner.
With audiences around the world still not returning to cinemas at the pre-pandemic levels, deal-making remains slow going. Korean sellers are looking beyond the first half of 2023 for recovery while their domestic counterparts warily eye the release of Avatar: The Way Of The Water this coming December as something that might dominate admissions around that season.
Big China Pavilion but no one on-site
China had one of the biggest national stands at this year's ACFM. Organised by China Film Co-production Corporation (CFCC), the China Film Pavilion was intended to showcase 17 mainland Chinese film companies and three of the biggest Chinese film festivals (Beijing, Shanghai and Hainan).
As the participating film companies are all studios, their line-up is dominated by commercial fare such as Home Coming – the biggest film at the Chinese box office from the recent National Day holiday period – meaning arthouse films were sidelined. A rare art film included in the booklet distributed at the booth is 2018's award-winning A First Farewell.
However, Return To Dust, which has gained international acclaim and domestic box office success since its premiere in competition at this year's Berlinale, was left out. This came as no surprise after its recent withdrawal from Chinese cinemas and streaming platforms after becoming a big talking point on local social media, which reportedly made the authorities uneasy.
No on-site representatives from China could be seen at the China Film Pavilion partly because the country still adheres to a zero-Covid policy, which requires all inbound passengers to quarantine for a minimum of 10 days.
One of the very few mainland Chinese companies that showed up at the market (but not under the China Film Pavilion) was streaming platform iQiyi, which had initially registered as an online exhibitor, but subsequently saw international sales director Bryce Tsao confirm his physical attendance when iQiyi had a trio of films selected for the festival and nominated for Asia Contents Awards.
Industry preparing for Hong Kong Filmart return
The Hong Kong Trade Development Council (HKTDC) set up shop at ACFM for the first time, promoting the long-awaited return of Hong Kong Filmart as an on-site event.
Filmart, which is considered one of the largest film and TV markets in Asia, has taken place online for the previous three editions due to pandemic and travel restrictions. It is now set to return to the Hong Kong Convention and Exhibition Centre in March 2023, its first physical edition since 2019.
The Hong Kong-Asia Film Financing Forum (HAF), which traditionally takes place in conjunction with Filmart, is also gearing up for an in-person event. HAF representatives from Hong Kong were promoting HAF's in-development and work-in-progress project market while also looking for potential new projects at ACFM.
Several regular buyers and sellers at Filmart, who attended ACFM, said that they will continue to support the popular market in Hong Kong. But there is also the issue of the National Security Law that China has imposed on the city since mid-2020. Its impact on film censorship, Hong Kong's economy and even whether it is safe to visit the city are just some of the concerns of those considering whether to make their long-awaited return to Filmart.