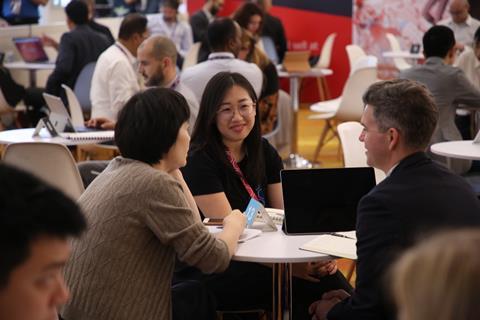 This year's Asia TV Forum & Market (ATF) in Singapore took place against the backdrop of a local-language content boom, the emergence of a myriad new streaming platforms, and massive consolidation amongst global broadcasters as they adjust to the realities of the new streaming landscape.
So far, not so different to anything that is happening in the West, but the five talking points below reveal some local nuances and variations.
Asia's streaming market, including China, is estimated to be worth $50bn by 2024, according to Media Partners Asia, so while there are already far too many platforms, this is not a market that anyone can ignore. Given the region's massive potential, it's not surprising that broadcasters, streamers and content producers from North America, Europe and Latin America flocked to ATF, which was celebrating its 20th edition this year. The market, which ran December 3-6 at Marina Bay Sands, attracted more than 5,600 buyers and sellers from 55 countries.
Keynote speakers at the ATF Leaders Summit (Dec 3) included Giorgio Stock, president, WarnerMedia Entertainment Networks, distribution and advertising sales, APAC & EMEA; Gong Yu, founder & CEO of Chinese streaming giant iQiyi; and Shibasish Sarkar, group CEO of India's Reliance Entertainment.
Asia's content boom shifts into warp drive
Asian content producers have never had it so good with Netflix, Amazon, three regional players (iflix, HOOQ and Viu), China's tech triumvirate (iQiyi, Youku and Tencent Video) and a host of in-country streaming services all focused on original, local-language content production to gain a competitive edge. While the Big Bang happened around 18-24 months ago, it looks set to expand further with WarnerMedia saying it has "doubled the slate for HBO original content in this region", and speculation around when Disney+, Comcast's Peacock and Apple TV+ will enter the Asian-language fray. "Asia has many different cultures, languages and business models, but what we see across the board is a spirit of enterprise and youth in terms of demographics, a propensity to use new technology and an aspiration for a better tomorrow. We sometimes miss that back home," said WarnerMedia's Stock.
Asian stories starting to go global
Korean TV drama already has a global fanbase and Indian web series, such as Netflix's Sacred Games and Amazon's Made In Heaven, are starting to find an audience overseas. "Indian stories are going global and can cut across any language anywhere, because language is no longer a barrier," said Reliance's Sarkar. Where will the next wave come from? iQiyi's Gong Yu is hoping it will be Chinese content – the Beijing-based streamer recently launched an international app and partnered with Malaysia's Astro in its first foray into Southeast Asia: "Netflix was able to have global impact because it had Hollywood content," Gong said in his keynote. "We don't know the next culture that can be globalised, but through online streaming, we think it's going to be Chinese or Asian content." With original content also growing in Southeast Asia, the next wave could be in Thai, Bahasa, Malay or Tagalog. It's the stories that are important, not the language they're told in.
Partnerships will be key for smaller players
A recurring theme at all TV markets these days is that producing originals is expensive and marketing that content is also expensive. With far too many players in the sector – India alone has around 35 streaming services – production and marketing alliances will become much more common as a way to control costs. "We do a lot of co-productions for originals," said Ariya Banomyong, president of Thailand's BEC World. "There's a lot of demand from other markets to co-produce with Thailand, and we worked out it's the way to do originals without killing the business." But OTT platforms within large tech companies can be bundled with other services – ride-hailing, food delivery, online ticketing – so tend to be more self-sufficient. "Our most important partners are other products of Gojek," said Michael Lewis, CCO of Indonesia's Gojek Entertainment Group, which recently launched streaming service GoPlay.
Singapore emerging as Asia's hub for digital and streaming
Singapore was already a traditional TV hub, but the Infocomm Media Development Authority (IMDA) has aggressively positioned the city state as the gateway to Asia for the tech and streaming industries with financial incentives and other attractive policies. Several global streamers, broadcasters and tech companies have set up their regional headquarters in Singapore, including Netflix, WarnerMedia, Discovery, Facebook, Apple, YouTube and Google. On the production front, Singapore has moved away from its "Made In Singapore" mantra to its new strategy of "Made With Singapore", which recognises the development role it can play across the fast-growing but less developed markets of Southeast Asia. "The way we help our Singaporeans is to be part of the growing system around the whole region, so supporting the rest of the region actually helps us. We need to play a role, not dictate a role, and create value for others and then share in that value," said Singapore Media Festival advisory board chairman Robert Gilby.
China still has potential but it may be time to regroup
Over the past few months, both Endemol Shine Group and Fremantle decided to close their China offices or pull out of local production in China, citing a big increase in regulatory restrictions. While imported TV formats have been limited to two per year since 2016, China's new TV regulator, the National Radio and Television Administration (NRTA), has been enforcing limits on the amount of foreign content on primetime TV and streaming platforms. The international film industry has suffered similar setbacks in its dealings with China, and the question remains – is this a temporary tightening while government regulators recalibrate an overheated market, or has ideology become more important than business, meaning this is the new normal? As China tends to transform into a completely different market every few years anyway - even in less politically sensitive times - many companies are taking the view that they're going to park their China activities for today, but look out for opportunities tomorrow.