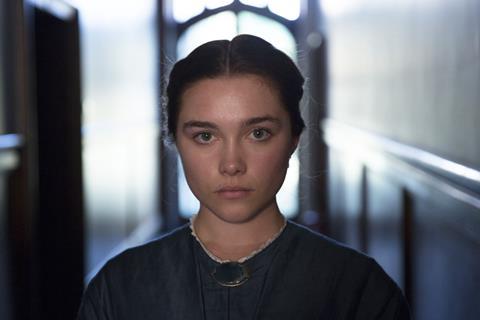 Park Chan-wook will direct and Florence Pugh will star in a six-part mini-series from The Ink Factory, BBC One and AMC based on John le Carré's The Little Drummer Girl.

The companies collaborated on The Night Manager, which starred Hugh Laurie, Tom Hiddleston, and Elizabeth Debicki.
The Little Drummer Girl is set in the late 1970s and weaves a story of espionage and international intrigue, love and betrayal. Set against the background of rising tensions in the Middle East, a young, brilliant actress called Charlie prepares for her ultimate role in "the theatre of the real".
The Ink Factory will finance and produce the mini-series in partnership with 127 Wall, and co-producers the BBC and AMC. Laura Hastings-Smith is producer, with Simon and Stephen Cornwell serving as executive producers alongside le Carré, Mona Qureshi for the BBC, Joe Tsai and Arthur Wang for 127 Wall, and Wonjo Jeong.
Oldboy director Park will mark his television debut on the project, which is set to go into production in January. Endeavor Content will sell the series globally.
Park is best known for his films Joint Security Area, Thirst, The Handmaiden and what has become known as The Vengeance Trilogy consisting of Sympathy For Mr. Vengeance, Oldboy and Lady Vengeance.
Pugh recently starred as Katherine in Lady Macbeth. She also recently wrapped production on Fighting With My Family. She is currently filming David Mackenzie's Outlaw King, opposite Chris Pine, and is playing Cordelia in BBC/Amazon's King Lear.
Park said: "Of le Carré's many masterpieces, the one I love ahead of any other is The Little Drummer Girl. At the core of this story is an extremely painful, but thrilling, romance. This is what makes the story universal, reaching beyond borders and languages and remaining incredibly current. To adapt such a great work without losing its integrity, it needs the time and depth of a television series, and I am excited at the prospect of seeing how the drumbeats of Florence Pugh, the most energetic young female actor I have seen recently, will resonate with the audience."
Simon and Stephen Cornwell, co-CEOs and founders of The Ink Factory, said: "With The Little Drummer Girl we are embarking on an extraordinary journey. It is exhilarating to see one of le Carré's greatest novels take shape for the screen in the hands of such a brilliantly talented team. Park Chan-wook is a master filmmaker at the height of his powers. His passion for the project and his vision are utterly compelling."
Piers Wenger, Controller of BBC drama, said: "We are thrilled by the extraordinary array of talents which The Ink Factory are assembling to bring this iconic le Carré story to the screen. The combination of director Park's passion for this title and the huge screen presence of Florence Pugh will make for a real drama event when The Little Drummer Girl premieres on BBC One."