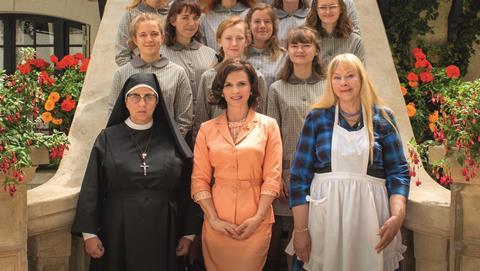 France's 2,000 cinemas will begin reopening their doors today (Monday June 22) after a 14-week closure which was enforced on March 14 as part of the country's Covid-19 pandemic lockdown measures. The country's theatres have never gone dark for such a prolonged period in the 120-year history of cinema, not even during World War Two,
"The large majority of cinemas will reopen, those remaining closed, are mainly those that tend to shut over the summer in any case, but it's very marginal," said Marc-Olivier Sebbag, managing director of the National Federation of French Cinemas (FNCF).
A handful of cinemas, such as the 5 Caumartin in Paris, even kicked-off their first screening at one minute past midnight on Monday to celebrate the event.
Covid-19 era sanitary measures, drawn up in consultation with exhibitors and French health authorities, include the obligatory wearing of masks in the foyer but not when seated in the theatre, one empty seat between separate groups of spectators, the cleaning of the theatres at least twice a day, and internet ticket sales where possible.
Culture minister Franck Riester told French radio on Sunday, however, that a rule stipulating that cinemas could only operate at 50% of capacity had been shelved after a government decision on Friday.
Theatre schedules in this first week of business comprise titles that were in cinemas when they closed in mid-March, a handful of new releases and a smattering of classic films as theatres attempt to pad out their programmes at a time when distributors are reluctant to run the risk of launching titles amid uncertainty over whether audiences will return.
Re-releases include Martin Provost's comedy drama How To Be A Good Wife, starring Juliette Binoche, which Memento Distribution will re-launch on 900 screens. It originally came out on 600 screens on March 11.
"It became the emblematic film of the crisis," said Memento Distribution chief Alexandre Mallet-Guy.
Other re-releases include historic drama De Gaulle (SND), sci-fi thriller The Invisible Man (Universal Pictures International France), Onwards (The Walt Disney Company France), Marie Curie biopic Radioactive (Studiocanal) and Tunisian family drama A Son (Jour2Fête).
New titles include Mr. Jones (Condor Distribution), which had been poised to come out as cinemas went dark; System Crasher (Ad Vitam) and documentary Be Natural: The Untold Story Of Alice Guy-Blaché (Splendor Films).
Many of the big releases over the coming weeks will be French- language titles, a handful with mainstream crossover potential such as Grégory Magne's Perfumes, starring Emmanuelle Devos as a diva perfumier, for Pyramide Distribution on July 1 and François Ozon's Cannes 2020 label selection Summer of 85 on July 14 for Diaphana Distribution. The first big new US studios releases will be The High Note on July 1 for UPI France and Mulan on July 22 for The Walt Disney Company France.
The big question is how enthusiastic spectators will be to return to cinemas.
The FNCF's Sebbag is optimistic. He points to the findings of a study conducted by market research group Mediamétrie from June 3 to 9, asking participants whether they intended to go to the cinema in the coming four weeks. It suggested 17.2 million people had the intention of going to the cinema.
"It showed two-thirds of those who wanted to go to the cinema in the following four weeks a year ago, still want to do so now. Given there was very little information about the films or the programmes at the time, it's a very good number," he commented.
Screen spoke to four distributors from across France's rich and varied distribution scene about their plans and expectations for the coming weeks.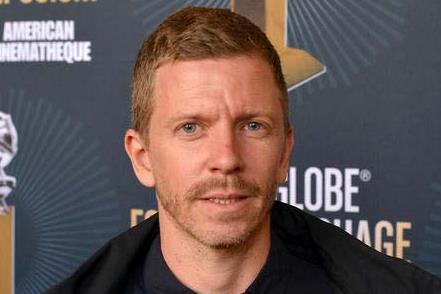 Alexandre Mallet-Guy, Memento Distribution
How To Be A Good Wife was in cinemas for just four days before French cinemas were forced to close. How have you fared since?
How To Be a Good Wife was the emblematic film of the crisis. We got through it as well as we could. We were at the beginning of one of our most ambitious releases ever with a lot at stake when everything ground to a halt.
We put the much of the team on partial unemployment [a French furlough-style scheme] for just over two months. Programming stopped and there was no marketing to be done because we didn't have any films coming out. We really came to a standstill apart from the administrative department which continued to work.
What are your plans now for the film as it relaunches?
We're relaunching it with an even bigger campaign than before on close to 900 screens from Monday, against some 600 screens in March. We're re-spending considerable amounts of money on the advertising with a 2,000 poster campaign. The ad campaign is at least as big as that back in March.
What we have lost, however, is the media coverage. All the interviews with the director and cast with the TV and radio were done back in March. We've done a few more but the media coverage won't be of the same magnitude. We hope the size of the release will draw media attention in itself. Another challenge, will be the weather that has been terrible over the last couple of weeks but is forecast to be beautiful this week.
Were you ever tempted to abandon the French theatrical release and opt for a digital one instead as the lockdown continued?
We had a few nice offers from VoD and SVoD platforms but we turned them all down immediately. We really wanted to relaunch the film as wide as possible with the reopening of the cinemas. We knew that by opting for a digital release we would be sacrificing the theatres and that was out of the question for us. We felt that as the country came out of the health crisis, a comedy in the vein of the How To Be A Good Wife could appeal to the public, offering a bit of light-heartedness after all these difficult weeks. I think lighthearted films will work well in this period
Do you think you'll be able to recoup your losses linked to the lockdown?
Unfortunately, I don't think we're going to be able to achieve the numbers we're were forecasting pre-Covid 19 times. We achieved 70,000 admissions in four days but people were already getting scared. It would have done better in normal times. With this film, we were aiming for 1.5 million to 2m admissions, but unless we're in for a very pleasant surprise I think that will difficult now.
Will the fact there are fewer films cinema help?
That's one factor in our favour. There are no strong new US releases and no other big French titles coming out until July.
Are you surprised that more distributors have not got behind the re-opening of the cinemas with their films?
It makes sense to wait and see but it's also due to the fact that the sector has agreed to let the films that came out on March 4 and 11 to go first as priority. It was a sort of gentleman's agreement. There are a few smaller titles but the next big titles are in July with Perfumes for Pyramide (July 1), the comedies Divorce Club for (SND) Tout Simplement Noir (Gaumont) on July 8 and Summer of 85 on July 15. It's French films that are going to crank up the machine, ahead of the arrival of the big US titles towards the end of July.
Is the slight delay in the release of Tenet [from July 17 to July 31 in France] helpful?
Not really, we need new titles to re-dynamise the market and get the public back into the cinemas. It would be disappointing if How To Be A Good Wife was the only big release for this period. It's nice not to have too much competition as we start up but it would be depressing if there no other big films going forward?
What are your next release after How To Be A Good Wife?
We'll focusing on How To Be A Good Wife across the summer, hoping to progressively building admissions over the long duration thanks to the initial launch and then word-of-mouth. Our next release will be on September 2 with Enormous by Sophie Letourneur. It's another comedy. Then we'll release Babyteeth on September 30. Our big release for the second semester of the release calendar will be The Triumph on October 28. It's an intelligent, feel-good movie which was selected for the Cannes 2020 label.
Do you think the Cannes 2020 label on a film will help draw spectators?
Yes, especially for a comedy like The Triumph. The director's first film was a modest success but this label for his second film, which is a comedy, will help as it denotes a sort of quality stamp which will support the promotion.
Memento has a strong record in successfully releasing foreign-language films in France. How do you think these films will perform in the current climate?
I think it will be more difficult for both foreign-language films and new discoveries by lesser- known directors. Cannes has such a resonance thanks to the presence of the journalists and industry professionals watching the films at the same time. It creates a real buzz, especially when it comes to launching the films theatrically in France. We've lost that for this year.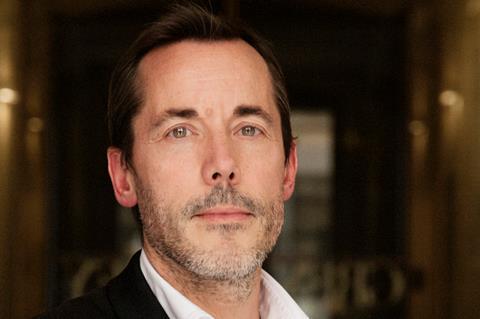 Xavier Albert, Universal Pictures International France
What films are you releasing June 22?
Leigh Whannell's The Invisible Man and Craig Zobel's The Hunt on around 300 screens and 200 screens respectively.
The Invisible Man was out in theatres when they closed. Why are you relaunching it?
The film was in the third week of a successful release when it came to a abrupt halt, with more than 620,000 admissions and great word-of-mouth. Out of solidarity for the impacted distributors, the theatres have committed to giving priority to the films that were on release before the closure. We believe in the potential of the film, which hasn't come out on any other platforms in France since its first release in February.
The Hunt, on the other hand, was given a VoD release?
Yes, there was a release on VoD in April on some platforms in France but with a limited audience. It was at the request of certain cinema chains that we decided to release it again in cinemas, and there again, we think it has strong potential.
What are your expectations for the coming weeks?
It's difficult to make forecasts in such an exceptional context. It will also depend on whether theatres manage to reassure spectators with the sanitary framework they've put in place and the first campaigns that are beginning to appear are along those lines. The French public is very attached to their cinemas and according to certain local studies, they have missed them terribly. If there is an offering of films, spectators should return, especially the regulars, who go to the cinema once a week and represent one million people. The challenge in the longer term, will be to entice occasional cinema-goers – those who go three or four times a year – back in.
You have also added Judd Apatow'sThe King Of Staten Island (July 1) and Jon Stewart's Irresistible to your release schedule for July 1. What was the thinking there?
We decided to the propose these films out of solidarity for the theatres whicn need original and fresh content. They are films which deserve a theatrical release but are traditionally difficult in our market. This exceptional situation will allow to them to have a place that they wouldn't have had in normal times. The will only be released, however, in original language, subtitled versions.
Is UPI France still releasing The High Note on June 15 as planned?
This release will our next big consequential release as it will be the first mainstream US comedy of the summer in France. We believe a lot in this feel-good movie, for which we're targeting a 300-screen release.
Has the delay in the release of Warner Bros'Tenet (until July 31 in France) impacted UPI France's plans?
It doesn't change anything for us as our films are targeting slightly different audiences and in the end there isn't much offering in terms of US cinema this summer. The earlier Tenet comes out in cinemas the better, because it will get spectators back into theatres and create a virtual circle.
France is one of the only big European territories where Trolls World Tour was not released on VoD in April. Why has UPI France decided to hold out for a theatrical release in October?
We're convinced of this sequel's strong potential because the franchise is very popular, especially with children. It will be an important Dreamworks release for us as the Toussaint school holidays [running October 17 to November 2] are traditionally a strong period at the box office. Trolls World Tour will be one of the biggest and most recognisable offerings of the period in terms of animation. The release will also be supported by a wide and extensive range of products under licence which will give it even greater exposure in the shops.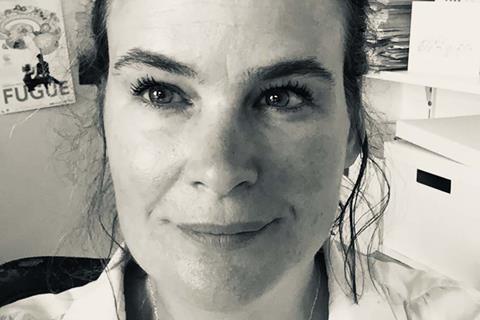 Bénédicte Thomas, Arizona Film
How has Arizona Film worked through this period?
The staff were placed on partial unemployment. But for me, it has been a period of intense work and deep reflexion on how we work, the objectives we want to meet and a redefinition of the first principles we want to defend.
I was also in daily contact with producers, buyers, cinemas and institutions and our syndicate the SDI (Syndicate of Independent Distributors).
There was a lot of time lost trying to anticipate the conditions of the reopening, figuring out strategies, setting and then abandoning hypothetical release calendars… but also lots of long and deep conversations with other professionals in the business. We also did a lot of work consolidating our balance sheet to prepare for the uncertainty of the coming 18 months.
Arizona will release Eva Riley's Perfect 10 in France on July 8. Was always that always the scheduled release date?
It was supposed to come out on April 29. A summer release is risky because it's difficult to evaluate the desires of the public following this period of confinement but we're happy to accompany the recovery by proposing this luminous and generous film to the theatres.
How many screens will you release it on and where, mainly in Paris or also in the provinces?
We'll release it on 60 to 65 prints, with seven to eight in Paris. The film has been well received by both the chains and the independents. In Paris, it's programmed principally by the three main chains, UGC, MK2 and Gaumont, and a handful of independents. It's the reverse in the provinces where it's programmed mainly with independents.
What are your expectations for this release?
In terms of figures, it's a total unknown. Everyone is waiting impatiently for the first figures on June 22, even if they won't necessarily give an indication of what could happen in three weeks' time. The lockdown has taught us that things can change very quickly. On the other hand, we're expecting a strong visibility in the press, which will be positive for Eva Riley, for whom this is the first film and in whom we believe a lot.
Do you think the fact that there will be fewer films on release will play in favour of Perfect 10?
In terms of programming, of course. In terms of admissions, it's difficult to say. While there are fewer films, there are also fewer screenings because lots of theatres have reduced their number of daily schedules and lengthened the time between seances to allow for cleaning and space out the circulation of the public.
Were you ever tempted to release Perfect 10 directly on VoD as the lockdown stretched on?
It was not a route we wanted to go down and producer Bertrand Faivre agreed. We preferred to wait for the reopening of the theatres, which is the first screening experience we would like to see continuing for our films.
What are Arizona's next releases?
Continuing our leap into the unknown we have set an August 5 release date for Jonás Trueba's The August Virgin, which won the Fipresci prize and a special mention of the jury at Karlovy Vary [in 2019]. We love it. It's a gentle, melancholic summer marvel set in the streets of Madrid. In October, we'll release Kazakh director Adilkhan Yerzhanov's drama A Dark-Dark Man, which premiered in competition in San Sebastian and was originally due to come out in May.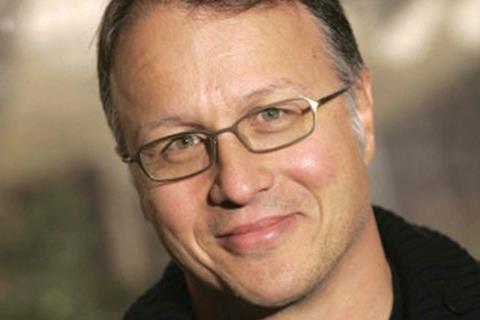 Eric Lagesse, Pyramide Distibution
How have you worked during this period?
It was a bit like living in another dimension. On the one hand, we were protected by the government measures and a distributor who isn't releasing a film isn't risking any money. On the other hand, it was an anxious time because we didn't stop thinking about the future and getting ready for the next step, namely what is going to happen from June 22, without really knowing what to expect.
I think the biggest challenge is in front of us from June 22. We're going to have to face the market, a market we understand less than before the confinement.
Pyramide will release French- language drama Perfumes on July 1. What drove you to release it now and on how many screens will come out on?
It was supposed to come out on March 25 on around 190 screens. Seeing the minimal offering on July 1, all the cinemas were asking for the film and out of solidarity we decided to say 'yes' to nearly everyone. So it will now come out on around 450 to 500 screens, but don't forget that the sanitary measures mean you now need to two cinemas to achieve what you could with just one.
Are you re-releasing any titles that were in cinemas when they closed?
We're re-releasing Kongo. It's a documentary whichh played in ACID in 2019 which played for just four days before the theatres closed. We're bringing it out on screen in Paris.
What are your expectations? Do you think specatators will return to the cinema?
I'm optimistic. I think the public has been missing going to the cinema. The fantastic audiences we've seeing for cinema on television are proof of this. The population returned on mass to the café terraces, then to the restaurants. There's no reason why they won't return to the cinema. Yes, our public tends to be older rather than younger but this demographic also rebelled when the government suggested it wanted them to stay in lockdown for longer than the rest of the population. It's a public that wants to get out.
Do you think the factthere will be fewer films in release will play in favour of Perfumes?
Yes, clearly. We're taking a risk but it's a risk that could pay off.
Are you doing any special events to launch the film?
We've organised lots of preview screening right up until July 1 and there will be a exceptional screening on Sunday night, or rather Monday morning (June 22) at midnight at the 5 Caumartin cinema to celebrate the reopening of the festivals.
Do you think you will be able to recuperate some of your losses linked to the lockdown?
Yes. The advertising companies have played their part. [outdoor advertising specialist] JCDecaux Group has re-run our ads in the advertising columns which were originally put up for March 25 for free and some magazines are also re-running are ads for free. So on Perfumes, it should be ok. On Kongo, even though it was a small release, will never get our losses back.
Did you use the CNC derogation to break the media window to release any of your stalled films on VoD early?
We didn't use the derogation but we took the painful decision to release our Cannes 2019 Camera d'Or winner Our Mothers, on VoD on June 16. It had been scheduled for an April 8 release in the cinemas. We felt it wasn't the right type of film to release in this time of recovery and we decided that VoD was the best option for the film.
What are Pyramide's upcoming releases after Perfumes?
We'll release Marion Laine's Into The World, starring Sandrine Bonnaire, on August 12; Emmanuel Mouret's Love Affair(s), which has just been given the Cannes 2020 label, on September 16; Massoud Bakhshi's Sundance Grand Prix winner Yalda, A Night For Forgiveness on October 7; Philippe Béziat's Opera de Paris documentary Indes Galantes on October 28, Military Wives on November 11 and Mohammad Rasoulof's There Is No Evil on December 2