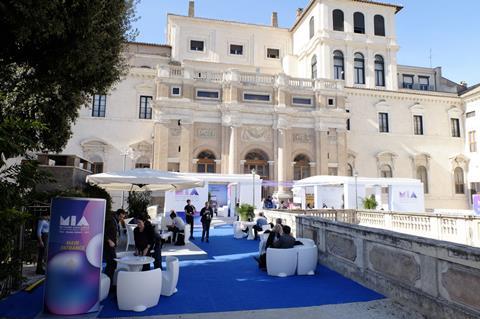 The seventh edition of the MIA film and TV market unfolded in Rome last week against the backdrop of the 17th century Barberini Palace in the heart of the Italian capital. Spanning a film sales market, conference programme and scripted and unscripted content showcases, it was one of its buzziest editions to date.
It prompted four main talking points for the international industry to ponder.

Is MIA now a must-attend event?
There was a sense of a return to some sort of normality at MIA this year, after the challenging 2020 edition which saw many international delegates hightailing it home as borders started to close again amid fresh waves of Covid-19 across Europe. Although attendance has yet to return to pre-pandemic levels, the 2021 numbers were encouraging. The market registered 2,000 accredited participants, against 2,500 in 2019, spanning top executives, producers, commissioners, sellers and buyers.
In the film market, MIA hosted a record 150 market screenings, 80 of them premieres, against 128 in 2019. Another 150 projects and works in progress were presented in MIA's scripted and unscripted content showcases and drama, and other content showcases such as C EU Soon.
Beyond the statistics, this felt like one of the buzziest editions to date as film and TV professionals filled up the halls of MIA's 17th century Barberini Palace hub from mid-morning to early evening each day. It was mainly a European affair, however, although a surprisingly high number of high-profile US guests made the trip.
Against this backdrop, there was a growing consensus among European professionals that MIA increasingly makes more sense than the AFM as a meeting place for regional networking and deal-making. It remains to be seen whether this trend is confirmed when the Santa Monica market starts running as an in-person event again, hopefully in 2022, after this year's online edition in November.
Has the sales business changed forever?
European sales companies were out in force at the market this year, with the French representing the largest delegation. MIA's film market component is far from reaching the scale of the EFM or its defunct predecessor Mifed but the sales attendees filled up three halls of the Barberini Palace.
There were few big sales acquisition announcements or project launches, however, with most sellers using MIA as a place to consolidate sales on summer, early autumn festival titles.
"It's too early to report completed sales, I would say rather that people want to see the market relaunch but that everyone is being cautious," said Bérénice Vincent, co-head of Paris-based sales company Totem Films. "There was good attendance by both buyers and sellers and a strong desire on both sides for the market to pick up again but it's still very fragile."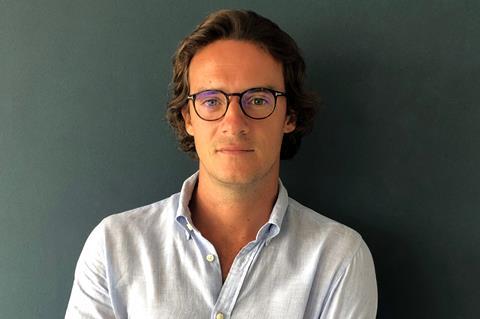 Alexis Cassanet, head of sales at Gaumont agreed. "Being able to show their films in theatres was also an interesting opportunity for buyers, especially in this digital era. We also used the market to start pitching upcoming projects that we'll launch at the AFM," he said.
"The market helped us close a few deals that were already underway, but we haven't any concrete replies from other buyers."
The meeting also gave buyers and sellers a chance to discuss their longer-term expectations face to face.
"Beyond whether buyers are physically attending markets, the big question for me is what is the state of the business," said sales veteran Charlotte Boucon in her new role as head of world sales at Orange Studio.
Most agreed the industry would never be the same again.
"Something has shifted so the recovery is not taking us back to where we were before, it's moving into something else right now," Thania Dimitrakopoulou, head of sales at The Match Factory, told a Europa Distribution panel over the weekend.
Why TV drew US execs to Rome
With travel from the US to most European countries now open for fully vaccinated travellers, a number of US players stopped off at MIA for the first time this year, including keynote speakers Joe Russo and AGC founder and CEO Stuart Ford.

As a new wave of US platforms launch in Europe at a time when local broadcasters and regional and niche platforms are also getting faster and smarter in the way they board shows and films, the region is becoming a production hotspot.
Ford said his trip had been driven by the television department of AGC Studios. "MIA seemed like a useful opportunity for us to get in a room with a number of European companies, whether they be producers or broadcasters to explore opportunities to work together and build partnerships," he explained in an in-conversation event over the weekend.
Russo's Rome trip had been spurred in part by his company AGBO's collaboration with Italian producer Riccardo Tozzi at Rome-based Cattleya on the upcoming multi-territory series Citadel, he explained in his keynote.
Other US MIA debutants included industry veterans Matt Brodlie and Jonathan Kier, who launched their new Los Angeles-based joint venture Upgrade Productions on the eve of the market. Backed by German powerhouse Constantin Film and with a strategic partnership in place with Bron, its focus is mainstream local-language content with global appeal. Brodlie and Kier were in town to reconnect with existing contacts and plug into the burgeoning European production scene.
"There's a sense that everything is shifting," said Brodlie.
"For the streamers, all the growth is outside of the US right now," added Kier.
Is the move to TV drama from film by Italian producers here to stay?
Italy is catching the wave of this European drama boom.
According to a report released by Italy's Audiovisual Producers Association during MIA, the total value of the country's audiovisual production in 2020 was around $1.5bn, including all genres from feature films to drama, animation and documentaries, against $1.1bn in 2017. The largest area of growth was in drama series destined for broadcasters and the streaming platforms which accounted for $716m of the 2020 spending.
Investment in feature film was down, however, to between $314m to $349m in 2020 against $431 to $466m in 2109. It remains to be seen if this trend for feature film production continues into 2021 and 2022 with theatres now re-opened.
A raft of upcoming Italian high-end series were launched or announced during MIA. Amazon Studios held an industry-only presentation of its new Italian Original, the crime drama Bang Bang Baby, produced by Lorenzo Mieli at The Apartment, while Sky announced a new Italian adaptation of French hit series Call My Agent!, to be produced by Rome-based production Palomar.
Beyond the organic growth in Italy's drama production, the Italian government also signalled the sector was now part of its economic and soft power strategy with both the culture minister Dario Franceschini and the foreign minister Luigi Di Maio putting in appearances at the market.