Film to receive US premiere at New York Film Festival on Sept 30.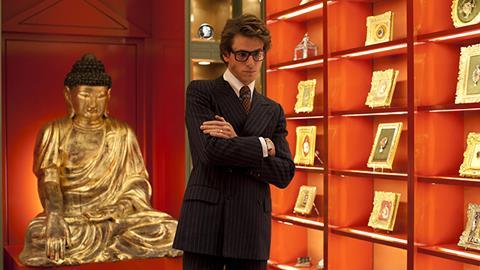 Bertrand Bonello's Saint Laurent, exploring the life of late French fashion designer Yves Saint Laurent, has been selected as France's Foreign-Language Oscar submission.
The picture is set to premiere in the US at the New York Film Festival on Sept 30. Sony Pictures Classics is handling its US release.
It will hit French cinemas on Wednesday (Sept 24), distributed by EuropaCorp.
The film stars Gaspard Ulliel as the iconic designer with support from Jeremie Renier as his long-time partner Pierre Bergé and Lea Seydoux as model and muse Loulou de la Falaise.
It focuses on the period 1967 to 1976 when the designer was at the height of his powers but also battling with drink, drugs and depression behind the scenes.
It was produced by Eric and Nicolas Altmayer of Paris-based Mandarin Cinema and EuropeCorp with support from co-producers Arte Cinema and Orange Studio.
Ironically, the film nearly did not see the light of day after Bergé expressed his disapproval of the project and Bonello's depiction of his late lover.
He favoured instead Jalil Lespert's rival film Yves Saint Laurent, which was being developed and sold near simultaneously but ended up shooting six months earlier and going on release at the beginning of 2014 after Bonello's project stalled due to the controversy.
Bonello's stylish portrait, which premiered at Cannes, focuses on the years from 1967 to 1976, a period when Saint Laurent was at the height of his creative powers but was also going through a complicated time in his personal life.
The French selection process is managed by the country's National Cinema Centre (CNC).
This year's seven-member committee comprised Cannes FilmFestival chief Thierry Fremaux, French cinematheque head Serge Toubiana, who also oversees the CNC's advance on receipts committee; Unifrance president Jean-Paul Salomé, producer Alain Terzian, who presides over France's Cesar academy as well as directors Agnès Jaoui, Mia Hansen-Love and Regis Wargnier.
On Jan 15 2015, the Academy of Motion Picture Arts and Sciences (AMPAS) will announce which five films have been nominated from all of the international entries to go forward in the final line-up to compete for the Oscar for Best Foreign Language Film.
The Academy Awards will take place on Feb 22 2015 in the Dolby Theatre, Hollywood.