Unifrance unveils poorest global performance for French films since 2002.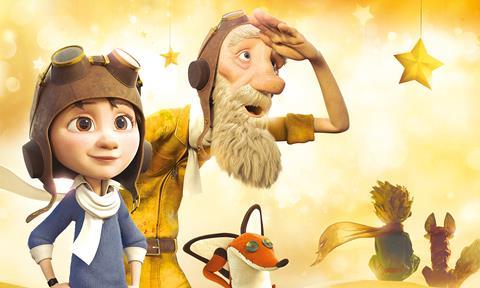 The international box office for French films slumped by 69% in 2016 to 34 million admissions worldwide against 111m in 2015, according to the annual report of cinema export body Unifrance released on Friday (Jan 14).
The fall follows a stellar period in which the international box office outstripped the domestic market for French films for two years running.
Unifrance deputy director Gilles Renouard, who oversees Unifrance's research, said the 2016 results were "disappointing but not alarming."
"We need to hold on to the fact that 540 French films were distributed worldwide in 2016, which is 40 more than 2015," he said.
He noted the downturn was due in part to the absence of a big EuropaCorp production like Lucy or Taken 3, new animation like The Little Prince, or breakout comedies like Intouchables or Serial (Bad) Weddings to bolster the results.
Only five French films drew more than one million spectators against 10 titles in 2015.
"We've grown accustomed to having at least one or two productions which really do well internationally and in 2016 this was not the case," he said.
Surprises
The figures, however, yielded a few pleasant surprises, said Renouard.
He spotlighted the box office performance of The Sense Of Wonder (Le Goût Des Merveilles) and The Student And Mister Henri in Germany where both titles did better than in France.
He also noted the continued success of the feature-length animation The Little Prince, which in 2016 added another three million international spectators to give a cumulative tally of 18.2m admissions.
A handful of titles - including The Sense Of Wonder, Macadam Stories, Francofonia and Mustang - had done better internationally than at home.
Renouard also highlighted the diversity of the films - ranging from comedy to animation, drama and documentary - in the 2016 top ten for international admissions. A characteristic that contrasts with the domestic top ten for last year which is dominated by sequel comedies.
Top sales companies
In terms of worldwide admissions, Wild Bunch, Gaumont International and Pathé International were the leading exporters, said Unifrance. They were followed by EuropaCorp, TF1 Studio and Le Pacte.
Territory Breakdown
Having been overtaken by Asia in 2015, Europe returned to being the top export market for French films in 2016, generating 16.9m admissions, roughly 50%, of the global total. Key territories in the region were Italy, Germany, Spain and Belgium.
North America was the second most important region with 6.3m spectators, a figure driven in large part by the release of EuropaCorp productions Oppression and Miss Sloane towards the end of the year.
In French-speaking Quebec The Little Prince, environmental sustainability documentary Demain and cross-cultural comedy One Man And The Cow also proved big draws.
Latin America retained its place as the third most important market, generating 3.7m admissions, with Oppression accounting for 19% of the tickets sold while My King did well in Mexico and One Man And His Cow was a hit in Colombia.
Asia market drops
Having overtaken Europe in 2015, Asia was the most disappointing region for French films in 2016 in large part due to a 93% drop in admissions in China.
Overall the region delivered some 2.8m admissions against 28.9m in 2015.
"One thing the figures make clear is that China remains a challenging territory," said Renouard.
One bright spot in the 2016 figures was the performance of Seasons in Japan where it sold 410,000 tickets.
Forecast for 2017
Unifrance said it expected the international box office to bounce back in 2017.
Much of its hopes for this year appear to be pinned on Luc Besson's make-or-break, sci-fi picture Valerian And The City Of A Thousand Planets, which is due for release worldwide in July.
Other titles expected to do well internationally, it said, include Dany Boon's comedy Raid Special Unit, the documentary March Of The Penguins 2 – The Call, Pierre Coré's feature animation Sahara and the Antonio Regret's English-language action picture Overdrive, produced by Besson protégé Pierre Morel.
Top 10 Majority French Productions Abroad
Ranked by admissions in 2016 with sales company and lead producer:
The Little Prince (Wild Bunch/On Entertainment)

-

3.1m
Oppression (EuropaCorp/EuropaCorp)

-

1.8m
The Sense Of Wonder (TF1 Studio/Camera One and Pulsar Productions)

-

0.9m
The New Adventures Of Aladdin (Pathé International/74 Films) - 0.8m
Up For Love (Gaumont/VVZ Production) - 0.7m
Seasons (Pathé International/Galatée Films) - 0.7m
Mustang (Kinology/CG Cinema)

-

0.6m
The Student And Mister Henri (Studiocanal/Mandarin) - 0.6m
Chocolat (Gaumont/Mandarin)

-

0.6m
Elle (SBS Productions/SBS Productions)

-

0.5m