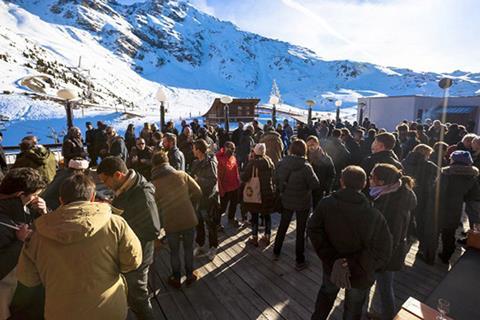 France's Les Arcs Film Festival (December 11-18) has announced the programme for its first physical edition in two years, after the Covid-19 pandemic forced its cancellation in 2020, while its industry events took place online.
Unfolding in the French Alps, the convivial, European cinema-focused festival was unable to take place after the government ordered ski resorts to remain closed due to a fresh wave of the virus.
It returns this year with a packed programme that will showcase more than 120 European works.
"We're all eager to return to reconnect with the mountains, films and theatres and to celebrate cinema, music and culture," said co-founding festival heads Pierre-Emmanuel Fleurantin and Guillaume Calop.
This year, 10 films are in the running for the festival's Crystal Arrow for best film. The contenders comprise 107 Mothers, A Chiara, Full Time (A Plein Temps), Brighton 4th, Captain Volkonogov Escaped, Hive, Il Buco, The Fam, Murina and True Things.
As previously announced, Oscar-winning French director Michel Hazanavicius will preside over the six-person jury also made of singer and actress Camille, writer Tania de Montaigne, actress Laetitia Dosch, actor Eric Judor and actress Sidse Babett Knudsen.
Guests of honour this year are French director Laurent Cantet, who will give a masterclass, and Belgian actor Matthias Schoenaerts, who participate in a public-facing talk about his work.
Another one hundred works will screen in the festival's other sections spanning the genre-focused Playtime sidebar, arthouse-focused Hauteur, and Avant-Premieres, previewing upcoming theatrical releases in France.
This year will also see the launch of a new strand devoted to cinema linked to Alpine stories and filmmakers.
The debut selection includes Swiss filmmaker Niccolò Castelli's drama Atlas, French director Patrick Imbert's Netflix-acquired animation Summit Of The Gods, Italian director Laura Samani's Small Body and Swiss director Ursula Meier's Sister.
The festival's respected Industry Village and distributor-focused event le Sommet will also be welcoming professionals. The selection for its popular co-production village and work in progress events will be unveiled in the coming days.