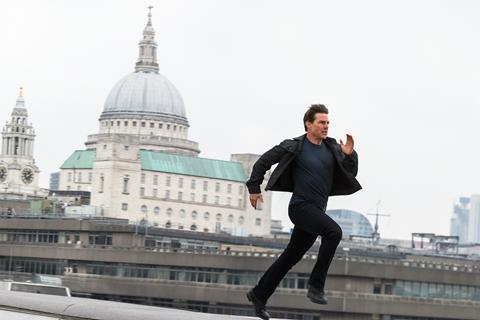 Au revoir Salto and Orange and bonjour to Universal+ and Paramount+?
After shaking up France's seemingly iron-clad media chronology system, the US-owned platforms are expanding their footprints in the country as the fight to woo subscribers escalates and local platforms are busy restructuring and scrambling to untangle existing deals.
Joining the already active Netflix, Disney+, Apple TV+ and Prime Video, Universal+ arrived on French telecom SFR on November 17, available only to SFR subscribers for now. The streamer is sending more than 20,000 hours of content from 13e Rue, SYFY, E!, Telemundo and (re) newly family-focused DreamWorks.
Paramount+ launched this week in France, complete with content from Comedy Central, Nickelodeon, Paramount Pictures and Showtime that includes the Indiana Jones and Mission: Impossible franchises. In addition to film originals including The Offer, The First Lady and Halo, Paramount+ also has local-language series production such as Mask: Marie Antoinette Serial Killer and horror thriller Le Signal as part of a three-year deal with Gaumont.
Warner Bros, which nixed plans to launch HBO Max France, now says it will send a combined streaming service to the territory in 2024 or later blending content from HBO Max and Discovery+.
The streamers join local platforms Canal+, France telco Orange's SVoD platform OCS (Orange Cinema Series) and TF1-M6-France Televisions multi-network SVoD Salto to compete for viewers' attention in an increasingly vast pool of content.
Shake-up
However, Salto and OCS are both facing possible closure, or at least changes in ownership. Salto was founded in 2020 by France's leading TV networks as an SVoD that provided a local alternative to Netflix and other major US streamers. It includes content from 19 different channels owned by the groups. But now TF1 and M6 plan to pull out and Salto is on the market, with France Televisions apparently seeking a buyer; its value without the M6-TF1-FTV content is debatable.
In March, TF1 and M6 had committed to buy France Televisions' shares in Salto for €4m should they merge as planned. However, when those merger plans fizzled, the groups opted out, leaving FTV without the €45m needed to complete its 2023 budget. France Televisions may fuse with other French public groups such as Radio France, France Medias Monde and the INA to launch a combined platform, funded by the state and free for local users.
Salto's subscriber base has increased steadily since launch and will hit 1 million subscribers by year's end. However this is compared to a whopping 13 million for Netflix in France alone.
France Televisions president Delphine Ernotte told Le Figaro earlier this week she is confident in a future for the platform. "It has proven its value," she said. However, France Televisions may not be a part of that future, with Ernotte adding the group could also opt to withdraw from the streamer: "Salto has a future, but not with the shareholding as it is today. If tomorrow it finds a buyer, I will have no problem leaving our content there."
Meanwhile, as with the original idea for Salto as a local alternative to US streaming giants, Canal+ may buy up Orange's SVoD platform OCS, which would give Canal+ a more competitive edge against the US platforms. A sale would merge Orange Studio's film catalogue with Studiocanal and add an additional three million subscribers to Canal+'s subscriber base.
OCS is the distributor of HBO series in France, including exclusive content such as Game of Thrones, The Walking Dead and Euphoria. But its multi-year deal is ending this year with no renewal in sight. With Warner Bros not launching its combined streamer until at least 2024, the future of HBO content in France remains undetermined.
Canal+
Should Canal+ end up buying both OCS and Salto, the group would position itself as a true competitor for Netflix, Disney+, Prime Video, as well as Universal and Paramount. However, consumers aren't necessarily being forced to take sides. Several platforms have joined forces to offer content to respond to consumer demands. Salto struck a partnership agreement with Amazon Prime Video that saw the streamer become available to Prime subscribers within Prime Video Channels starting in May of this year. Prime members in France can subscribe directly to Salto via their Amazon accounts for an extra €6.99 per month.
Canal+ currently offers a package with access to Netflix content and will offer Paramount+ as another separate paid option for its users for an extra €7.99 per month.
The key to wooing local consumers is always content. Prime Video continues to expand its offer with both international acquisitions and heavy investments in prestige local programming such as Alphonse starring Jean Dujardin from French super-producer Alain Goldman, Colombian drug lord drama Medellin and coming-of-age film Hawa from Cuties creator Maimouna Doucouré. Canal+ offers its full film catalogue plus several specialty film, sports and doc channels in addition to originals like Marie Antoinette, Baron Noir, Spiral and Versailles.
Netflix offers all of its global content in France including locally made fare including Romain Gavras' Athena, The Lost Bullet 1 and 2, and International Emmy-winner The Mad Women's Ball.
The platform reshuffling in France is more complicated than simply wooing consumers and boosting subscribers. France's TV networks and SVoD services in addition to US platforms all fund film and TV production as well. Salto, for example, has contributed to funding audiovisual content so if it were to disappear, its pre-sales investment would disappear as well. Canal+ already committed to investing €200m per year in French and European production, but this figure could skyrocket even higher should the group snap up Orange or Salto.
The media chronology battles could also escalate as more players enter the field. All is fair in love and platform wars, however, and any deal between Canal+ and Orange or a sale of Salto must be approved by French anti-trust authorities.