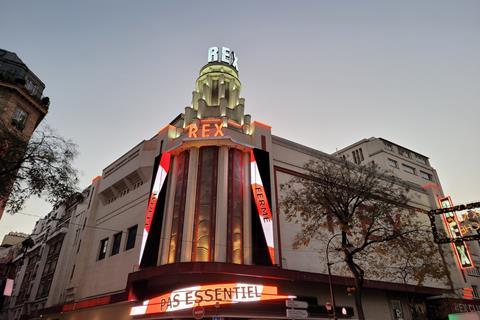 Tens of thousands of people employed in France's arts and entertainment sectors took to the streets across the country on Tuesday (December 15) to protest the continued Covid-related closure of spaces welcoming the public, including cinemas, theatres, concert halls and museums.
The biggest demonstration was in Paris's Place de la Bastille, where some 10,000 people gathered, but there were events across the country including in Marseilles, Lyon, Nantes and Strasbourg.
French exhibitors body La Fédération Nationale des Cinémas Francais (FNCF) called on its members to light up their neon lights between 5pm to 6pm in a symbolic act, recalling that they should have been open.
"Even closed, they are present in the heart of our towns and villages and, constitute an essential social and cultural link for our country," the body said in a statement.
In a separate initiative, spearheaded by writers guild the SACD, a number of professional bodies were also due to present legal petitions "for the protection of fundamental liberties" to France's Council of State, the country's highest court for issues involving public administration.
France's entertainment and cultural venues were forced to close at the end of October as part of a fresh lockdown aimed at combating a second wave of the pandemic in the country.
They had been expected to reopen on Tuesday, albeit at a lower capacity, as per the preliminary plans for a gradual lifting of the lockdown laid-out in mid-November.
The government abandoned this strategy last week over concerns that the number of daily Covid cases was not falling fast enough. All these public venues will now remain closed at least until January 7.
In other measures, the French government has also put in a place a stricter curfew, running from 8pm to 6am although daytime restrictions were lifted on Tuesday.
In the meantime, rehearsals had been in full swing for live shows up and down the country while the cinema distribution and exhibition sectors had also been gearing up to kickstart stalled releases or launch new films over the traditionally busy Christmas holiday season.
The move to keep public venues closed has prompted widespread criticism from across the entertainment and cultural worlds, with several bodies and individuals taking to the social networks to voice their disquiet accompanied by the hashtag #Essentiel.
Many suggest that crowded retail outlets, which have remained open in the lead-up to Christmas, pose a bigger threat in terms of the transmission of the virus than venues such as cinemas and theatres, where strict social distancing and hygiene protocols can be put in place.