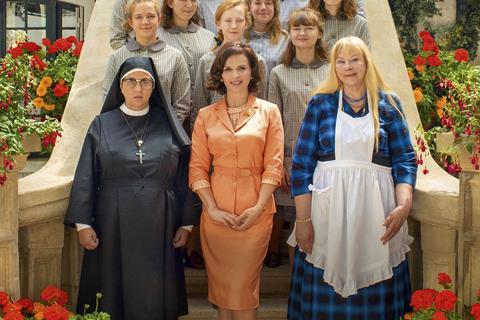 The French box office fell to its lowest level in 23 years in the first quarter of 2020 as audiences dwindled and then cinemas were shutdown outright due to the Covid-19 pandemic, according to the monthly box office report by France's National Cinema Centre (CNC).
France's some 2,000 cinemas, with roughly 6,000 screens, registered just 5.95 million admissions in March 2020, for a box office of around $42.6, against 18.75 admissions ($134.4) in March 2019.
The CNC said this represented a 68.3% fall year-on-year. It said the drop in cinema-going was directly linked to Covid-19 pandemic and closure of all French cinemas from March 15 as France went into lockdown in a bid to slow the spread of coronavirus.
"A significant drop in cinema-going due to the epidemic had already been observed the previous week, beginning March 9," it added.
Looking at the numbers for the first quarter of 2020, the CNC said admissions had fallen by 35.5% to 38.5m, its lowest level since 1997 when there were 36.35m entries.
On a rolling yearly basis, from April 1, 2019 to March 31, 2020, admissions were down 3.3% to 192.04m against 198.61m in the same period last year.
French productions took a 34.8% share of the market in the first quarter of 2020, against 46.3% in 2019, with US features taking a 55.3% stake, against 43.1% in 2019.
French cinemas, struggled to stay open in the first half of March as audiences dwindled amid growing Covid-19 fears, and were then forced to shut after the government ordered the closure of all non-essential public spaces on March 14.
This was followed by the complete lockdown of the population on March 17 until March 31, which was then extended to at least April 15.
There is no indication as yet on when the lockdown could be lifted and cinemas might be able to re-open France. Many exhibitors and distributors fear that even once cinemas are open again it will take time to coax audiences back through their doors.
Some 60 features were in French cinemas on March 14 including US studio pictures The Invisible Man and Onward as well as French titles such as How To Be A Good Wife and De Gaulle and international arthouse titles A Son and Vivarium.
The CNC was granted special temporary powers on March 20 to unilaterally shorten France's strict windows for VoD and DVD releases for these films, which was extended to films due to be released during the lockdown period. A first list of 31 approved French films was announced last week.
The French branches of Universal Pictures International (UPI) and Warner Bros as well as local studios Gaumont and Pathé and independent distributors Le Pacte, Diaphana, Memento Films Distribution and Ad Vitam, Rezo and Apollo are among the companies tapping into the initiative.